Music / Features
Mirror Life -
A chat with ctrl + me
Last month, TJ fav Michael Vince Moin shared 'Mirror Life', an otherworldly blitz through eclectic electronica, dance-pop and soul that doubled as a kaleidoscopic first taste of his latest musical endeavour ctrl + me. Ahead of the group's single launch tomorrow night at Colour, we had a chat with Mike to get to know the new project a little better.
It wasn't long after Melbourne producer/multi-instrumentalist Michael Vince Moin announced his long-running Tram Cops project would be coming to an end that he began giving hints at what might come next. It's been about a year (maybe more?) since the enigmatic ctrl + me project was first teased, and now we've finally been treated to a spectacular introduction in the form of debut single 'Mirror Life'.

Across its four minute runtime, 'Mirror Life' refuses to sit still - after opening into a jittery swirl of gleaming synth and bubbling programmed beats, the track shapeshifts through a soul-tinged breakdown and an uplifting dance buildup before settling into an invigorating video-game outro that marries funk bass and jazz sax over a technicolour electronic backdrop. It's a fairly surreal taster of the world of ctrl + me, but with Mike's signature wide-eyed vocals stitching each moment together, it makes for an experience that's as disorientating as it is joyous.

To celebrate the new tune, we got in touch with Mike to dig a bit deeper into ctrl + me.
TJ: Hey Mike, how you going? We've gotten fairly acquainted with you over the years under your Tram Cops moniker, but not so much as ctrl + me! Want to tell us a bit about the new project and what inspired the shift?

C+M: Hey! thanks for having me on the site again. i love trouble juice! yep, ctrl + me is my new project. i think tram cops was heaps of fun and i made some music that i'm still really proud of in that band. i now want my music and ctrl + me to go above and beyond the scope and scale of what tram cops was in every department. it felt appropriate to start fresh and new! and not have a band that was called tram cops. heh

You've just shared the first single 'Mirror Life' from your debut album and it's a bit of a glorious rollercoaster ride. What's the story behind this track?

my friends CHARLIE BOWMAKER and MATTHEW HAYES (who, in fact, helped me make this whole new record) came over one day and i said to them.. i said.. guys - i want to make a track that sounds like you're playing a gameboy. we had a fun day making different levels and bonus rounds rather than verses and choruses. when ROBERT DOWNIE got involved some time later we decided to make the song about a serial killer addicted to methamphetamines following his next victim and fighting his own self doubt. 'mirror life' is about being unable to control your desires. art imitates life. or is it the other way around? 

The track features a pretty esteemed list of collaborators - what's your role when you've got so many impressive friends lending their talents to the songs?

I produce the tracks and tell people who are really good at their instruments what to do. across this record there are a lot of talented people but they are my friends before anything else. i like making music with my friends and this record is in many ways a reflection of that simple enjoyment.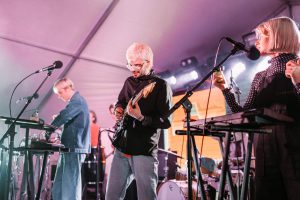 To my humble ears, it seems like the biggest transition in your new music is that you're now trying to encourage people to dance. What defines good dance music to you?

i love how vibrant the dance scene here in melbourne is - i wanted to make an album that explores the darker sides of dance music in melbourne - or maybe it's about having a dance record be the medium by which to explore a darker side of myself. i'm not sure. anyway, i think good dance music always has a panflute solo.

You've got your first headline show creeping up at Colour Club - any idea what we can expect?

NIKODIMOS! the dude rocks and has just released the most amazing album. MOTHAFUNK! bringer of chicago heat to melbourne's dancefloors. you can't beat it. BEBE ERIK - mastermind of hobsons bay coast guard and good friend. expect pirates of the caribbean dubstep. and ctrl + me! it's our first headline show. it'll be great.

Picture this - you've finished your set and you're hitting the D-floor for a post-show boogie. What tracks are you getting down to hardest?

'212' - azealia banks, don't look at me like that. i don't care. erik take note please

I'm sure we've asked you this in the past, but times change so why not - what's your perfect Sunday?

spending time with lucy. ctrl + me!!!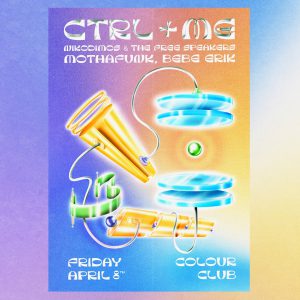 ctrl + me are launching 'Mirror Life' tomorrow night, April 8th, at Colour Club - grab a ticket
here
.