Music / Features
Alone -
A chat with Bellhop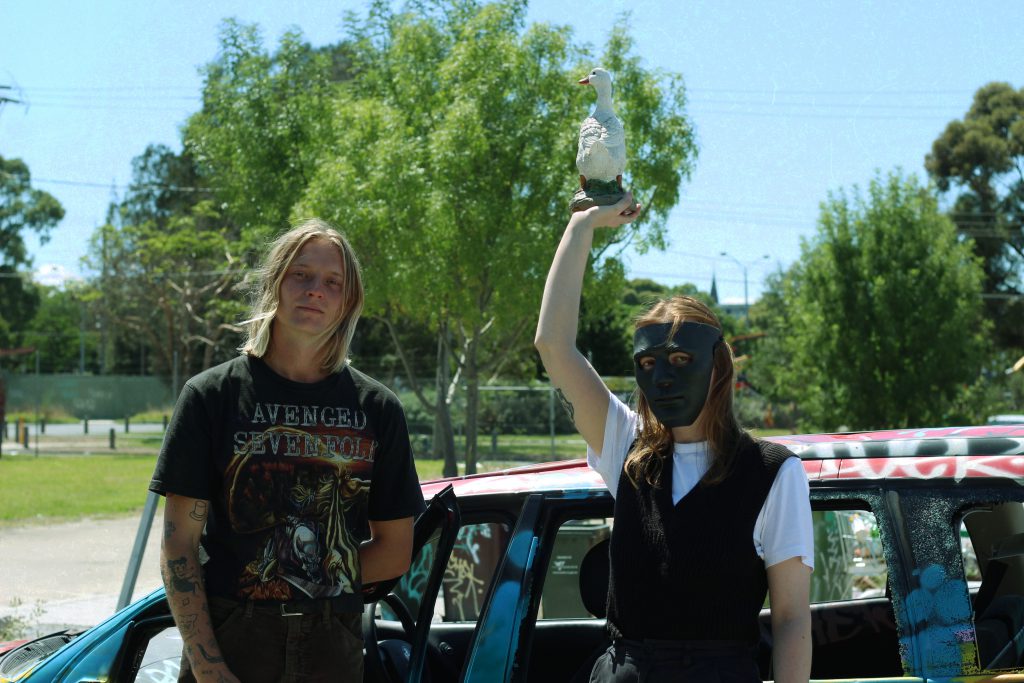 Alongside the release of their brand new single 'Alone' today, we caught up with siblings Harry and Bella Watson, the brains behind local fuzz-rock duo Bellhop, to dig into their latest blast of frenetic and noisy punk.
It's no secret that the past few years have been a particularly devastating time for music communities and artists around the world. However, especially in Melbourne where we're experiencing some sense of normality for the first time in a while, there's a real joy that comes from discovering the creative gems that managed to squeeze through the cracks of lockdown, many of which that are only seeing the light of day now. For Melbourne duo Bellhop, the release of their new single 'Alone' today feels especially gratifying.

Formed between brother and sister Harry and Bella Watson, Bellhop took shape quickly after the pair began playing together in 2018. As Harry explains, "Bella just started drumming out of the blue - she's always done that, just picked something up and been 1000 times better than me or my older brothers" and before long, the pair were regularly jamming and cranking out songs. "It was just like that sibling brain energy clicking real fast" Harry says, "we kind of threw a set together, starting practising and saying yes to every gig, getting that new band traction." Bella puts it a little more bluntly; "I play drums and keep Harry afloat with my sisterly wisdom."

But following a string of singles and a heap of live shows, right as the momentum was building towards the release of their debut EP, COVID struck. "It was definitely a bummer" Harry recalls. "We had this EP and suddenly we were all locked down, it sucked for everyone. In the end we were like 'screw it' and just released it. We just did it for ourselves, to just give us something to be like 'oh that's good', a bit of light in the dark."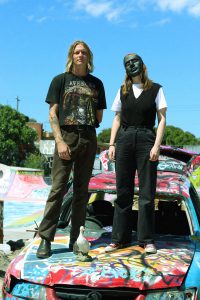 It's fitting then that the band are back 18 months on with a vengeance. 'Alone' catches them sounding more forceful and defiant than ever; over three minutes, the track builds in tension around a taut lead line coupled with angst-ridden vocal yelps, before eventually amounting into a swarm of bone-crushing guitar noise and heaving grooves. It's a shock to the system, but one that leaves listeners feeling wired and restless for more.

At its core though, the track does what it can to encompass Harry's experiences during lockdown. As Harry explains, "before the pandemic, we were hanging out and jamming like nearly every day for two whole years or something. And then it just went to nothing and we couldn't see each other. The band changed a lot once we were in lockdown - lots of isolation and sad thoughts and angst. A bit of angst helped fuel 'Alone', but for the better, I think."

It might be pretty easy for a band like Bellhop to feel especially hard done by thanks to COVID, but the pair are very humble about their experiences. When Harry talks about writing 'Alone', he largely speaks about the community as a whole rather than just himself. "Like a lot of people, I was feeling quite blue at times in the lockdown and isolated and disconnected from loved ones and friends and family and everything", he says before adding "all artists lost that ability to be able to show everyone your talents and what you love." And Bella shares the sentiment, saying "it's something we all went through, so 'Alone' is like this little time capsule song".

What this highlight is how much value the pair put on their local music community. During our chat, they namedrop local bandroom The Retreat, and instead of considering themselves alongside international heavy-hitters, they note rising homegrown acts like CLAMM and Mini Skirt as influences. Bella explains "local bands have a huge influence on our music, every time I go out and see a band my motivation goes through the roof because they're all way better than us". Harry goes on "there's nothing better than just local live music. It's just all about meeting up with your mates, your family members, having a beer and seeing a sick local band at your local venue. It's good to go see Foo Fighters in some arena or whatever, but at the same time, it's not real… but when you see a local band, from your area or it could be individuals who went to the same high school as you back in the day, it's nice having that real feeling. You're always just surprised to see how many talented people there are around. It's ridiculous."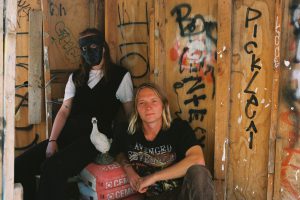 But perhaps the most affecting local influence on 'Alone' was post-punk powerhouse Enola, as Bellhop reveal that 'Alone's title is actually a nod to the band as a reversal of their name. "We just love Enola" says Harry. "I think they were probably the first band we jumped to go see straight away after lockdown, as soon as we were free. It blew us away, their energy and all that stuff really inspired a lot of the newer sound that we are heading towards. And obviously Enola is Alone backwards and then Alone is Enola backwards. We definitely had the riffs and the vibe down, but once we had the 'Alone' name from flipping Enola around the song just kind of built from there." Bella is straight to the point about it; "they're simply one of the best bands ever, I'll never get over them."

Now that 'Alone' is out into the world, what Bellhop seem most excited about is getting back onto stages and playing live music with their friends. "We're so stoked" says Harry, "it's been incredible. Just being in that environment again, like before you play, just meeting people, playing and chatting to people after and just that rush that you get after getting off stage. It's pretty addictive". Next Saturday, May 14th, they've got their single launch coming up at The Old Bar ("classic" says Harry), alongside local punks BIFF and SPUNK. And from there, they'll be getting stuck into a whole heap of new plans, which as according to Bella is "doing gigs, releasing an album, hopefully making some merch for once, and most importantly having fun!!!!" Business as usual has never sounded so good.
'Alone' is out everywhere today via
Squinked Records
. Bellhop launch the new single at The Old Bar on Saturday May 14th with BIFF and SPUNK - grab a ticket
here
.