Track by Track:
Zac Denton - Love, Lust, Lost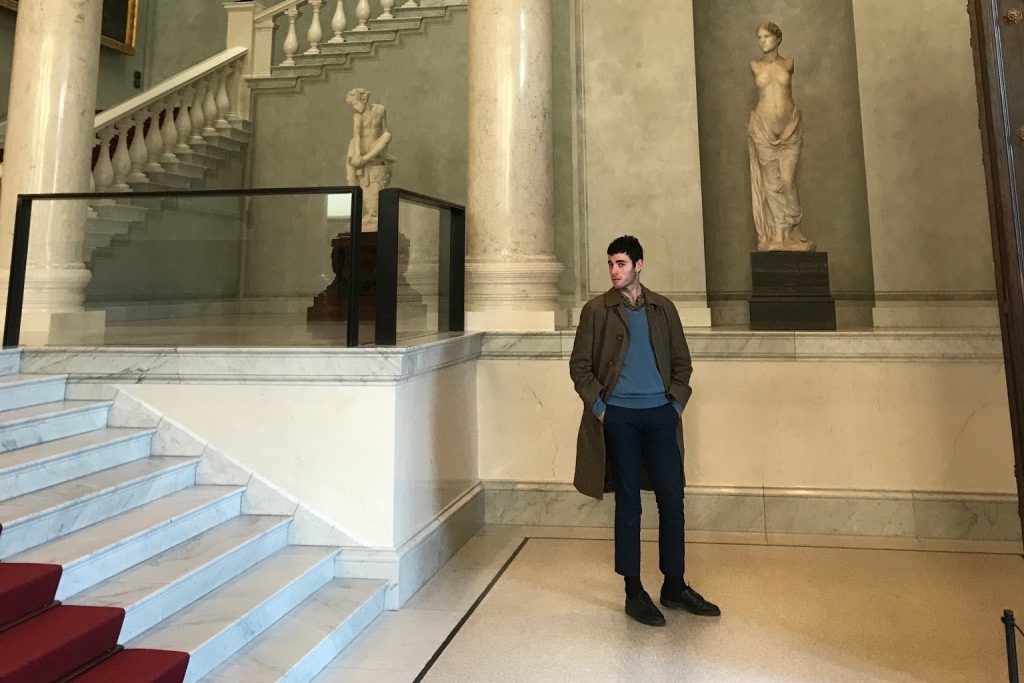 Last month, Osborne Again shared Love, Lust, Lost, a collection of unreleased demos and sketches from the inimitable Zac Denton. Put together by his closest friends and family to celebrate his birthday at the end of August, the album serves as a celebration of the overwhelming musical legacy Zac left behind. His friends and family have generously shared with us their personal reflections and insights on each of the tracks that make up the new album.
Zac Denton moved to Melbourne at age 18, and played in a plethora of bands, including The Ocean Party, Ciggie Witch, Hobby Farm, Pregnancy, No Local, and Cool Sounds. Whilst the sound of many of Zac's projects sat within the jangle pop genre, he was never one to constrained by such norms and was able to be extremely adventurous and prolific as a songwriter, as explored on Love, Lust, Lost. Zac was a masterful songwriter, and through his honest and earnest style had an amazing ability to bottle up an emotion and encapsulate it in the form of a song, while simultaneously making each tune sound like a conversation with an old friend.

Despite its deliberately ironic title, opening track 'Ciggie Whinge' is filled with a sunny optimism. Tragically, this was one of the last songs ever written by Zac for an upcoming Ciggie Witch album. There's a resolute hopefulness within the track, whereby Zac just seems so happy with where his life is at. You can feel the excitement that Zac might have had as he was crafting the song, and what comes out is an easygoing vocal over the gentle fingerpicked guitar, encapsulating the feeling of contentment so well. 

Very much pulling back the curtain, this collection finds Zac at different points in his life, and as such, we as listeners are continually offered a glimpse into his most reflective moments. Love for family and friends was a clear theme throughout much of Zac's songwriting, and the track 'Pay You Back With Love' truly encapsulates this. Similarly highlighting his caring nature, 'Six Weeks' wears his heart on his sleeve in a pensive and romantic way, as he distills the feelings of long distance love and all the associated emotions.

While this collection shows how important writing and recording was for Zac, especially in a personal sense, he also thrived as a collaborator and his numerous bands and projects was a testament to this. From the tracks here though, we can see how easily he put his authentic self into his music, while taking risks and having fun with bandmates. 'Fuck'm' plays like a lost Ocean Party track, and is one of the more fully formed songs here - an edgier, almost anxious take on early 20's life, anxieties around sharehouse living and reflection on the bigger picture. His nuanced take on jangle pop shines through similarly on 'Cut The Chains', as it does on early iterations of Ciggie Witch tracks like 'Look Of Pain' and 'Walking The Tracks'.

Sense of place, family and his hometown is a theme that runs throughout much of Zac's songs, and is one that we can find in this album as well. 'Eighteen Now' finds him reflecting on his move to Melbourne from Wagga Wagga, and the tension that existed at that time for him. 'Ace' is a poignant reflection on his relationship with a dog on his grandparent's farm. Whilst a live cut from one of Zac's final performances with The Ocean Party, 'Home (Live at the Phoenix)', opens with "make sure you call your mother at least once a week/ Let her know you love her, please tell us that you are finding your feet", sounding equally wholesome and poignant, as he takes stock of what's important to him, and personally as a listener helps me to do the same. As is so often the case with Zac's honest and at times self-deprecating style of songwriting, he presents his reality in such a relatable way.

This album offers a variety of songs, some almost fully formed, others just sketches that give you a sense of what could have been. It provides a real sense of who Zac Denton was both as a songwriter and as an individual. He was much loved within the Melbourne music community, a love that is reflected by those close to him, through the stories that they have kindly provided in the following album walkthrough.
Ciggie Whinge

Mitch Clemens: When Zac sent me this track he wrote "it's real cheese!", which sums it up pretty neatly. It's got all the components of a classic Ciggie song - autobiographical lyrics, a catchy hook, and verse vocals that don't really fit into the space they should but he makes it work anyway. The only thing that's weird is how happy it is. When we were writing the songs for ¿Dónde Está Leccy Beers? everything was clicking for Zac - he'd found his crowd, as he says in this song. Considering this band's reputation was built on complaining about the car breaking down, I love that one of his last songs talks about how happy he is.

Six Weeks

Mashara Wachjudy: Zac referred to this song as his "first ever love song". He wrote the original demo when I was on a six week trip overseas. The second demo, with the added verse, was the last thing he recorded, only a few days before his passing. Different from a lot of his work people would be familiar with, stylistically it hearkens back to the collection of Hobby Farm songs, with the perspective of an older version of himself to move forward towards. It's an incredibly special song that expresses so much sensitivity, love and devotion.

Love, Lust, Lost

Ashley Bundang: Zac had planned for 'Love, Lust, Lost' to be a Ciggie Witch track. It sparked memories of the time Zac was living in his ute. In the height of winter, he would pour buckets of cold water over himself in the oval carpark after work. He loved and hated it. This song perfectly captures the feeling of ambivalence; a song about loneliness, appreciation and an appreciation of one's loneliness.

Pay You Back With Love

Lauren Huynh: This was one of the last songs Zac wrote for Ciggie Witch. We rehearsed it once but never got the chance to play it live. He loved his parents immensely and like 'Scooter Pants' and 'Mighty Murray', the songs Zac wrote about his family were always my favourite. I'll never forget the moment, shortly after his passing, when Murray (Zac's dad) heard this song and said "you sure can, buddy."

Look Of Pain

Dainis Lacey: I was living with Zac when he made the bold move to quit Ciggie Witch and start his new adult contemporary group Hobby Farm. In his typical stubborn fashion he pushed back against all sound advice and followed his intuition. He always seemed to have some kind of grand plan in mind, along with a charm that was impossible to say no to (I spent years of my life literally doing nothing except following Zac around Melbourne's eastern suburbs), and an openness to collaboration. He accomplished a great deal musically and made many great friends. Luckily he rejoined Ciggie Witch a day later, and 'Look of Pain' turned into another one of Zac's classic pensive bangers.

Walking the Tracks

Ambrin Hasnain: I met Zac in the winter of 2014, when he was living with Dainis in Mont Albert. He pretty much instantly showed me his Hobby Farm demos - he was so proud of them. I was obsessed with Melbourne jangle at the time so I was surprised at the different vibe of Hobby Farm. Especially the violin gave it such a different sound to anything else I had heard. He asked me to record piano for 'Walking the Tracks', and I had no idea what I was doing - which is pretty obvious listening to it today. However, Zac was so supportive, and I think his ability to make people feel comfortable outside their comfort zones has had a big impact on many.

Ace

Liam Halliwell: 'Ace' is one of Zac's close-but-unfinished songs that didn't quite make the cut for the Hobby Farm's Braeside LP… Or was it originally written for Ciggie Witch's ill-fated acoustic sophomore album (before the band broke-up for a day and reunited to make Classic Connection)??? You can trace the thread of Zac's songwriting - this track's main riff weaving its way into the Ocean Party demo 'Cut The Chains' (or was it the other way around?), eventually finding a home as the very cool bass riff on 2017's 'Second Guess'.

When I hear 'Ace' I hear a transitional period in 20-year old Zaccy's songwriting. Somewhere between his charmingly autobiographical diary-entry lyrics and the characters - real and imagined - that he increasingly gave a voice to in his later songs.

This one's about a dog named 'Ace' who lived on his grandparent's farm. It's a nice snapshot of a time, and of Zac about to explode into a more ambitious, restless and prolific songwriter. Here he's singing about the things that he always came back to in his songs, from his earliest to his latest: the farm, home, family, friends (Ace the dog, in this case!).

Fuck'm

Curtis Wakeling: I can't remember playing on this one at all, so I think it's ok to appreciate it as if I didn't play on it. Zac's voice sounds so great with Ashley's. I love Zac's songs that are soft, honest and heart on the sleeve but I also love his upbeat style attitude-y songs. This song has the honesty, and the 'tude, and it works great.

Eighteen Now

Nick Kearton: It's so nice to hear Zac's voice, I can't properly articulate just how comforting I find it. This demo 'Eighteen Now' is vintage Zac songwriting. It's candid, self-deprecating and offers a window into his life as a young man in Wagga, before moving to Melbourne. When I first met Zac, he had just moved, was painfully shy and I think was trying to distance himself from his hometown, as many of us have done. As he got older and grew more comfortable in his own skin, I got the sense that he had developed some pride in his own development, along with a genuine appreciation for his upbringing and his hometown. This song depicts that journey and while unfinished, still manages to demonstrate the plain-spoken yet poetic self-reflection that we all love so much in his songs.

Instrumental 1

Lachlan Denton: Snowy and I found this track on Zac's laptop when we were putting together this comp. It's an unfinished demo, and judging from the drum machine used, it's one of a batch of his last demos, most likely for Ciggie Witch. The guitar parts were so nice, and are so Zac, that I felt it had to be included.

Cut The Chains

Jordan Thompson: We all lived together in Brunswick and several times a day we'd walk up to the nearest shops for food in the day and drinks at night. The path we took passed by a new development project which was in its foundation stages - an enormous hole in the ground. Our social routines were recurrent and draining being a household in our twenties. Walking by a gaping hole several times a day in various states of recovery might have had an effect on the imagery in this demo. It sounds like it was from that period to me, a time when Zac was living in a makeshift bedroom constructed from milk crates in the kitchen of Lachlan and Ashley's backyard bungalow - another resonating image.

Home (Live at the Phoenix)

Mark Rogers: This is one of the few times we played this one live with Zac and it's a cracker. I've always liked the way both Zac's tracks from Oddfellows sort of explode at the end because they make you really rock out when you play them live. The spooky rock out ending is on glorious display here in this version from The Phoenix in Canberra (another much missed Australian music icon). This is a song that has a savage spirit running through it, a sort of wild freedom. No wonder I was a bit freaked out afterwards.

Instrumental 2

Lachlan Denton: Another one of Zac's acoustic instrumental demos that was too precious to leave off. No one can write a chord progression as captivating as my brother, and this one breaks me.

Capsize

Dom Kearton: It's hard to say when this song was written but it has all the hallmarks of one of Zac's songs for Pregnancy. Usually one of the first things I'd ask him if we hadn't seen each other in a while was to hear what he'd been working on and he was always eager to share. All the same feelings, the ones that swell up in me any time I hear one of his songs, come back to me when I listen to this one. As always it is incredible clever, stylised and romantic. I never explicitly asked him but to me it seemed like Zac had everything figured out in his head before a song was written, the complete package down to the artwork and how he would deliver it on stage. Ideas just fell out of him completely effortlessly and landed exactly where he wanted them to.

Professional Man

Joe Foley: Most of the tracking for the post stadium dolewave opus Classic Connection was recorded one summer in Box Hill during Zac's "Beaky" years. During this time his arrangements became simple and complex simultaneously, penning some of his most outstanding tracks for his new project Hobby Farm. I think he also quit Ciggie Witch for a week. He egged me to take the lapsteel into the "freak zone" on this track and as a result it has some sort of intergalactic cowboy house band vibe.