Track by Track:
Split System - Vol​.​1
Following the release of their debut album earlier this month, we caught up with rock 'n' roll powerhouse Split System to dig into the tracks that make up Vol. 1.
Emerging seemingly fully formed at the beginning of the year, Split System have been quick to carve their name deeply into Melbourne's garage and punk scene. With the five-piece lineup pulled from a bunch of local heavyweights - Jackson Reid Briggs and the Heaters, Stiff Richards, NO ZU, Speed Week and more - it's no surprise that they've come out firing, but what Vol. 1 reveals is just how impressively sharp this band truly is.

Electrified and urgent from the get-go, 'The End' charges out of the gates with a rollicking guitar line and a thundering backbeat as Jackson Reid Briggs' ragged vocals take centre stage, his impassioned howl loading the track (and much of the album) with a restless energy that leaves listeners feeling wired and energised. Blurring between garage-punk, power-pop and steely-eyed rock 'n' roll, Vol. 1 never holds back across its half an hour runtime; 'Ringing In My Head' catches the group at their most forceful with its racing guitar lines and pummelling vocals, 'Grip' mixes post-punk and pub-rock with its grimy, nervy swagger, and late highlight 'Ultimatum' wrangles everything to love about the band together - fiery performances, scorching guitar-work and plenty of rich, indestructible hooks.

To help us dig into Vol. 1, the band have each shared some thoughts on each track that makes up the new record.
The End

Ryan Webb (guitar): This is a riff I'd been sitting on for a while and wasn't really sure where to go with it. Ended up jamming it with the band in Mawson's shed, and we pumped it out pretty quickly. My girlfriend thinks this song sounds like the theme to Blue Heelers. I recently saw P.J. from Blue Heelers at a mate's taco shop, the man still has a certain je ne sais quoi.

Jackson Reid Briggs (vocals): I think the first time we played this live was the first time the guys heard the lyrics. I finished them the evening before the show as we wanted to give the song a crack. I intended to rewrite the lyrics later and add a few more but in the end what I had stuck and I feel like the repetition goes well with the riff. The words were sort of my take on nothing ever really ending, there's always something to start it back up again at the end!

It Ain't You

RW: This may have been the first song we wrote after the 7" tunes. Mawson and I play the same lead lines, but at an ever so slightly different pitch which creates a cool effect. I think The Drones used to do that a bit circa Wait Long By The River… - onya Gareth.

JRB: The lyrics for this one came on the fly while these guys were jamming the song at rehearsal. I was still mucking around with and enjoying not playing guitar and singing at the same time so I tried to place the lyrics in places I otherwise wouldn't have if I played guitar. I guess this song is about the classic thinking something is real good when it definitely is not.

Demolition

RW: One of the later songs we wrote for the record, we finalised it in the studio. There's an extra note we play on the guitar in the outro chord progression at one point. Andy Robinson who recorded it reckons if it was intentional we are geniuses, if not we are nimrods. You be the judge!

JRB: I was on the roof top of St Vincent's hospital prepping some work for the day when a riff from Ryan came through on my phone. I had a quick listen and it was stuck in my head all day while I was working. I got home and finished off the lyrics that arvo. I was working putting fixings into the side of the hospital walls cause the building next door was getting demolished so that's where half the inspo came from and also my daughter had just been born so that was the other half of it.

Run On

Deon Slaviero (bass): The main riff in this tune is a by-product of listening to copious amounts of Thin Lizzy over the years. From memory we originally had a different chorus riff but ended up subbing in the metal-esque descending run.

JRB: At first I wasn't sure about the fusion of the two riffs but it ended up sounding smoother the more we played it and is probably one of my favs on the album. Lyrically it's about drifting apart and then finding something that pulls you back.

Ringing In My Head

RW: Originally this was meant to be part two of a song that didn't make it onto the album, however we ended up just developing this one by itself. We put the structure together while we were recording the album.

JRB: The guys sent me a recording of this from the jam room so I popped it on in my head phones, took my daughter for a walk and wrote the lyrics while she had a snooze. It's about people's obsession with planning and wanting to predict the future.


Hit Me

RW: I think we wrote this one at our first or second jam. I was noodling the riff and Mawson was keen on it. We worked out some chords pretty quickly and smashed it out. We originally recorded this with the other 7" tracks and chucked it up online. The album version has a slightly different structure.

JRB: This song originally was about getting punched in the face and getting a buzz on. But it could be about whatever really. Whatever gets you going.

Grip

Arron Mawson (guitar): I wrote the bass riff when I was listening to a bunch of 'devo-core' stuff. The song is a mix between that and a basic AC/DC structure.

JRB: I guess this is about the endless battle of being on and off the wagon and trying to find some sort of middle ground which is pretty hard sometimes!

Climbing

AM: I got into Teengenerate heaps in 2021, 'Climbing' was my attempt at writing a song in that vein.

JRB: Potentially one of the first ones I wrote lyrics for. It was actually a while ago so I can't really remember but I know the lyrics came from cabin fever of one of the lockdowns.

Time Killer

JRB: This is about all the silly/important things we do between when we are born and when we die.

Ultimatum

RW: Probably a bit of an outlier on the album. Wrote this one trying to ape that Sheer Mag sound, ended up sounding a bit country. If we play it live I'd like to see some line dancing. The outro was an attempt at knocking off 'Malibu' by Hole. The tune was originally meant to end differently, however Andy thought it sounded better with a fade out. Bloody bold manoeuvre.

JRB: A song about ultimatums. I've had a few! I like the Hole ending. Originally had two sets of lyrics/vocal melodies for the end but the one we went with seemed to flow better. The other one was based off a ripping guitar solo that went over the end from a demo Ryan sent.

Feelings

AM: During the lockdowns in Victoria I was thinking about my mates a lot. Over that period of separation you realise how essential human interaction is, a phone call isn't enough a lot of time. 'Feelings' is a love song to my mates.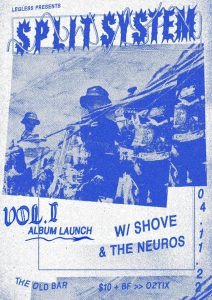 Vol. 1
is out now via
Legless Records
- head to
splitsystem.bandcamp.com
to gram the album on limited edition vinyl. Split System are launching
Vol. 1
on Friday November 4th at The Old Bar with Shove and The Neuros - grab a ticket
here
.