Visuals / Irregulars
Amping Up Australiana with Doomlands
Barren wasteland, beer on tap, bloody chaos! Doomlands is a new animated comedy which tells the story of good-spirited outlaw Danny Doom, and his mates Jep the incompetent copper and trusty bartender Lhandi, as they attempt to survive in their destroyed world, partly through mateship but mainly on beer. Trouble Juice caught up for beers with the masterminds behind the project, creator Josh O'Keefe and lead animator Andrew Onorato, to chat all things Doomlands ahead of their pilot episode premiere at the Tote.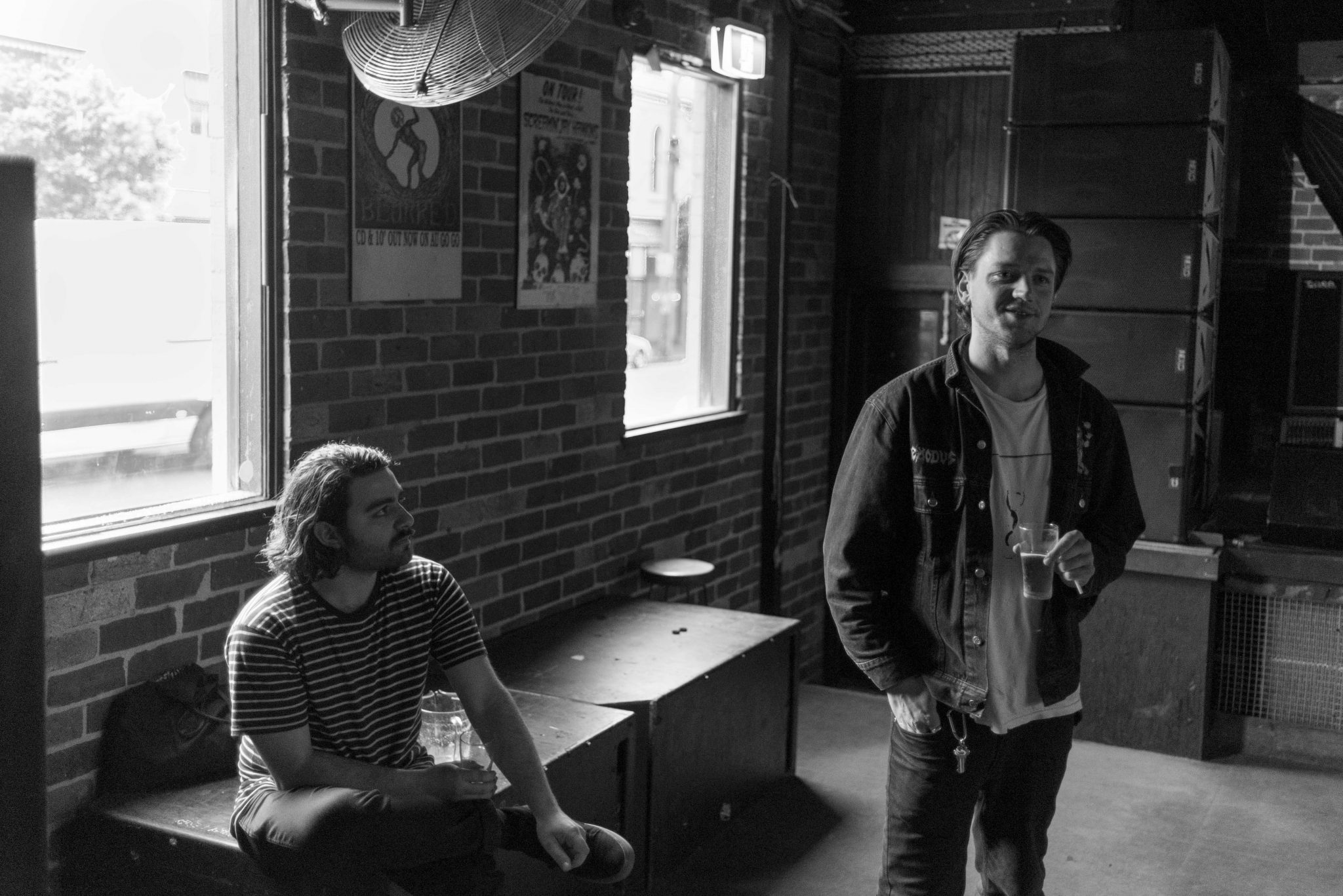 Set in a dystopian, outback world where beer is the only source of hydration, Doomland's pilot episode follows Danny, Jep and Lhandi's pursuit to retrieve their pub's missing beer supply, stolen by a gang of raging bush-doofers. Nothing can be too simple though, and as they storm through this warped version of the Australian desert, an ensemble of misfit characters and mutated marsupials wreak havoc in their path. Meanwhile, back at the local - a subterranean, roving pub called The Oasis - transgender warrior Xanthena and lizard chef Tetsuo have an equally pressing situation on their hands, as they attempt to quench their patrons thirst while happy hour hits. What ensues is a full blown psychedelic trip, a violent desert car chase and a whole lot of destruction.

Director and producer Josh is quick to address the overblown Australian-ness of his show, although he does clarify "it's not Australia, it's Australiana - it's a whole different world. There are lizard people and crazy chicken prostitutes..." Regardless, the show works hard to ingrain Australian culture and our unique national identity within it, through unmistakably-Australian dry humour, thick ocker accents and cleverly planted easter eggs. "We're referencing a bunch of Ozploitation cinema stuff - Mad Max is kind of the pinnacle of that [hence the epic car chase], but there's a bunch of other stuff that we've referenced; Fair Game, Turkey Shoot, Wake In Fright." Of course, the usual Australiana references are also packed in - "old mate" Vegemite, convoys of Combi vans, a skater ripping it over the State Library's ruins and a bong-smoking Blinky Bill.

It's evident that Team Doom are set to shake things up with Doomlands. While Rick and Morty and Bob's Burgers are noted as key influences, Josh hopes to dish a new flavour into the mostly American world of adult animation - one that can honour and emulate Australia's rich history of iconic Ozploitation film. "I went to study film at Swinburne and did a bunch of essays on Australian cinema and was really concentrating my studies on film theory and Ozploitation cinema. And that's all kinda been pumped into Doomlands, that's why we're creating it. We wanna kind of amp up Australia."

That said, while Ozploitation cinema famously took Australian culture to it's extremes, there's something about Doomlands that feels a little more genuine, perhaps due to the nature of Josh and his crew. During our chat, Josh and Andrew banter in the same way that characters on the show bounce off each other - at one point, the pair are celebrating "almost eight years of friendship!" and mere moments later, Andrew is preparing to trash talk Josh as he heads out for a ciggie break. Later on, Josh takes a call from Ben Hewitt, a friend who originally joined Doomlands as a voice actor but has taken on more and more roles in the process. Josh tells of the "four or five meetings of booze fuelled banter" between the two, which is intended to make up the majority of Doomlands Season One, and jokingly tells Ben that he often whispers "goodbye Dad" when their sessions come to an end. Sure enough, Ben replies with a Dad-joke that probably doesn't warrant being written in print. With the full team behind him, made up of writers, producers, animators, sound designers, concept artists and voice actors - all undoubtedly mates - it's no surprise Josh affectionately refers to them as "the dream team".


As the crew prepare to pitch Doomlands to the big dogs overseas - Adult Swim, Netflix and Hulu amongst others ("that's why we spent three years making a pilot") - they're becoming increasingly aware of the relevance their show might have back home in Australia. "We don't have the biggest animation industry in Australia, and we probably don't have a big enough industry to make it here as much as we'd like to" Josh explains, "but the thing is, we've grown up watching The Simpsons and now we know more presidents than we do prime ministers." At this point in the game, Josh's initial goals are well in sight as he refers to the original motivation behind making the show - "to make something significant".

The Doomlands team have stayed equally as committed to Australia's creativity when it comes to the music side of things too, as the distinctive Aussie accents of the cast have been matched with a soundtrack packed with the gritty sounds of the Melbourne music scene. The trailer serves as the perfect taster for this, as Drunk Mums' cooked garage goodness burns over equally cooked visuals. The pilot episode that follows features tunes like Coober Pedy University Band's "ultimate doof anthem" 'Kookaburra' and Dumb Punts almost iconic garage-punk gem 'Chiller'. Josh explains "a bit of a rule with the pilot was to only have Australian music in it, even if half the shit's my music." He's been part of four different music projects, most notably Chillers, although all feature in the pilot. In line with his overall vision he adds "It'd be cool going forward that we tell Australian stories and only have Australian music in there. And that's what the celebration at The Tote's all about. The Tote's the ultimate place to do it. It's so famous, the home of rock n roll in Melbourne at least."

Alongside the highly anticipated premiere, Doomlands' launch show will include performances from local bands Tony Dork, Department, Dumb Punts and two mystery bands *oooh. Although pre-sale tickets are sold out, there will be a handful more available at the door on the night. Otherwise, you'll want to be climbing the back fence because this is a hell of a party you won't want to miss. Watch this space, there's plenty more to come from the legends behind Doomlands.


Get down to the Tote this Thursday Nov 2nd to check out the first official screening of Doomlands,
and keep an eye on their website for all upcoming news.