Music / Features
Good Luck - A Chat with
Food Court
It's been a huge year for Sydney garage-punks Food Court. They've been on tour after tour for the first part of the year, including a stint in the US and Canada following South by South West, as well as a trek around Australia with likeminded noise-makers Tired Lion. In September, they released their debut album Good Luck, an exhilarating burst of loud, raw and infectious garage rock. They're currently on their final tour of the year in support of the album, and ahead of their Melbourne show Trouble Juice caught up with drummer Nic Puertolas to chat about working with producer John Castle on the new album, touring and the Australian music scene.
TJ: Hey man, how's it going?

Nic: Yeah alright.

You're just at home in Sydney at the moment, aren't you?

Yeah I just got home, just got out of the car.

Sweet. So how's the album been going - I guess it's been out for a bit over a month now. Received pretty well so far?

Yeah, it's pretty good. It's been featured on a few Spotify playlists and iTunes playlists and stuff. I don't really have the numbers or who's exactly listened to it but it's been cool. I'm a big fan of playlists and to chuck on the local noise playlist with bands like Hockey Dad, These New South Whales and other bands we're fans of, its super rad. Yeah, obviously family and friends are loving it and we just got some vinyl, so people bought some at the shows over the weekend. Yeah, it's been good vibes.

I think I saw a handful of pretty solid album reviews online as well, seems like it's rolling pretty well.

Yeah I haven't really read too many but what I've seen come through has been complementary which is nice.

I read you recorded with John Castle who seems to be a pretty good catch because he's kicking a fair few goals at the moment. How'd you end up getting him on board and what was the process like?

It was actually through our manager who knew of him. We hadn't really met him but it was pretty much just a phone call. We were kinda tossing up some names of who we'd wanna kinda record with possibly, or even do it ourselves. But when John Castle popped up we thought "cool", he has his own studio in Melbourne and it's like a granny flat that he calls 'The Shed'. He had everything in there - a whole bunch of amps, a bunch of different cymbals and drums and stuff like that. So it was a matter of just calling, saying "Do you wanna do this? Yep? Alright, let's do it".
It was recorded within a week. We probably did it in about 5 days and we just had those two extra days to do some overdubbing of guitar or if we missed a vocal thing here or there, or do some backing vocals. We really wanted there to be a bit of time pressure. I think that's how we've always done things - it just kind of works for our music. It creates a sense of excitement.

And all totally live?

Yeah, as much as we could do live. Obviously there would be some things that most bands would have to do afterwards, like just some backing vocals or if we missed anything. But yeah, we were pretty much all in the same room and just wanted to, as I said, have the energy. We like our music to sound live. That's how we always like hearing other bands recorded. Like Thee Oh Sees or something like that, who we're big fans of, you listen to any of their albums and it just sounds like they're right there playing in front of you and we hopefully have that sound on our album too.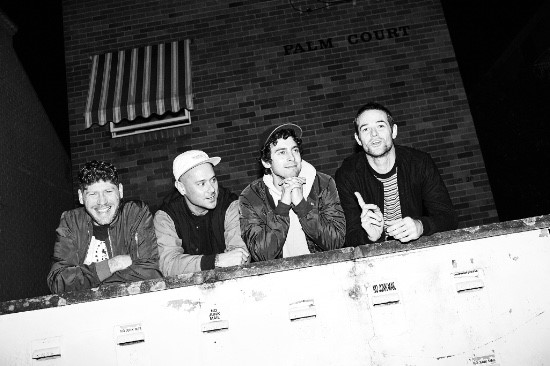 It also kind of sounds like you've upped it another level since the last EP, in terms of intensity and rawness. Was that a conscious decision from you guys, or was that John's input or did that just happen?

I think it just kind of happened. We just kept wanting to write as much as possible, because with the first two EPs we pretty much just wrote five songs each time and thought "yeah that's good enough". But this time we tried to write at least a few more just so we had a good pick of songs, and there was definitely times where I personally needed help maybe like some drum fills or a certain beat or something. John's a drummer himself and he can play a bunch of other instruments, and it was really good to have someone like John to say "Nah man, why don't you just keep the hi-hat a bit closed or play it this way or that?". I think maybe the others fed off that, or there'd be a riff that John could help with. We just wanted the sound to be more open, I think it sounds a bit bigger. Maybe a bit less lo-fi which is good.

Yeah definitely. Something else I noticed when I was reading up on John is that he co-produced 'Riptide' as well as a bunch of other massive Australian pop songs. Was there much work to get on the same level as him or was natural from the get go?

It was very natural, he made it very easy. I think as soon as we got there he called us a 'pack of c-words' which is funny, he was super funny to us and we were like "Ahh okay cool". So you kinda have that competitive fun teamwork edge that you have with a pack of friends when you go out or whatever and you give each other a bit of shit. He kind of had that with us, so if we blundered a note here or there he'd give us a bit of crap but then obviously be supportive and give us a recommendation on how to do something.
But it was honestly from the get go, from day one - we recorded three songs straight up, we only expected to do one. We got there on an afternoon and were like "let's just play a track and see how it goes", but we were just so comfortable with him, he was like, "That was great, let's just do another." He's just all hands on deck too, he doesn't waste any time. He doesn't wanna linger on anything for too long which really works for us.

I was pretty stoked that 'For The Morning' got on the album at the end. I think that came out almost two years ago now.

Yeah, that was a funny one. After we did the two EPs I think we just wanted to go on a tour or play some shows. We just thought "let's just record maybe two singles or one single with a B-side" - just something to release to keep the momentum going for us, to keep people interested. I think I remember we actually recorded with Owen Penglis (from Straight Arrows), who did our second EP. He's done stuff with Bloods, Royal Headache and a bunch of other bands. We love him and we still chat with him. But we were like "let's just record 'For The Morning' and another one and release it as a single".
It kinda drifted into a territory of "Oh crap, we actually might be doing an album next" and we wanted that on the album, and I guess some radio stations picked it up as something coming from the forthcoming album, so it was kind of funny. It was stuck in this kind of limbo but we just kind of played along with it and said "Yeah it's coming from the album", without actually planning it for an album. So when it came around with John we just thoughts we'd rerecord it so it sounds on the same level as everything else on the album.

I was gonna ask, I think on the Bandcamp of 'For The Morning' it says album coming up early 2016, then when 'Slightest Brightest' came out it was early 2017 but obviously it came in September. Was that always to plan or did things get held back?

I think that's what happens when more people get involved, as in industry folk or labels or management. It can be a burden but it can also be a great thing because there's a plan coming together. We always kind of did everything as most bands do starting out - DIY everything, planning your own tours, recording the way you want to, writing and producing, whatever. We always had this quick momentum to everything and we thought "let's just keep going and put as much music out there". But when we were kind of talking about an album, at the same time we were talking to labels and speaking to management, so it just got held off. If we had a choice the album would have come out probably a year and a half ago but you know, people invest in you, people have a certain expectation and need a plan to actually roll out with media and then to release the album, and then tour. It's bigger things that are beyond us, you just have to roll with it and say "Yeah we're cool with it", as long as we still get to play gigs in between.

I guess it's probably paying off now anyway.

Yeah, it does feel good. It's also good to feel like we can stick to a schedule. Sometimes it gets a bit haywire when you don't really know what's coming up next. It's exciting but you get to a certain point - we like having a schedule and knowing because we're still working full time in between anything. It's not like were just waiting around, so it's nice to know what's happening so we can organise our own lives.


The tour's already halfway done and you've got Melbourne on Friday. How's it all been so far?

Really fun! We're just really stoked to play with bands like Los Scallywags and Ill Sylvester who we've been meaning to play with for a long time, that's probably the most exciting part for us. We played Sydney's Brighton Up Bar, and it was cool to hang with them and play, and yeah, there was a good response and we just kind of hung around after. We played Sunday at North Gong Hotel and it was a pretty good one. It was kind of shaky weather but there was still a massive turnout, it was like a uni crowd, it was cool. They've got a good culture of Sundays at that pub. So we can't wait for Melbourne. We always love playing Melbourne, we just think a lot more people get it. Even if they don't know you they'll still come, and Yah Yah's is rad. We always have a good time there.

Have you played there before?

Yeah we did, quite a while ago we played with the Pretty Littles - a Melbourne band who are killing and I think they're coming out with an album or something soon.

Awesome. I guess this year's been a pretty solid year of touring anyway with the States shows and all that. Do you feel like you have it nutted out yet? It seems like you're pretty comfortable.

Yeah, we've definitely got a better flow. It can be a bit start-stoppy, at least in these last few years where you kind of have a tour going, then you just play a few shows and then it's kind of a few months off. But I love playing live. It can take a toll where you do get worn out and we kind of expected this year to get pretty wild from the get go. We definitely have the feeling [now], and again, it's all about momentum. We're really excited for the last few shows of the year. We've put a solid set together. It's the album tour obviously so we want to play a few more songs that we haven't played previously, so we're introducing some new stuff and a few segues between songs and just making it exciting for us and the crowd.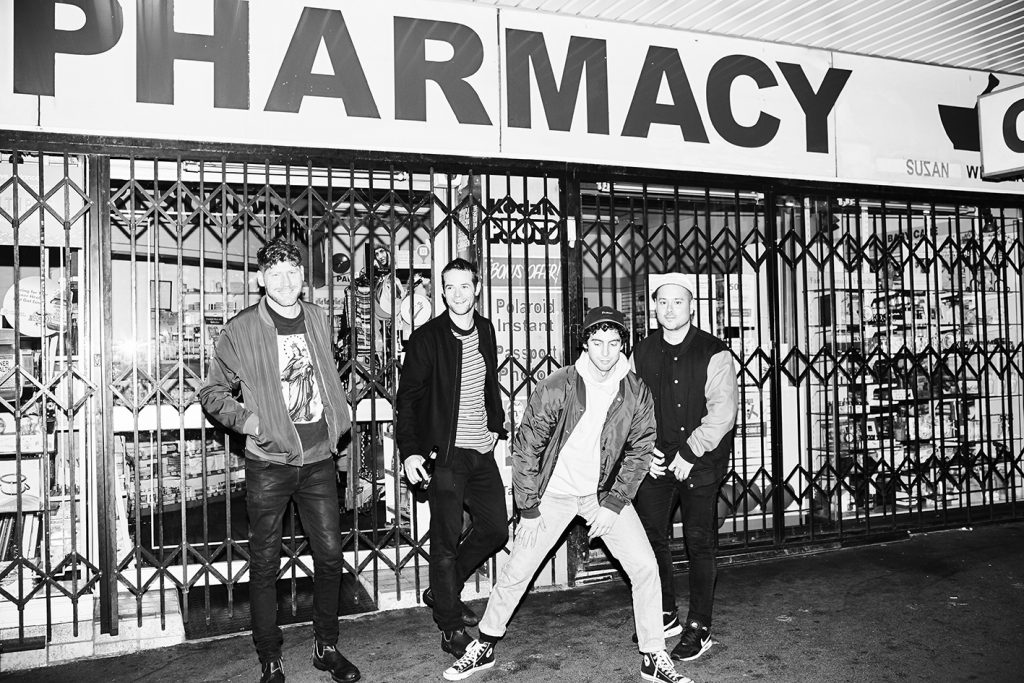 A few months ago I came up to Sydney for the Sounds of the Suburbs show and had an interesting time, because obviously at the show you can really see how solid the Sydney music scene is. But we went out on the Saturday night - and I was probably just in the wrong place - but compared to Melbourne where you can go out and find stuff everywhere, it felt like we didn't know where to look. I was just wondering how the Sydney scene feels at the moment? Especially now that the lock out laws are firmly in place, you must be really supporting each other and pushing to make everything work.

Yeah it sometimes feels like it's kind of at a tipping point - it's just like you don't know where to go or another venue closes, but there's a new exciting thing going on somewhere else. You can definitely feel everyone banding together and supporting each other a little bit more. I guess for me and the other guys in the band, we've just starting going out more to see bands, or to venues that we really appreciate, especially one's that have reopened. Something like the Lansdowne Hotel - they've taken on a lot of gigs that might have been on at Newtown Social. I had a pretty good chat with the bartenders, who are also in bands. I feel like they're trying to create more of a culture as opposed to "here's the venue, come in, watch the band, get out". It's a venue - I mean, there's lots of others - but it's a venue that's different in that you can go there, you can watch a band, you can hang out and there's other people there, whether they're in the industry or just fans of the bands, and everyone's kind of hanging out again and getting excited. I guess we're coming to terms with how many venues that there were really great and how many venues are left... and the nightlife is kind of just crumbling.

But it's definitely still there if you search for it. I personally get sick of complaining about Sydney night life, I think sometimes you've gotta shut up and suck it in a little bit. It's like, you know there's stuff on, you just need to search for it, t just might not be in your face as often.
The great thing about Sydney is there's always mini festivals happening. It's great because it's not just about having the biggest band at the moment, it'll be a whole bunch of local bands that are killing it. They might get a big band headlining it occasionally, but sometimes it'll be just a whole line up of locals and there'll still be as big as crowd as a big festival line up, so in that regard it's changing and I'm really excited about that side of it.

Yeah cool, seems like there's definitely some sort of silver lining there, in a sort of shit situation.

Yeah definitely, I mean I think the great thing that's been happening is there's more afternoon shows which needed to happen. If we can't push it staying up till 4am at a venue watching bands or whatever, venues need to take it upon themselves to just start shows at 3pm then you can have like 5 bands on and people still have a good time - you can still eat and drink, still have a good time. People can leave early or just hang out and not feel as much pressure to be like "Oh fuck we've gotta get in somewhere!" I don't know, you've just got to adapt when things are greater than you, and if they're not gonna change anytime soon (which I hope they do) then I think adapting and just finding a smarter way to work around it rather than fight it all the time [is the way to go].

Just finally, I feel like we've finally reach the point in Australian music where we're moving out of that massive wave of super cute indie pop music, and we're finally getting back into more loud rock bands again. Especially with garage rock, there's kind of become almost three different streams stylistically going really hard. There's obviously the more psych-y stuff with King Gizzard and Pond, and then more of the American punk style with Dune Rats and Violent Soho. But I guess where I'd place you guys is kind of with the 80's Australian punk stuff. With Bad//Dreems and West Thebarton and all that/ I was just wondering where you guys think you fit in? How you find you differ from a lot of the other stuff going on?

Yeah it's always kinda tough answering a question like that without sounding like a bit of a wanker, but I think you're right, you kind of hit the nail on the head, at least with influences. Whether we sound like them or not, most of our influences are early 80's punk bands. I think people can get confused with the word punk or garage, where it's supposed to sound raw and it's supposed to maybe be political. I think there's definitely different definitions for it but I feel like that's where we run to, a little bit. We love bands like The Saints and The Angels, even Rose Tattoo. And we probably sound nothing like them but there might be some guitar bits that sound [similar].

It's kind of hard though because I guess we have a bit of a poppier edge at times. We're just big fans of melodies and hooks. I mean, I love watching bands that don't really care for that and will just have repetitive lines throughout and just fucking loud guitars and drums, but we like having a bit more structure - trying to not overdo it but just make it loud. I think the only thing I could say is if you want to reference bands like West Thebarton and even a band like Polish Club, [although] they're quite poppy, if you listen to their records or watch them live, they're quite raw and quite garage. I mean, even a band like Royal Headache, I don't think we sound too much like, but Shogun the singer, he's an amazing writer and his voice sounds like it has this Motown vibe to it. It still sounds like raw punk to me. So maybe it has a melodic garage vibe but hopefully without being too Americanised. I mean we love American music too you know - we might sound like that also.

I think it works and I also think with a lot of stuff going on at the moment, each of the bands you mentioned and all of the others, everyone's got their unique take despite the kind of similar style.

Yeah definitely. It's really exciting again too, because I feel like there was a three year window when we first started out, and we noticed all these garage bands popping up, and Sounds of the Suburbs came along, it all just resurfaced. There was this big sound coming out, but it did all sound very similar. And now it's exciting as things start veering off as bands start becoming popular or younger bands are coming through.

But you're kinda right, there's these sub genres around now. You can get these big wristband gigs like Violent Soho, and then you've got other stuff like Polish Club or us and it's really exciting. It's all kind of under the same umbrella and it's just gonna keep growing - I think hopefully it doesn't become too big because it feels good [at the moment]. It's not too underground but it kind of feels like... if you look at any top 40 charts, I guarantee you there will be no garage bands. There will be no big rock bands that I personally think are great and there'll be something like, it sounds kind of cliche to say, but Coldplay or whatever. It's nice to have this garage scene, it makes it kind of special which is cool and people obviously care about it.

I think it gets the right attention where it's needed to be heard.

Definitely.



Check out Good Luck above, and you can catch Food Court tonight at Yah Yah's in support of the new album.