Music / Features
SOMA - A Chat with Tetrahedra
Having just dropped 'Either', the first single off their upcoming visual EP 'SOMA', we caught up with Lena and Max from Tetrahedra to get a behind the scenes glimpse of Tetrahedra's "dream project".
While most people are far from into the swing of things on a Monday morning at 9am, we managed to peel an hour out of the schedules of some of Melbourne's busiest working musicians Lena Douglas and Max Dowling, from Melbourne electro-pop masterminds Tetrahedra, to discuss the enormous project they've spent their entire 2017 dedicating themselves to. October 30th saw the band release 'Either', the first single off SOMA, a twenty-minute long visual EP. The collaboration with director and artist Prue Stent, her co-collaborator and costume designer Honey Long, videographer Zoe Scoleo, choreographer Natalie Abbott and an array of dancers is a cross-disciplinary dream and sees the band pursuing their most ambitious project yet.

It doesn't take long for Max to give us an insight into how much this project means to the band. When asked about the inspiration for such a mammoth task, he replies that "it was just kind of our dream project. We've always seen this band as a collaborative thing... we've always wanted it to be". Having met whilst studying music together, Max says the band's collaborative background "stems from uni in this collaborative environment and wanting everything to be multi-dimensional". "From the get-go it was always this desire to have this cross-disciplinary thing in everything we did. I think that that element of cross disciplinary collaboration is so crucial to what we do. It feels like a way to enhance everything and a way to make everything more three-dimensional".

Beginning this year gigging off the back of their debut EP "Kinesphere", Tetrahedra were in the process of writing new music and planning their next 12 months when the possibility of fulfilling their idea of a visual EP came to fruition. Grants from both Creative Victoria and the Australia Council of the Arts meant that pursuing such a challenging and time-consuming project was now a real possibility. "Obviously financial things just take their toll and it gets hard", Max explains, "We wrote up some grant applications and we just made up the dream project. It would be this collaborative visual EP with Prue Stent and this choreographer blah blah blah… we just sort of did it and worked really hard and sort of forgot about it. And then got the grants and were like woah, we can actually do this."


| | |
| --- | --- |


Prue Stent's influence on SOMA is undeniable from the very beginning and it is no coincidence that Stent's distinctive style and approach to the EP accompanies Tetrahedra's music so seamlessly. Lena elaborates on their relationship, "We've worked with her from the very beginning of the band. She did our first photo shoot and we really enjoyed working with her. She's obviously an amazing artist in her own right and in addition to that we thought her work really complimented ours and so the idea of working with her on a more extensive project was super exciting". Max continues, "I think her own feminism is very central to what she does which is another reason we really love working with her. It's got this nice, ludacris feeling to it but sort of this real degendering and dehumanisation kind of thing in a really interesting way."

With SOMA now in their sights and Prue on board, the band's approach to writing for the EP began to change. "We had quite a few songs going on at the same time and then we decided, because we wanted it to be one cohesive thing, we culled and curated specific to the actual project", Max explains. "We were like, okay, what songs are gonna work well together? What do we want 15 minutes into this composition if we're seeing it as one 20 minute long thing? What do we want to be happening in a narrative sense? That sort of directed how we constructed the compositions and stuff and then we brought that to Prue". This then lead to "a bit of back and forth" with Prue to prepare the songs for the visual accompaniment. "We brought that to Prue... then she would relay and go 'this is how I'm feeling about that, this is maybe what could happen', and then we'd write a bit more and try to write with visuals in mind. Even things like 'this section can maybe afford to go for a little bit longer because in it's full form this might be a moment where visuals take the lead'. Musically, we wanted it to represent the way we play music live. We try and transition through as much as we can."


As the clip for first single 'Either' suggests, SOMA is set to be a stunningly abstract voyage, blurring the lines surrounding the man-made and digital, the human body and gender, which are themes that Tetrahedra and Prue Stent have both previously pursued extensively. Max elaborates, "The one thing that was really resonant throughout the thing from the get go which we'd been thinking about for a while is the bases on the way that we make music, trying to have this kind of blurred line between man-made and digital. Which is a mantra we've set between writing grants and like, doing interviews and talking to Prue we've said that so many times, but it still rings true. We wanted that to be a really strong theme in the visuals as well, that blurred line between what's real and what's hyper-real or surreal or completely dehumanised. And in a gender sense too. Gender is something we as individuals think about a lot so we wanted to make this kind of degendered as well as celebrating all genders." Lena continues, "Just the human body and it's capabilities as a body, as opposed to anything else. One of Prue's main themes is desexualising the female form. That's something that's inherent in our work and that wasn't something we had to explicitly talk about with her."

On the extensive list of other collaborators involved, Lena explains, "Prue was always in the idea from the get-go and then more people kind of came in once we'd received the grants and realised we had enough funding to get some other amazing people on board." Max continues, "So [by the end, we had] a videographer called Zoe Scoleo, Honey Long, who works a lot with Prue, did all the costumes, a choreographer called Natalie Abbott and then there were a lot of dancers and movers involved as well. Including ourselves. A bit of green screen fun happening at some point." Lena then adds, "Isabella Connelly did the artistic direction for one of the clips and she did a really good job under pressure".

It's pretty clear how excruciatingly intricate and time-consuming a task like SOMA has been for all involved, as Max recalls one particular day of shooting. "This one fucked day we had to go to Mt Macedon, it was literally like two degrees, and we were in these super thin singlet material body suits with holes in them. We were lying on these rocks... and I didn't realise I had a concussion from the night before". Lena brings to light the amount of work saying, "I feel like it's been this whole year because we worked on the grant applications all throughout February and we were composing between March and May, found out we got the grants about the beginning of May, and then it was a massive rush to get all the music together and logistically get everyone on board for the same days. All the people we were working with are amazing and all jetting off everywhere". "The actual filming was very anti-climactic" Max continues, "It was over in a week. It made us realise how valuable it is to have really good people on board. Having a videographer and a separate choreographer and a separate artistic director and a separate costume director means a shoot will take half a day, and then it will be done because we know what we're doing which is a real good thing". Lena adds, "I think that's just testament to how professional all the artists we worked with are".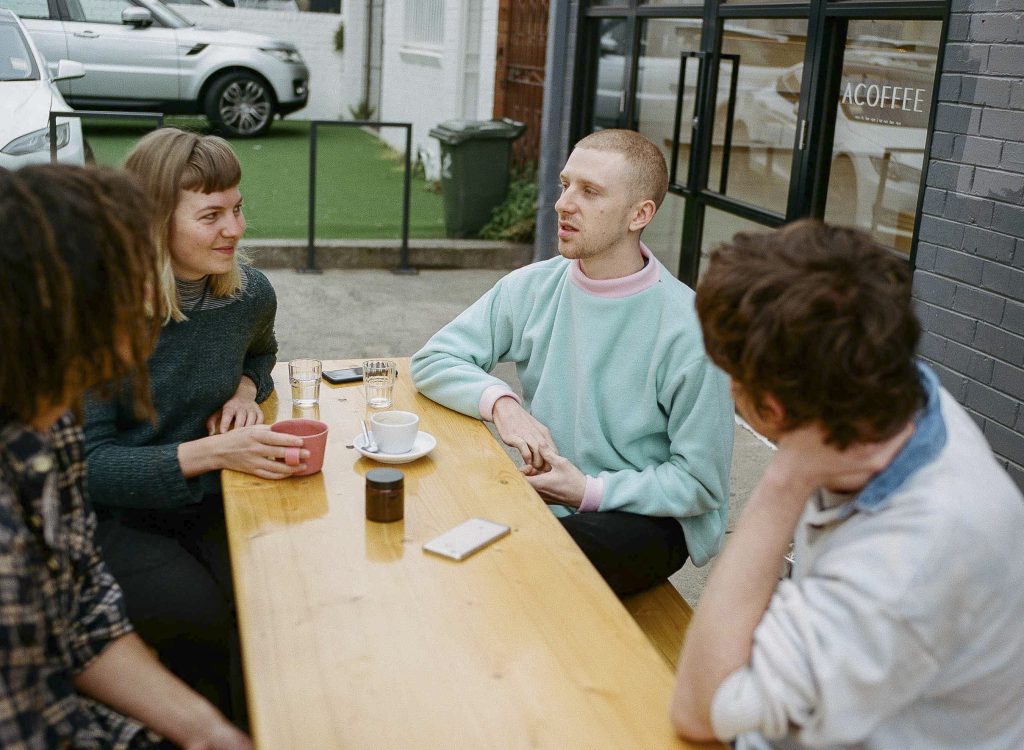 On the 16th of November, Tetrahedra are holding a listening party at Treloarland in Brunswick, which will be the first time most people will see the project in it's entirety. Lena and Max both express their excitement in being able to share the final product, particularly with those who aren't familiar with the amount of time and effort behind it. Lena confesses, "It's been very challenging. I think we're a lot more relaxed now than we were. We're on the right side of it, we've gotten through all the challenges that we faced... I am actually really excited for the day, which will be in about five years, when I can watch it and just be like, 'actually I reckon that's sick'." Max adds, "it's really exciting to release it for that reason to just have people who don't know what went into it just listen to it and see it and experience it and just perceive it as what it is. [We] lose all sense of context, but what the audience hear is just what we put down".

Despite the enormous workload behind them, Tetrahedra remain tightly focused on where they could be heading next. Rather than taking the time to reflect on their year, Max assures us that they don't plan on slowing down any time soon. "I think we're all pretty future focused so part of it is just the feeling of resting on your laurels. I think we're all like, okay that's done, next thing... It'll definitely be nice to not do a visual something next time to be honest. Even though we've written dozens of songs over the years, it's like now it feels like now we're finally getting towards a work flow". Lena continues, "I think it's more about shifting our focus to a different thing rather than it being a visual album, it'll be more the desire to really tighten our live show and just write more music and hopefully get some bigger shows and stuff like that."

The conversation quickly turns to the possibility of making their live show a visual experience as well. "We want it to be", says Max, "it's purely money driven and logistical though. We'll definitely have a three dimensional element for our launch. Sometimes I think the best curation of a space is just something that activates the space in a way that means that everything becomes relevant, rather than everything is irrelevant and kind of you have to block it out. It's really hard to balance having a three-dimensional element in a live show that doesn't take away from a raw performance". After a moment of reflective pause, Lena declares, "next step, there we go".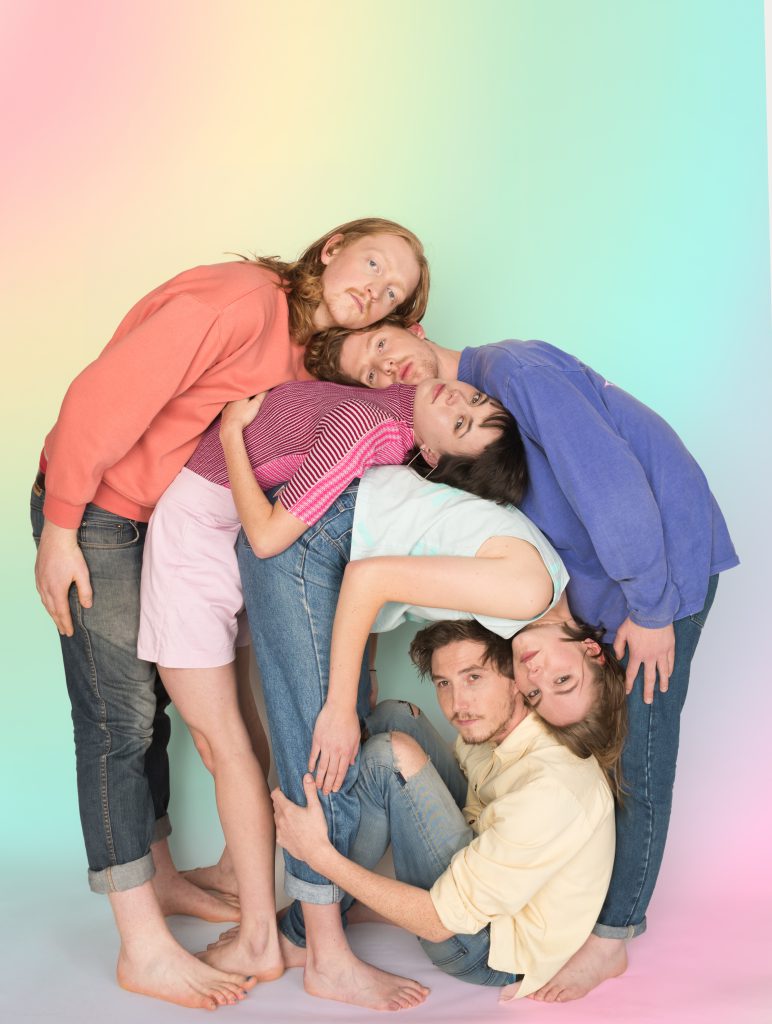 Tetrahedra are hosting an exclusive public unveiling of SOMA at Treloarland on Thursday November 16. With limited tickets remaining Trouble Juice readers can get their hands on remaining places!
SOMA is due to be released February 2018.