Music / Premieres
Premiere:
Picket Palace - Hooley Dooley
After a year or so of gigging around town, Melbourne garage punks Picket Palace have finally released their debut album Hooley Dooley. The album plays like a kid who's got his hands on too much raspberry lemonade - one moment they're bouncing of the walls excitedly, the next they're quietly defeated on the couch. But despite the different moods, the album doesn't feel scattered at all, with each track laced with lopsided charm and incredibly authentic enthusiasm.
Hooley Dooley bursts out of the gates with 'Pick-a-Palace'. Packed full with ferocious guitars, untamed vocals and impatient energy, the track brings to mind Parquet Courts at their most untamed crossed with the local dolewave scene. It's a perfect introduction to Picket Palace - they're the type of band who aren't here to fuck spiders, but definitely the kind of band to use the phrase "we're not here to fuck spiders." 'Burnley Tunnel (Vision)' follows suit with a pounding beat, cutting guitars and brazen lyrics. Matched with the almost anthemic 'Pull Your Head In' and the chaotic 'This Guy', Picket Palace prove themselves to be worthy players in Mebourne's punk scene. But the album's not all reckless abandon and noisey guitars, with tracks like 'Velvet Undergrad' and 'Flightless Bird', which sees the band slow things down and show off a vulnerability that's masked in the louder songs. However, it's impossible for the band to completely flip the switch - even the most tender moment on the album 'Crasha's Song' which strips things back to just vocals and a guitar (plus the occasional harmonica), still includes lines like "I like your tits, and I wanna see how your hips connect to your other bits."

In fact, it's hard to talk about any of the album's tracks without bringing up the lyrics. The entire album is soaked in a high school troublemaker attitude that is as endearing as it is hilarious. Across Hooley Dooley we're treated to an immensely accurate (and also very specific) overview of life as a twenty-something in Australia. But unlike your Paul Kellys or your Courtney Barnetts, who describe Australian life with a careful attention to detail, Picket Palace set themselves apart with pure recklessness. Despite the wit behind many of the lyrics, with lines like "undervalued, overpriced, full of cunts on Friday nights" and "it doesn't matter, I'm making money selling lemonade", it often feels like frontman Seamus O'Connell might just be singing the first thought that pops into his head. Which brings us to album highlight 'TGIF', which plays out as an honest description of Seamus' day to day life. As the band jams over some garage rock chords, Seamus drops gem after gem - from "I'm a man techincally, legally, if I die on the news they would say a 21 year old man was killed today in an alcohol related incident" to "stay in Melbourne, watch my little brother's Auskick, he'd love that" it's hard to listen to the song without a goofy grin on your face.

While the rest of the tracks address a range of different issues, every song is charming, genuine and covered in an endearing sense of irresponsibility - making Picket Palace the kind of band you'd love to see rip up a stage on a Friday night then eavesdrop on afterwards in the beer garden. We're super stoked to premiere Hooley Dooley and ahead of the band's album launch this Wednesday, we spoke with guitarist Jack O'Connell about all things Picket Palace.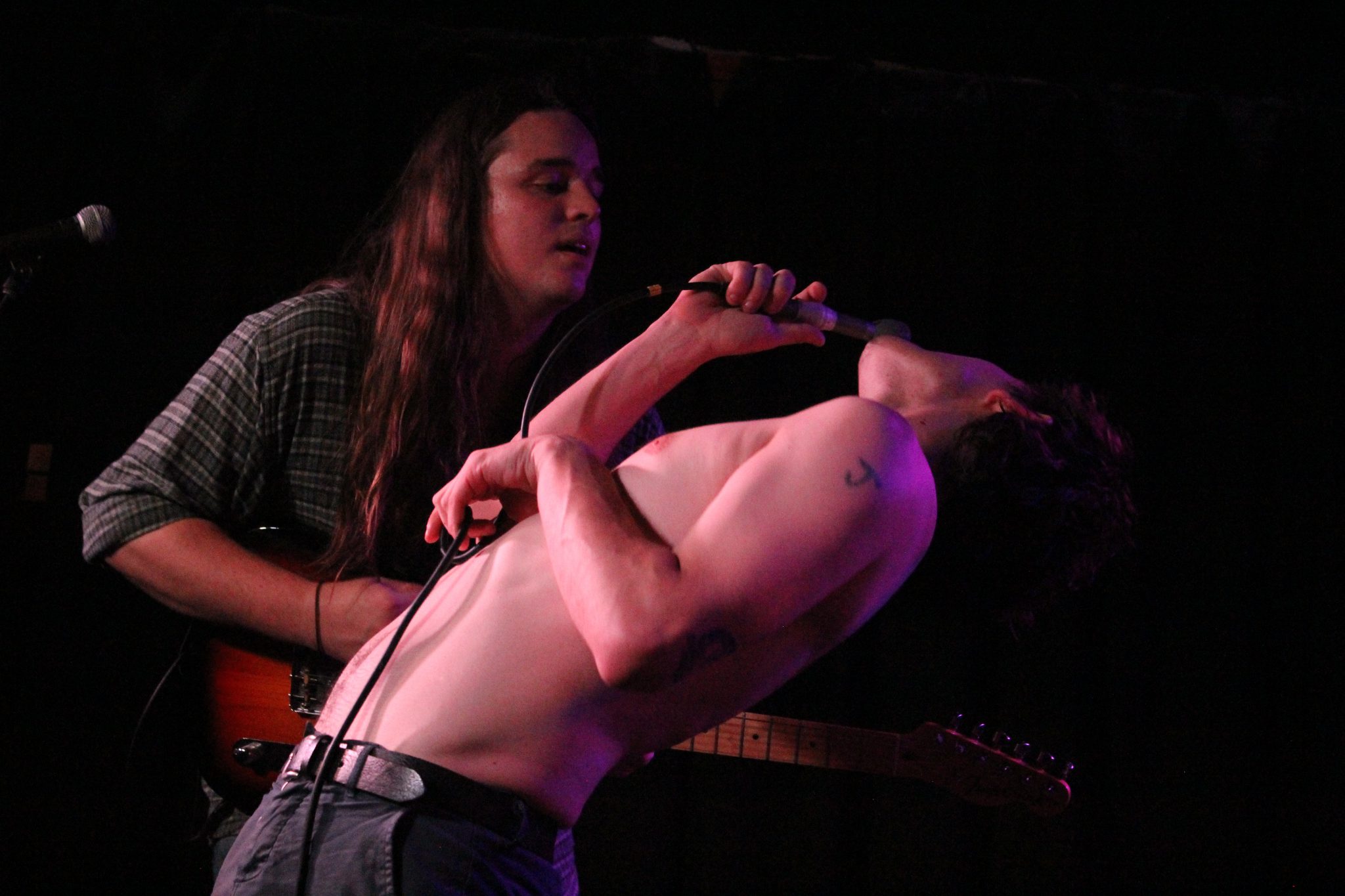 What's the deal, Picket Palace?

Well the band kind of formed by accident at first: Gus (guitar), Jules (drums) and I (Jack) were all living together, and Seamus (vocals) is my brother so he was around all the time. Gus and I had been playing together in other bands for a couple of years and the other two were basically jealous that we were always jamming without them, so Jules taught himself the drums so he could join in and Seamus and I started writing songs over what Gus had crafted from the jams. I think everything that we've done since then has been born of that same instinct of wanting to explore and create and make insane noises just for the sake of it.

Tell us the story behind Hooley Dooley.

I think Hooley Dooley is a really honest document of our first year or so of playing music together. Our drummer and lead singer were still learning their instruments while the album was being built – in fact we laid down most of the takes on the first track in a demo session before either of those guys had ever played a gig – so I think there was a real recklessness and a sense of experimentation and discovery in everything that we did.

We first brought in Justin on bass because he's easily the most accomplished musician out of all of us and we thought we'd better have someone involved who knew what they were doing, but he's usually playing lead guitar in Swamp and didn't even own a bass until a couple of months ago, so even he was in uncharted territory.

I think that's how the album came out so raw and unfiltered; there's nothing on there that's been workshopped to death or over polished until it's drained of personality, everything is the truest, fullest expression of where we were at when we wrote and recorded it and I'm really proud of that. The album took shape over nearly twelve months of scattered sessions, and there were times when Jules listened to drum takes he'd put down a month or two earlier and begged Gus to scrap the track and let him record it again because he knew he was a better drummer now, but looking back now that it's finished is like looking at an old photograph: you might do things differently now but there's no arguing with the truth of that moment, and I think making an album that captures that is a real achievement.

Although the album is pretty cohesive, you've managed to cover a lot of ground across the nine tracks. What was the process of writing and recording Hooley Dooley?

Well the most exciting part of recording it was that we were doing everything ourselves: we had slowly been accumulating all this recording equipment at home and Gus had been teaching himself how to use it, so he was learning how to be a producer, Jules was learning how to be a drummer and Shea was learning how to be a singer and a songwriter, and that process can throw up some weird and surprising results.

Everything was an experiment and an attempt to entertain ourselves. There are huge portions of Justin's bass tracks where he was just messing around doing insane stuff that he thought wouldn't go on the record but we loved it so much that Gus just left it in. Half the tracks are full of background noise and studio chatter, mostly because it just amused us; I'm pretty sure at one point you can hear Seamus finish a vocal take and turn to me and say "What are you gonna wear to the ARIAS?"

A highlight across the whole album is the lyrics - they're incredibly authentic and genuine but also packed with dry wit. How important are lyrics for Picket Palace?

Yeah Shea has grown massively as a writer and a performer in the year or so that these songs were coming together, and I think that wit and that kind of tongue-in-cheek, self effacing style has really become one of the defining characteristics of the whole album. Even though so much of it is wild and ridiculous and fun, for a listener to really connect to a song there needs to be a sense of authenticity and vulnerability, because if a song doesn't sound like it matters to the person singing it then why should anyone else give a shit? We wrote songs about the frustrations of the rental market, our own creative frustration, our dismay at the soulless gentrification of our hometown, anything big or small, silly or serious, but anything that actually felt like it mattered to us.

There's a track on the record called 'Velvet Undergrad', which was the first song Shea ever wrote, before he'd started playing with us at all. It's only got two chords because he only knew two chords at the time and its whole structure is basically a blatant Lou Reed ripoff, but in terms of the lyrics and the emotional resonance it's one of my favourite things on the album. Even before he knew anything about music or songwriting as a technical discipline, he had an innate understanding of how to get that balance of dry wit and absolute sincerity that can make someone share in your joy or rage or hurt or laughter or whatever it is.

Plus, I mean, he's my little brother, and watching him grow into this magnetic, maniacal frontman and helping him extend himself as a writer has been the most fun I've ever had doing anything. His personality as a writer and a performer is a perfect microcosm of what the band and the album are about. The rough edges are always the best parts.

How's the rest of 2018 looking for Picket Palace?

Big! We've already started work on two more little concept records that we'll hopefully be releasing side by side in the first half of this year, and we are unfeasibly excited about those. We've started putting a couple of those songs into the live set already and we're having all the fun in the world with them so it's a super exciting time for us.

Beyond that, hopefully we can just get the album into people's ears and keep playing as much as possible to as many people as we can find, starting with the album launch at the Toff on Wednesday. We're good mates with Mt Defiance and we've wanted to play a show with them forever, and Hannah Kate is a really exciting talent so we're pumped to have her on board.


Have an listen to Hooley Dooley above, and get to The Toff In Town this Wednesday to catch Picket Palace launch the album.