Events / Upcoming
South Space 18

South Space 18 is a music, art and film festival highlighting the creative underbelly of Melbourne's inner-South. Over a week in February it will showcase more than a dozen arts events across Elsternwick, Ripponlea and Balaclava taking over ten local spaces.
South Space 18 is an initiative run by South of the City (SOC) - a group established only last year but set out to shift the creative cultural dynamic within the city of Melbourne. As they credit the majority of Melbourne's creative hubs to the north side of the city, SOC intend to challenge this popular notion explaining that "Melbourne's south is home to some incredible spaces for live music and art, undiscovered by the young people who live close by."

Aiming to extend Melbourne's art and music scene southwards, and "closer to home" for many who make the trek to the north side for a night out, SOC are seeking to inhabit as many of these hidden south side gems possible and spread the word.



| Uncle Bobby at SS18 fundraiser, Image by Joon Youn |   |
| --- | --- |
South Space 18 (SS18) is a prime example of what SOC have set out to achieve. Over the course of just one week South Space 18 aims to "involve and activate the existing cultural infrastructure" of the South, cultivating its own creative hub. SOC founder, Theo Carroll, claims "culture and art exist in the south in ways that are entirely unique. Elsternwick, Ripponlea and Balaclava each have their own distinct atmospheres and demographics that you just can't find anywhere else in Melbourne. That needs to be celebrated".

The festival kicks off on February 6th with Classic Cinema Elsternwick hosting a free gig featuring four local bands, along with half-priced movies. Owner Eddie Tamir, strongly supports the initiative of the festival explaining the southside "is unsung fertile ground for young, creative people."

Saturday the 10th of Feb is prime time for SS18. The eclectic and industrial space, Glass Merchants is hosting a marketplace of artists, designers, craftspeople, comics, zine-makers and writers where over twenty young creatives will showcase and sell their work alongside a Greville Records pop-up store. The event celebrates the iconic, Melbourne institution that is Greville Records while creating an encouraging space for local, ambitious creatives.

Following the marketplace, on the evening of Feb 10th is a highlight of SS18 - SOC FEST. A mini festival hosted at Balaclava's Pause Bar, the line up boasts a grand total of ten young bands - Pretty City, Cracker La Touf, Plotz, Kill the Darling, Franjapan, Acid Ants, Bad Bangs, STOKA, The Belafontes and zingo thing. It's set to be a big one, aiming to bring Melbourne's alternative rock scene to Balaclava.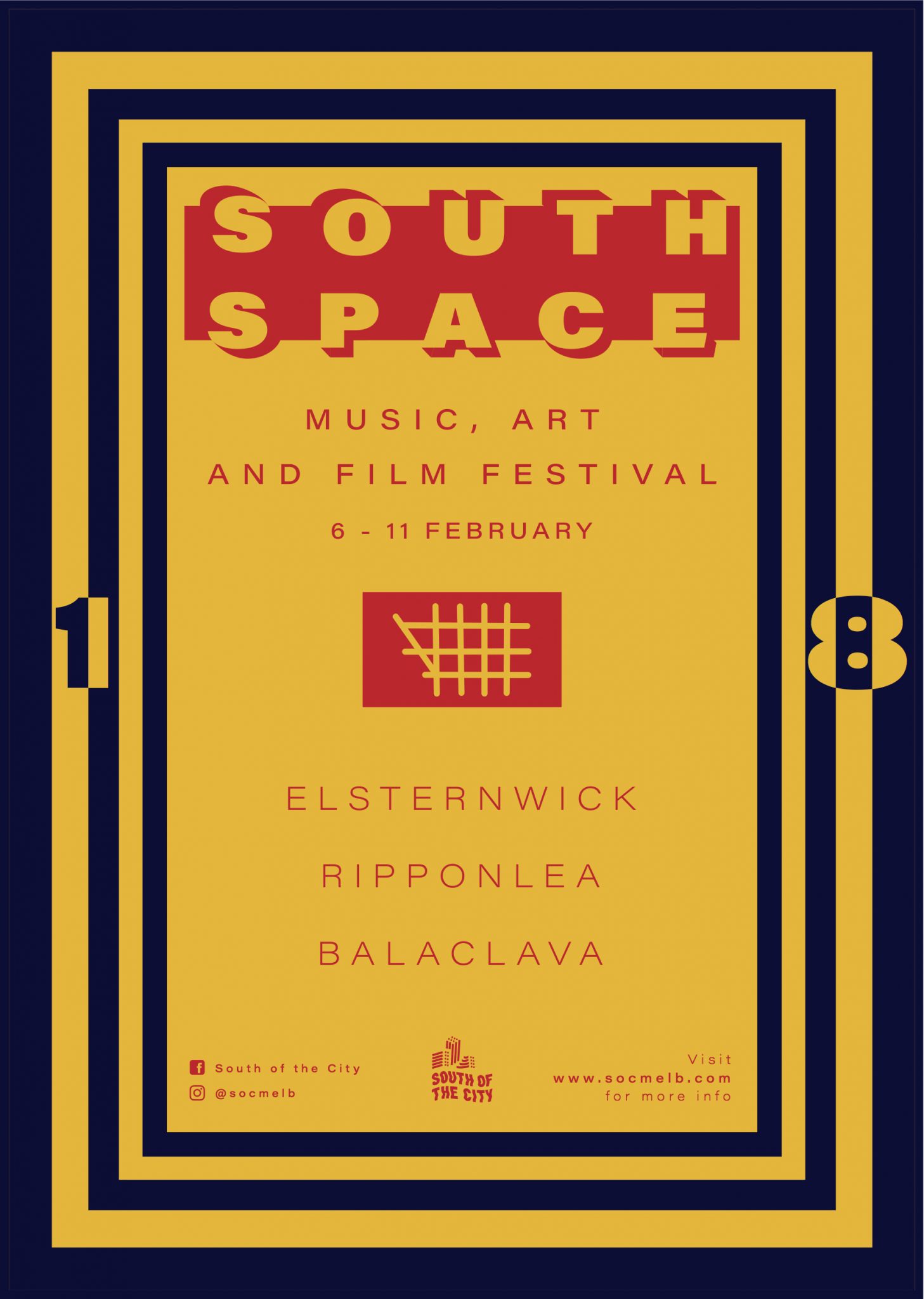 Alongside SOC FEST, SS18 is initiating a range of nightlife events - Lyrebird Lounge is hosting a free gig on Feb 9th, while a range of bars throughout Elsternwick, Ripponlea and Balaclava are stripping back their prices for the entirety of the festival. Carroll explains "these local institutions are eager to participate in the cultural activation of their surrounding area".

SS18 in turn features an extensive and exciting range of creative events on the art side of the program. Four gallery openings, three ongoing exhibitions and two film screenings are set to engage and encourage the creative talent budding in the southside. Notably, on Wednesday Feb 7th twenty filmmakers will screen their short films, while on Friday the 9th there will be a screening of music videos made for young, local musicians.

With South Space 18 just around the corner, Trouble Juice will be featuring all upcoming events and strongly supporting this exciting endeavour. Stay tuned for more in depth teasers and start pencilling these dates into the calendar!