Music / Features
Track by Track:
The Citradels - God Bless
Over the last eight years, Melbourne psych rock luminaries The Citradels have meddled and experimented with every version of psychedelic sound imaginable - from intense drone-outs and mystic meditative jams, through to soulful ballads and kooky garage-psych hits. Their latest album God Bless, a collection of playful 60's styled paisley pop, finds them at their most focused. Across the album's thirteen tracks, it's all jangling guitars, charming melodies and gloriously-stacked vocal harmonies reminiscent of Brian Wilson at his best.

However, The Citradels have never been one to let anything feel too simple, so God Bless comes as something of a concept album - detailing the people of a town where religious influence prevails. To help us delve further into God Bless, Curtis Goodfellow and Sam Heathcote talked Trouble Juice through each of the album's tracks.
"God Bless is certainly our most intentionally collaborative effort. Everything we created was born out of discussion, thought and purposeful execution. Admittedly the concept of total transparency and constant communication was a little foreign to us. This methodical approach didn't detract from the way that the music came together in our practice space, as rehearsals were still an opportunity for experimentation. The music was recorded throughout an intense period of five days and nights.
When the time came to write lyrics we had only the themes we wanted to explore and the melodies we wanted to use. Writing this town to life together proved to be a sometimes slow and frustrating but ultimately rewarding process.
We decided to display the lyrics on the inside cover of the record, emphasising their importance to the concept for the listener." - The Citradels


A1 Hill Out of Town

"This song came quite quickly and naturally. It is an introduction to the town setting and characters as they gather for morning mass. The chords and melody for this song have existed as a demo for years. It was originally intended to be a Syd Barrett inspired jangler, but was reinvented for this album. The lead guitar was treated to sound quite synth-like, we added a semi-theatrical bridge section and the chord progression is shortened in the final chorus to lift the finish."

A2 Holy Water

"Heavily inspired by 'A Butchers Tale' by The Zombies, this crashes in quite bombastically, with dramatic old-testament imagery. This sermon sets the tone for potential consequence and adds weight to the actions of the characters."

A3 God Bless

"The focus is on the minor and mundane, following the unholiness of Father Ron's everyday goings about post-sermon. The rotary sounding guitars bubble and pulse away in the verses before the choruses make way for a harpsichord lead. These repetitious rhythms eventually lift into a gospel-like section, conveying the congregation's feelings of blind love, devotion and hopefulness for their Father and their Lord."

A4 Believe and Receive

"Paints the picture of an idyllic community but highlights the tranquility as an easy opportunity for exploitation.
The backing vocals in the verses are made up of stacked octaves with the aim of sounding like a choir and the drum beat in these sections was lovingly crafted from various found sounds. The song rides out on chords a little reminiscent of The Velvet Underground but with some swirling synth sounds and a bit of a country twang."

A5 Roman Holiday

"This odyssey traces Father Ron's overseas pilgrimage, a journey filled with contradictions. It is a part-Seeds, part-Byrds inspired tune with a keyboard lead line and the call of angelical choirs. The final section involved a lot of vocal multi-tracking to achieve a sort of mantra-like feel as the lyrics repeat. The song touches on tradition, practice and personal reflection. Father Ron's internal questioning has the potential to undermine his authority amongst his followers."

A6 GRC

"Concerning Uncle Arthurs' life before and after a significant period of time with a cult. There are three sections to the song. It begins quite straightforwardly, then a change lifts the intensity a notch, inverting the melody and placing the emphasis on different beats. The bridge section has a gradually degrading drum sound, sucking the rhythm out slowly. This is one of the groovier numbers on the album and is a bit of a nod to an older track of ours."

A7 Post-war Preschool

"Tying together Neu! inspired Krautrock with an upbeat 60s pop song cohesively was a compositional challenge we wanted to experiment with. The song explores how school teacher Amanda's daily life is controlled by her beliefs. It examines the expectation of reward for effort, and exerting effort into narrow belief systems. The swirling changes were the result of a series of notes played on a recorder driven with tremolo and many vocal layers in order to achieve a sort of downward spiralling washing machine effect."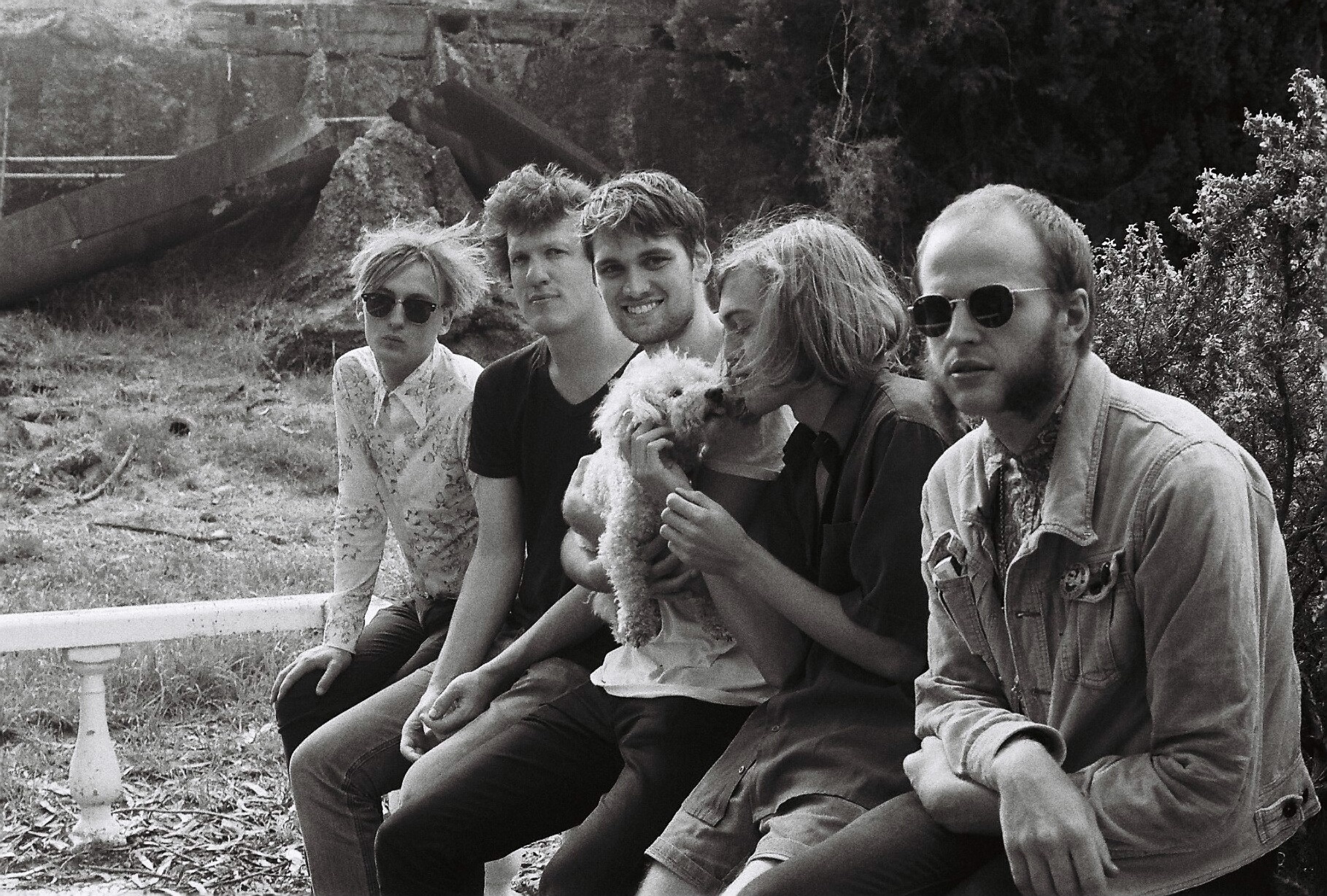 B1 St. David

"Inspired by true events and based on a real person, David is a young child who is repressed by a strict moral code. He one day follows in the footsteps of his Uncle Arthur and breaks free of the pressure of the community, only to face an initially liberating but ultimately unfortunate outcome. The song is carried by a 12-string guitar lead line and some very angrily strummed acoustic guitar. This is the shortest song the band has ever recorded and is a nod to our early garage influences, reworked to include Byrds-style close harmony and a horn section."

B2 Pictures of Uncle Arthur

"This song chronicles Arthur's regression into different belief systems, with each section being presented from the perspective of the protagonists' friends and family. The song's many sections represent different facets of Arthur's life. There is a gradual build-up of string layers over Arthur's return to his home town and family. The climactic string and horn section shifts a note of the main melody one semitone higher to add intensity. There are some obvious Kinks influences here along with other British Invasion inspired sounds and some Western twang. This story is also based on a real person who lost their way after the death of their mother."

B3 Holy Ghost

"Some key melodies of the album are combined, tied in and unified. The lack of lyrics does not signify a lack of meaning. It is a reprise of sorts that represents a return to religious service but with a regression backwards in time towards a more medieval or Gregorian quality."

B4 Milk and Honey

"This is a more upbeat song with less specific references to the characters and town. It chiefly explores ideas of promise and faithfulness. This song is a lot more synth-driven and has many samples and electronic elements, though it retains a straightforward pop structure. We sampled a prominent Soviet string concerto, but twisted the sound through a range of audio effects with the intent of creating an electronic symphony."

B5 Sunday Best

"More specific and direct, this song explores the link between sexuality and sin. It is written in first-person and specifically concerns two members of the town. Elements of shame and fear of punishment are also at play. This song reached its final form after many different incarnations and much alteration to the timing, arrangement and melody. The clarinet and violin lends the song a sort of chamber sound with the harpsichord section completing this aesthetic."

B6 Dawn Chorus

"This song had a sense of finality to it. We wrote with that in mind and aimed to provide a small amount of hopefulness and closure. Imagery conjured on other songs throughout the album are referenced here. The vocal harmonies provide a sort of airy quality, while the strings create a melancholic end to the saga. For better or for worse, things will remain the same for the people of the town, despite the outside world rapidly changing."



Check out God Bless above, and follow The Citradels on Facebook to keep up to date with what's next, including an upcoming album launch.