Music / Features
Denim - A Chat with
Drunk Mums
It's only been about one month since their last release, but Melbourne's finest garage-punks Drunk Mums are back with another 7" EP. Denim doesn't muck around - barely clocking in past ten minutes, it's packed full with blown out guitars, sludgy bass and classic Drunk Mums ferocity. From the garage stomp of opener 'Hot Flush' through to the final yelps of 'Ode to Death', Denim is a wild ride that burns hard but never fully melts. Currently in the midst of a national tour, we chatted with bassist and vocalist Adam Ritchie to find out about Denim, keeping healthy and their upcoming Melbourne show this Friday.
TJ: You're currently in the very middle of a national tour - how's it going?

DM: So good. We've had some massive turnouts and the crowd seems to have a blast. Only downside is sleeping in a hallway at a hostel cos I forgot what room I was in when I wanted to take a leak even though there was a toilet in our room but I was too pissed to realise.

The new EP Denim came out earlier in the month and it doesn't mess around. How are people receiving it?

They are either receiving it in the mail or at the shows. AAAAAAAAHHAHA nah it's been received really well. Over half the 7"s are sold out and I haven't even really tried that hard with record stores yet.

If I'm right, all of the songs on this one are Adam's. That's a bit of a change since the first two albums have had pretty shared songwriting, right? The other guys getting lazy or something?

Nah 'Powerslide' is Jakes', the rest are mine. They're not getting lazy? I only had two songs on the first album. I think it's just kinda shifted cos I feel like the sound we are doing now is something I really enjoy so that helps me write songs for the band.


The sound of the new tracks makes me imagine you finished the songs then left them out in a 40º sun for a few hours afterwards. What was the writing and recording process for Denim?

I record and mix bands for a living so I did all of that part. First half was recorded at Laneway studios, second half at my studio before I moved out of there. All up it was probably four days to record and mix. The writing process is a mystery, I can't really remember much. 'Hot Flush' was written in a day, 'Kidnapped' probably over a couple months cos I had the riffs and chorus down but no verse, but the boys liked it so much they wanted to play it live so I just made up the lyrics for a while. 'Ode to Death' was written in about a day but then morphed a lot after I recorded it by adding things to it. 'Powerslide' you'll have to ask Jake about, but he probably burnt 50 CDs over 3 months so he could listen to it in his car before we went into the studio.

Every now and then, you'll hear a band talk about the importance of not partying too hard on tour to look after themselves. For some reason you guys don't really strike me as that kind of band - how healthy/unhealthy are you right now?

I'm healthy as fuck. We all go hard on the booze and would drink anyone under the table but we make sure to have a healthy meal in the morning so we don't shrivel up and die. Seven years touring in a party band has taught us many things. We don't want to end up only eating yellow food after drinking yellow drinks to then pissing blood.

Your tour ends at the Nightcat on Feb 2nd. Any special treats for the hometown show? Also have you decided which way you're each going to face?

We've added the Chiko Molls DJs featuring Amy from the Sniffers. You've really put me on the spot for this, I'm gonna have to think of more things to do. Isn't the line-up good enough uhhh? Yeah but nah we don't know which way to face. I guess thats the beauty of having legs we can just turn around.

It's been a pretty big start to 2018, what's on for the rest of the year?

Write and record a full length. Go back to Europe. Go to NZ. Release a split 12" with Spanish band NAVE NODRIZA.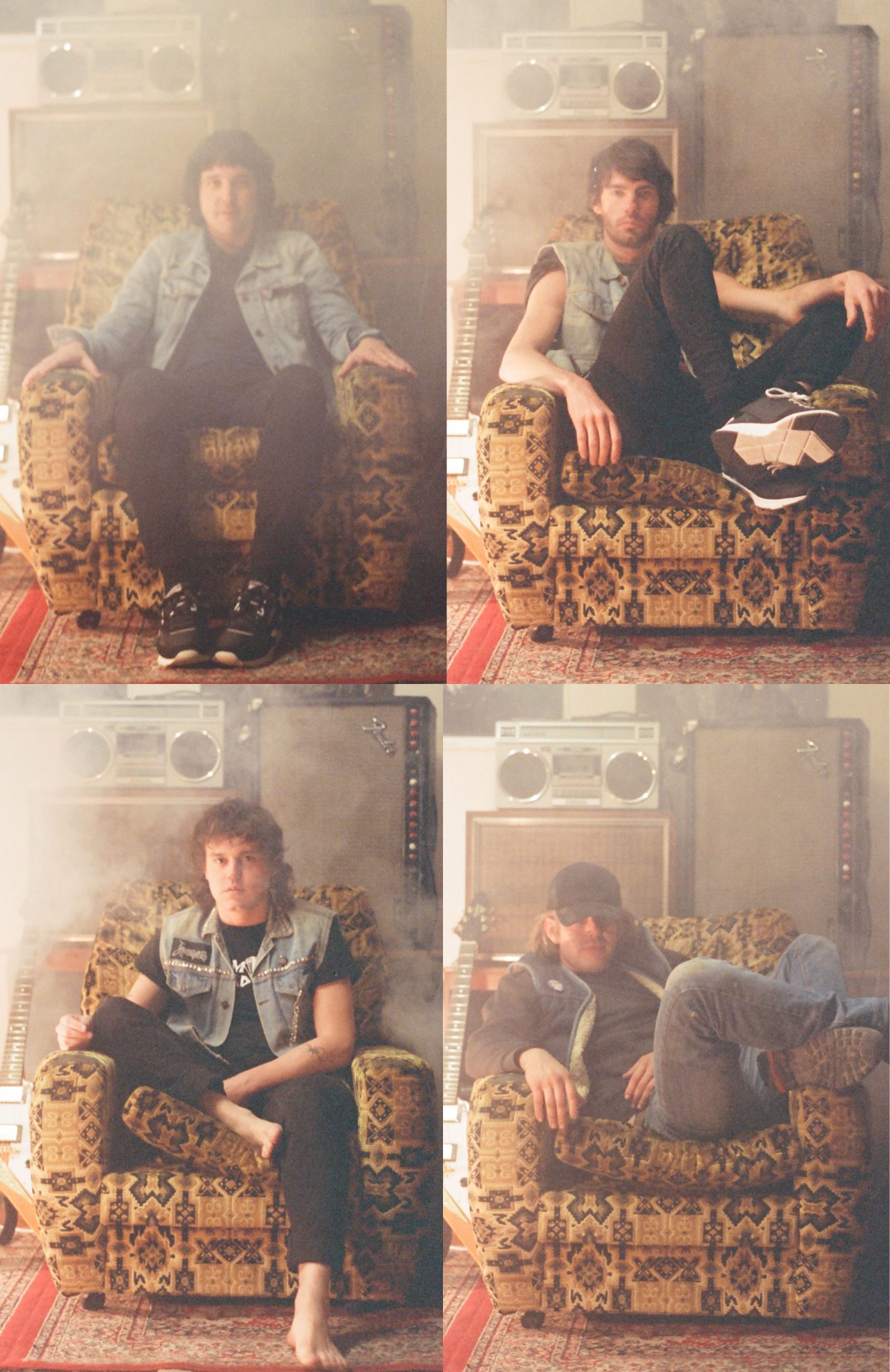 Have an listen to Denim above, and get down to the Night Cat this Friday Feb 2nd to catch Drunk Mums launching the new EP.