Visuals / Interview
Happy Tuesday -
Chelsea Tuesday
Melbourne based collage artist Chelsea Tuesday is set to unveil her first solo exhibition Happy Tuesday at The Old Bar on Tuesday the 6th of February, supported by an armful of killer local bands - Pseudo Mind Hive, Jack Harlon & The Dead Crows and The Hum Drums.
Making a name for herself across the local Melbourne music scene, Chelsea Tuesday is known for her cosmic, dreamlike collages. Her lo-fi, 1950's-esque landscapes are merged with the bizarre and unexpected, conceiving scenes that transport you to a spacey third dimension. Chelsea's unmistakable collages are recognised across gig posters adorning the walls of iconic local music venues as well as spanning across cover art for bands by the likes of Buried Feather, Zen Panda, Cosmos, Pseudo Mind Hive, Joel Leggett, The Vacant Smiles and Tv Dinners. Having only been in Melbourne for under a year and a half, Chelsea has certainly sunk her teeth into the local scene, claiming she "owes a whole lot to the amazing humans that are part of the Melbourne music scene". What began as meeting bands and people at a multitude of gigs led naturally to collaborations, Chelsea noting that "one of the most beautiful factors about all the bands and people I have worked with is their keenness to spread things creatively". It's a buzzing and inclusive environment where "everyone is down to do stuff", a space where as a creative, you're given a platform to flourish.



| | |
| --- | --- |
It seems only fitting that Chelsea's first solo exhibition 'Happy Tuesday' is to be held at the iconic Melbourne music venue, The Old Bar. Chelsea explains how escaping the traditional nature of an exhibition "you know....pictures on walls....people standing around making small talk" and instead holding a show where live music (which has forever been her muse) is involved at a venue such as The Old Bar is "a dream come true".

Chelsea is also cranking the volume up on her journey into the third dimension with live performances from some real killer local outfits. The night will see Pseudo Mind Hive, Jack Harlon & The Dead Crows and The Hum Drums seamlessly accompanying Chelsea's dreamscape of collages and setting the tone for an immersive occasion, embracing the interplay between the local bands she supports and the artwork that these sounds inform.



| | |
| --- | --- |
The exhibition isn't constrained by a "real theme or limit" but a broad collection of Chelsea's works and evidently a show that's "been in the works for a long ass time!" Chelsea's taken her first solo exhibition as an opportunity to showcase as much work as possible, explaining that she's "always wanted to see all [her] stuff in one whole space, all crammed together, mixing up colours, textures and imagery, creating a real 'adventure for the eyes.'" It's set to be a space for your imagination to run wild.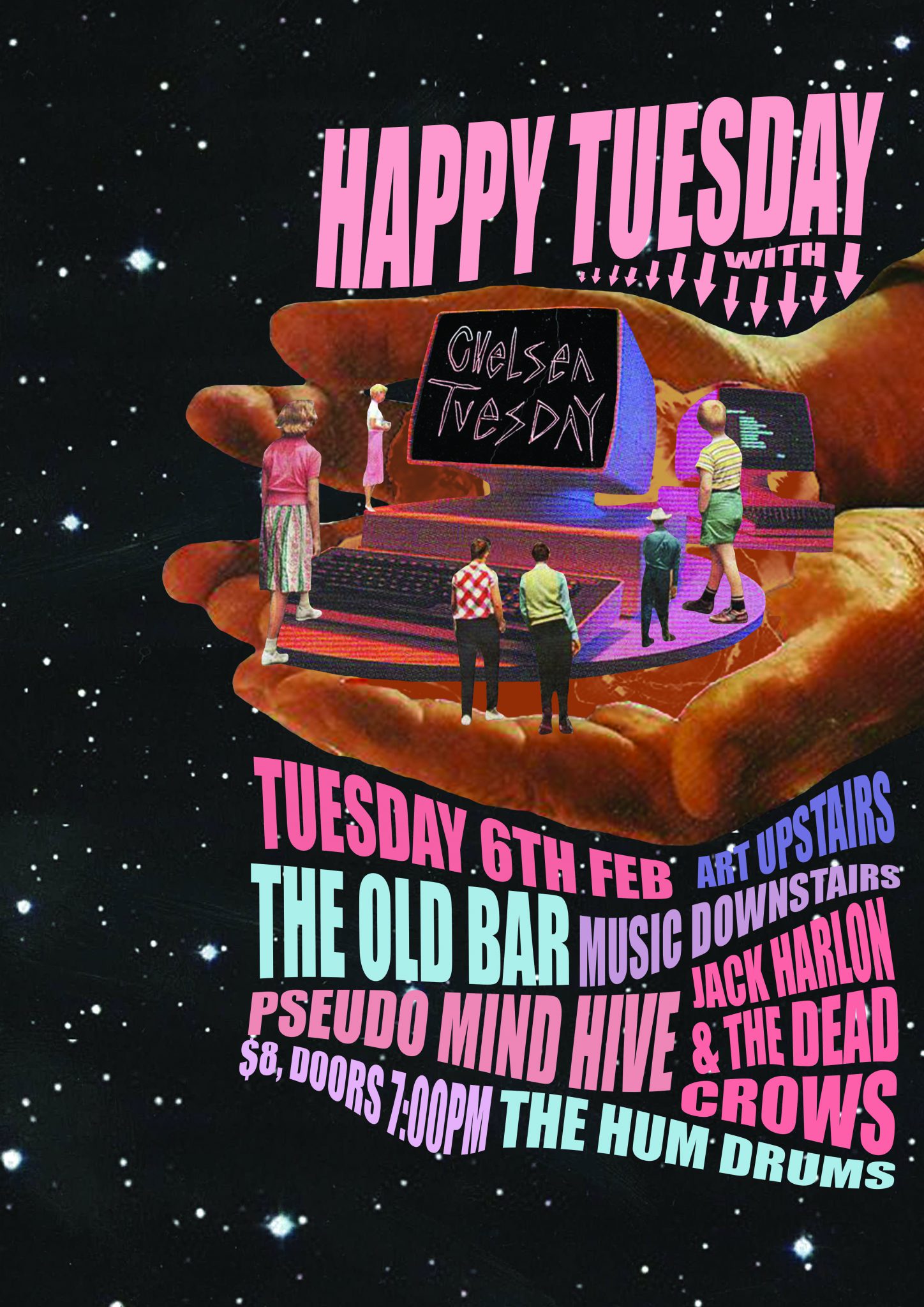 Happy Tuesday is on February 5th at The Old Bar
74-76 Johnston St, Fitzroy VIC 3065