Music / Features
Track by Track:
Tram Cops - even in my dreams

Tram Cop's first full length release even in my dreams is a wild ride. At times chaotic, at times angelic, even in my dreams sees Tram Cops, the bedroom pop project of Michael Vince Moin, ambitiously tackle an array of genres, instruments and ideas, and produce 33 minutes of warped lo-fi pop, smothered in their own unique Tram Cops charm.

even in my dreams sees Tram Cops flirting with a handful of genres, featuring a ton of additional musicians and is about as unpredictable as knowing whether you should touch on your Myki or not on a busy 86, without being the slightest bit jarring. Instead, the whole experience feels completely fluid and immersive.

From the smooth-as-butter, jazz-laced 'Why'd She Have To Leave So Soon?' featuring an equally smooth Stephen Byth sax solo, through the soundscapey, at times cacophonous 'Stolen Land' and onto the hazy psychedelia of 'coming up', even in my dreams continues to throw curve balls, whilst still maintaining plenty of pop hooks and heart and delivering it all through an effortless lo-fi charm.

even in my dreams is one of those albums you could listen to everyday as you take public transport to work and each time find something new and engaging. We got the inside scoop with Mike from Tram Cops, as he takes us through the 'even in my dreams' voyage.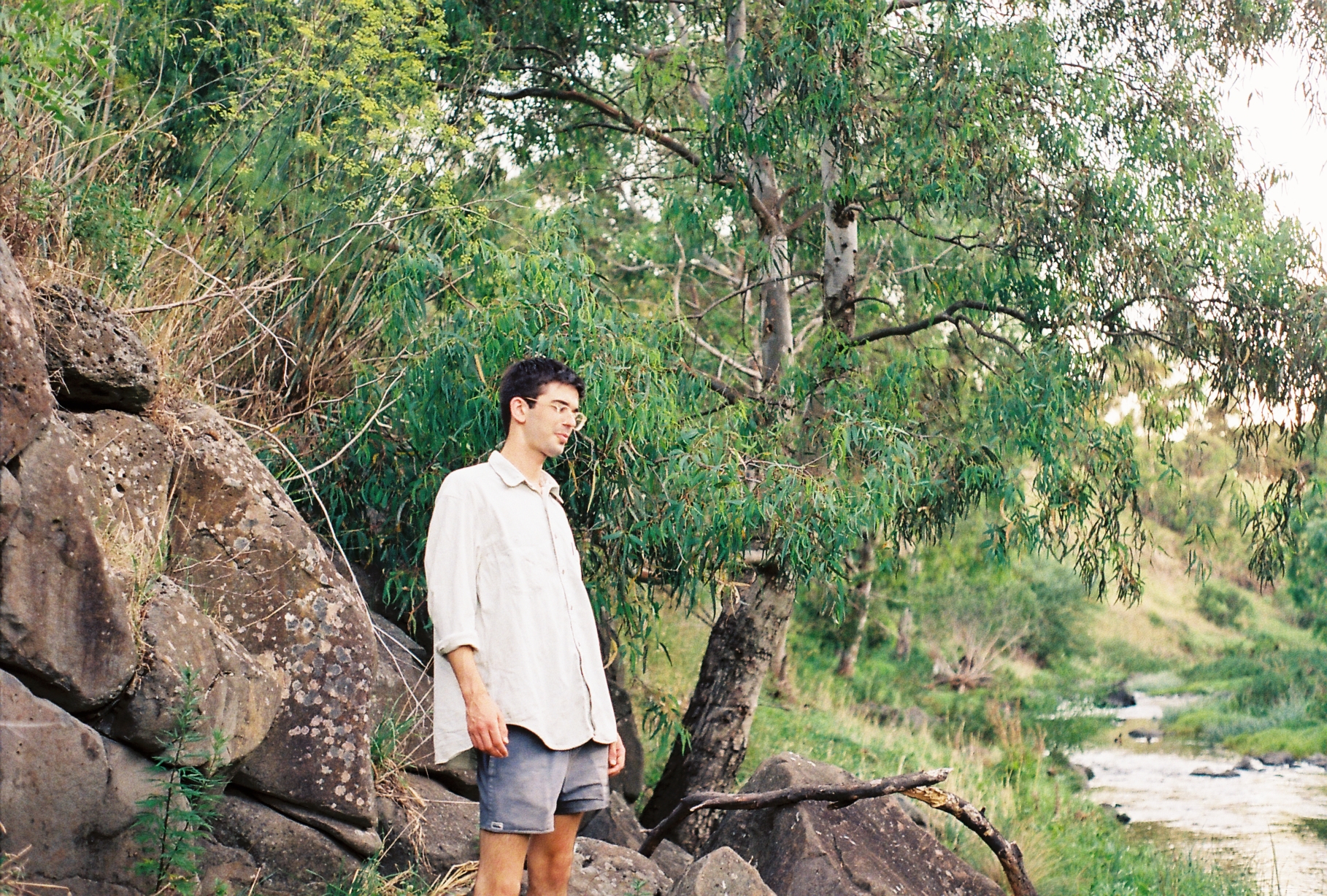 Why'd She Have to Leave So Soon?

Hello, dear reader. Allow me to take you on an imaginary voyage out into the great expanse of space and time. A journey that will take us past alien civilisations, neutron stars and black holes! Climb aboard our make believe cosmic uber. Open the pod bay doors, Hal. I'M AFRAID I CAN'T LET YOU DO THAT and then hey, wow, there's the sax solo. Bridge, outro. Louis Armstrong on toy piano box. Buckle up space-voyagers! We're on our way!!!!!!!!!!!!!!1!!11one!!

Stolen Land

I watched a band called Jazz and loved them and I tried to copy their guitar work for a long time. I wrote a two chord song that somehow sounded like, at least to me, the Australian landscape. I hadn't written any lyrics yet, however, the week I was recording this track a young indigenous man died inside the Tamworth correctional center and his funeral was held in Armidale, where I was born. The local paper livestreamed it.

even in my dreams

Christmas lunch, feeling good. Tom Jobim's Brazil plays softly in the background. I reach for the roasted taters right as Jobim hits his faux-crescendo. And for the slightest moment, nothing else matters. A bizarre, dreamlike moment. Is this what love is? I had my friends Josh and Tom (the foxymorons) and Georgia (Hachiku, Japanese Wallpaper) lay some hot horseplay down over this one and they really make the track sing. I have no idea what I am singing about on this track, so I'm glad they compensate for that.

pleb like me

This track is in the key of B Major, in 4/4 time. It was recorded to a metronome that was set to 178bpm. It's about a car crash, and, uh, God is dead. God's dead guys. Sorry 'bout it. Please like my new meme page, 2001 a space odyssey memes.

Fkd

Ladies and gentlemen, Joel Trigg. JT on keys, ladies and gents. Joel Trigg. Dude, for real, Joel is my fave melbourne musician. An honour to record wif him. Ya boi is currently releasing an improvised album each month, whereby he compiles various recordings of his daily practice routine that are entirely spontaneous and organic. They're all out of this world and each album is a testament to his drive and creative and technical ability. love you dude. mad appreesh. joeltrigg.bandcamp.com

@be_ur_man

I broke up with my girlfriend and was really stoked about it. Thank heavens!

Coming Up

Went to Boney all the time last year and ruined any chance of meaningful future employment. Made a pretty cool stop motiony video clip to accompany this one. Check it out if you like. Please like comment subscribe and be sure to follow tramcops on twitter @tramcopsfuk


thought about suicide

The most self indulgent, ridiculous track on the album, but I love it. A really fun lil crescendo at the end there. Dear friend Juice from the incredible band Hemm laid down the real talk over this track. You're nothing but trouble, Juice.

every little thing

Darcy Smart on the kit, ladies and gentlemen. We call him the dasman. You are a good drummer dasman. 'Every little thing is going to be alright.' Thanks Bob Marley for writing the lyrics for me also my number is 0434212984 if your Estate's legal team would like to give me a call. Thanks.

she will

She won't. lol. But hey, like, there's this scene in the original Total Recall where Arnold Schwarzeneggar is pushed out into the uninhabitable Martian atmosphere without a protective space suit and his face nearly explodes but if you freeze frame it just at the right time you'll see that he's undeniably laughing, so there's that. Charlie Byrd inspired this track. In particular, his song 'Moments Like This.'

Melbourne

My greatest fantasy is to open up a sold out headline show at the Sidney Myer music bowl on a balmy summers night and yell 'MEEEEEELLLLLLLLBOOOOOOOOOOUUUURRRRRNNNNEEEEEE' before breaking immediately into a 13 minute Carlos Santana solo. Hell yeah, dude. Also Steve on tenor sax lays down the most Springsteen-esque solo on this one. My face when he recorded that take in my bedroom was somewhere between the cowboy and :O emojis. Go listen to Jarrow's new song emoji, what are you doing why are you here.

Contain You

This is a song about acceptance. Here are the lyrics:

Now and again I see myself
Now and again,

Why?
Why?
Why?
Why?

Got to let you go, I have to let you go,
cause I can't contain you
Gotta keep my cool, got to keep in time
It will be fine,
And I will try my best to smile (baby)
Try my best to smile
Is what i'll do.

Now and again I see myself
Now and again I

*elongated bong pull

Got to let you go, I have to let you go,
cause I can't contain you
Gotta keep my cool, got to keep in time
It will be fine,
And I will try my best to smile (baby)
Try my best to smile
Is what i'll do.

Look out!


Believe

You've made it to the end of our cosmic journey. Blessings and peace on Earth. From an entirely egotistical and self indulgent perspective I think what makes this album special is how collaborative it was and is. There are a whole heap of really great musicians who got on board the tram with me and recorded some cool stuff in my lil bedroom studio. If you have a listen, I hope you enjoy it. I believe in these songs and I hope you do too. Thanks for the write up Trouble Juice! Tram Cops forever!!!



Check out even in my dreams above, and follow Tram Cops on Facebook and Insta to keep up an eye on where they'll be voyaging next.