Music / Premieres
Premiere:
Boyparts - sleepover
We're really excited to premiere the debut EP from Melbourne garage trio Boyparts. sleepover is a collection of roughed up pop gems, packed with endearing slacker charm, lo-fi production and a whole heap of noise.
After a solid year of gigging around Melbourne, Boyparts have finally dropped their debut EP sleepover today. It's an impressive introduction to the band that shows off each unique angle of their sound - from the energetic and colourful through to the dark and eerie - while still feeling well crafted and cohesive.

The EP kicks off with 'Crazy', a slice of garage rock that's packed with fuzzed out guitars, pounding drums and some super sweet dual vocals. It's a perfect track to kick things off as it clearly highlights what Boyparts do best - pair all-engulfing walls of sound with playful pop hooks. Followed by 'Indecision', we're hearing Boyparts at their most ferocious. Up next is 'Glimmer', an EP highlight that cools things down a little. This track sees bassist Alice Thompson take centre stage with her dreamy vocals drifting over some woozy guitars, before the songs turns and bursts into a shoegazey jam out.

As the EP continues, things get a bit wonkier. 'Owe' lulls you into a false sense of security with a charming lead guitar line and cute verse, before the band flips and go full angst at the chorus. 'Bill' is complete weirdo punk that could soundtrack some kind of terrifying kid's show, and EP closer 'More Than Ever' somehow feels wholesome and eerie at the same time.

sleepover is a really impressive debut which proves that Boyparts are definitely a band to keep an eye on. To celebrate the release, we chatted with the band to find out all about it.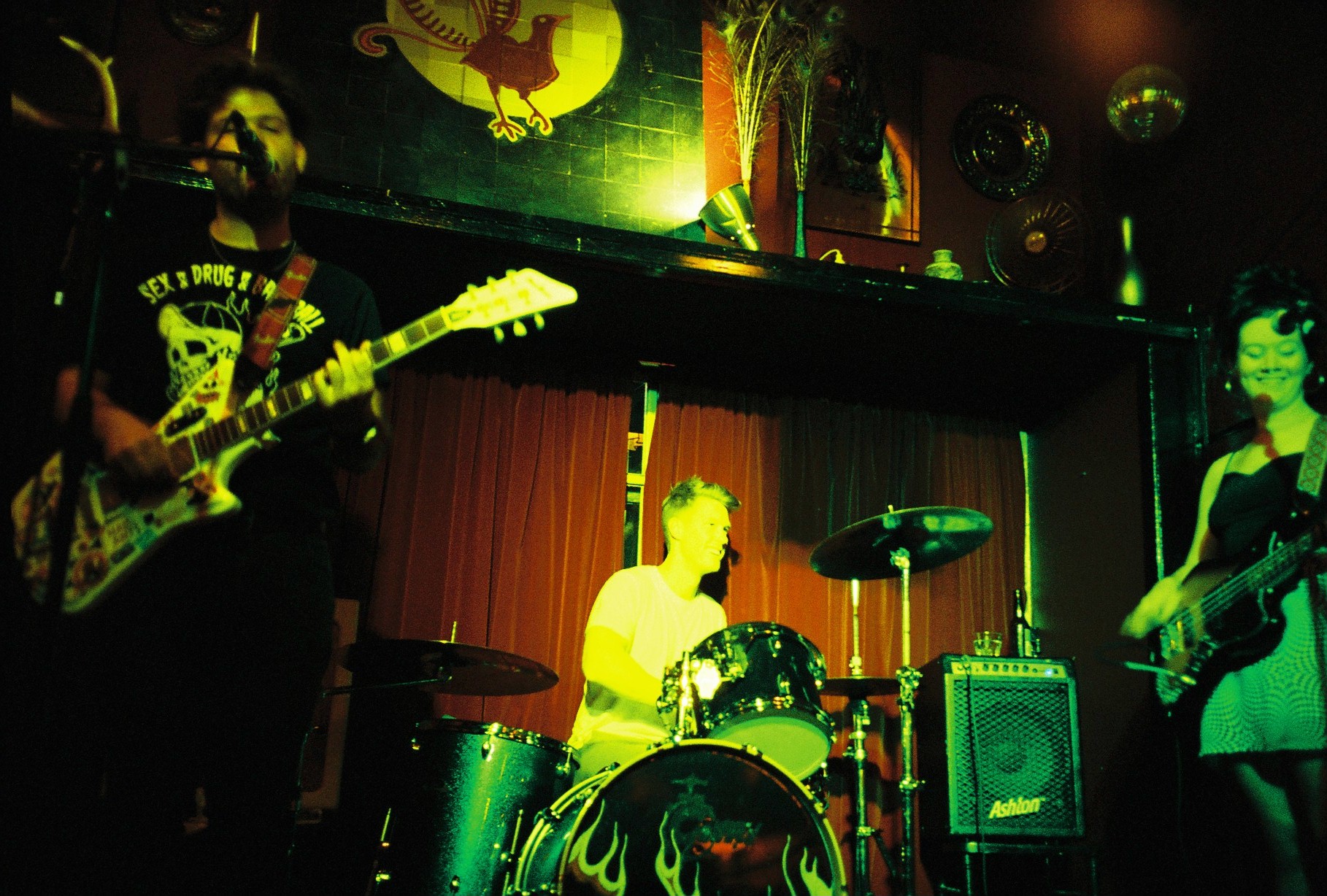 TJ: Hey Boyparts, for the uninitiated, want to tell us a bit about yourself?

BP: We're a 3-piece, Matt (guitar/vocals), Alice (bass/vocals) and Will (drums & being cute). We started practicing and playing shows together just over a year ago. We had all played instruments before but none of us had really been in bands that played gigs so it was a steep learning curve. At the beginning we booked a few gigs before we had enough songs to fill out a set, so there were some really stressful practices where we had to scramble extra songs together and add some really long outros.

Matt and Will are brothers - not in a White Stripes kind of way but actually related - and Alice and Matt are friends from uni. We got together because we all really wanted to be in band and play shows, so now we are finally living our dreams.

We're really stoked to premiere your debut EP today. What's the story behind 'sleepover'?

sleepover is a collection of songs that we've been playing for a while now, that we've hopefully moulded into something cohesive and fun. We started recording the EP in May last year with our friend Tom Thomson (who also mixed the tracks) and later got it mastered by Casey Hartnett (Sleep Decade). Sound wise, it's a fuzzed up poppy mess - or at least that's what we were going for.

It's called sleepover because we thought it sounded cute and fun (like our songs and us). Our talented friend Steph Cowey did the cover art for the EP and it reflects the silliness of some of our songs (if you look closely you'll see the 3 of us in a 'sleepover' tableau). sleepover's aesthetic has a 1950s Grease vibe - dramatic but fun, colourful and poppy.

You describe yourself as a lo-fi band, and while a lot of bands might get a lo-fi sound by accident or out of necessity, your music seems to go hand in hand with that aesthetic. Is being a lo-fi band important to you and how does that effect your recording process?

Part of the reason that we refer to ourselves that way is to do with the kind of bands that we are particularly influenced by who are synonymous with that term. We are big fans of bands like Beat Happening, The Raincoats, Pavement, Dinosaur Jr, Dear Nora, Swearin and early Wavves and Cloud Nothings. So part of identifying as a lo-fi band is associating yourself with a particular musical history of bands who made stuff with that mix of rawness and pop hooks. We've always tried to recreate that sort of sound because that's the kind of music that we love.

Lo-fi is a very interesting term in music right now because of the way music technology has changed. In the past, lo-fi recording on four tracks and tape was the most accessible way to make music because it was so much cheaper than going into a studio. So a lot of that hissy, muddied, raw tape sound comes naturally from bands using analogue technology when it was the cheaper option. Now though, the cheapest and easiest way to record is to do it digitally. Bedroom lo-fi is now associated with a laptop and garage band, rather than an analogue tape machine.

So for us putting together the EP, a big part of the mixing and mastering process was trying to get that imperfect, lo-fi, fuzzy sound out of a clear digital recording - finding ways to do that through digital technology was a really interesting and fun experience.

Despite it being your debut EP, you've have been playing around Melbourne for a good while now. Any favourite local bands or venues?

There's so many good bands around Melbourne at the moment it almost feels mean to pick favourites. One of the best things about gigging around Melbourne is that you get to see and meet so many fantastic musicians.

We've played with Piss Factory quite a bit and they released an EP a few months ago which is really fantastic. We're also really big fans of Spike Fuck, Hearts and Rockets (fka Heat Wave), Culte, Shrimpwitch, Swim Team, Fleshed Out, Rhysics, Guffman & Shiny Coin. Apologies to all the bands we love and didn't mention!

I don't know if we have a favourite venue yet but we are still waiting and wishing to play the Tote upstairs!

What's the rest of 2018 looking like for Boyparts?

Well we are very excited about launching sleepover on Saturday April 7th at Bar Open. We're really lucky to have Piss Factory, Mystery Guest and Tina Growls on the line up. We screenprinted Boyparts t-shirts (with art by Phoebe Thompson), made our own cassettes and are currently brainstorming decorations so it'll be a lot of fun.

After that we'd just like to keep playing shows in Melbourne and maybe even organise a show interstate (or in Geelong).

It's a way off now, but hopefully towards the end of the year we might think about trying to write an album but getting ourselves organized for that is quite a while away.


Have a listen to sleepover above, and be sure to catch Boyparts at Bar Open on Saturday April 7th as they launch the new EP.