Music / Premieres
Premiere: Tragic Carpet -
Tried and True
We're really stoked to premiere the debut release from Melbourne garage punks Tragic Carpet - 'Tried and True' and b-side 'Everybody Loves You' are two boisterously charming cuts of raw rock n roll, packed with the perfect amount of grit and some contagious energy.
Despite only playing around town for the better part of six months, Tragic Carpet have been quick to assert themselves within the local garage scene. And now, off the back of their excellent debut release, it's safe to say you'll be seeing the name pop up even more often.

The new single 'Tried and True' is a sprawling garage rock tune, and despite the angst-ridden lyrics that hide behind the blown-out guitars, comes packed with bountiful energy and loveable charm. With a gritty bassline and pounding beat, the rhythm section drives the track but takes a backseat, leaving room for some spazzed out guitars to flail around on top. Once vocalist Oscar Casley's distorted vocals come in, it's pop hook after pop hook that peaks at an instantly catchy chorus, while the muddy instruments blast away underneath. Things cool off for a quick moment, with a guitar solo reminiscent of Parquet Courts at their most lo-fi, until the song hits its climax at the final chorus and Tragic Carpet leave nothing behind.

Accompanying the new single is b-side 'Everybody Loves You', a wackier garage-pop cut that shows off Tragic Carpet's eclectically diverse sound. With a slightly odd time signature, it's a left of centre track that sees the band talk-sing over some wirey guitars. Things finally resolve towards the end of the song, which comes with an explosion of noise and some endearing group vocals, to remind us that "everybody loves you."

To celebrate the new release, we chatted with Tragic Carpet to find out all about the new tracks and their upcoming launch show.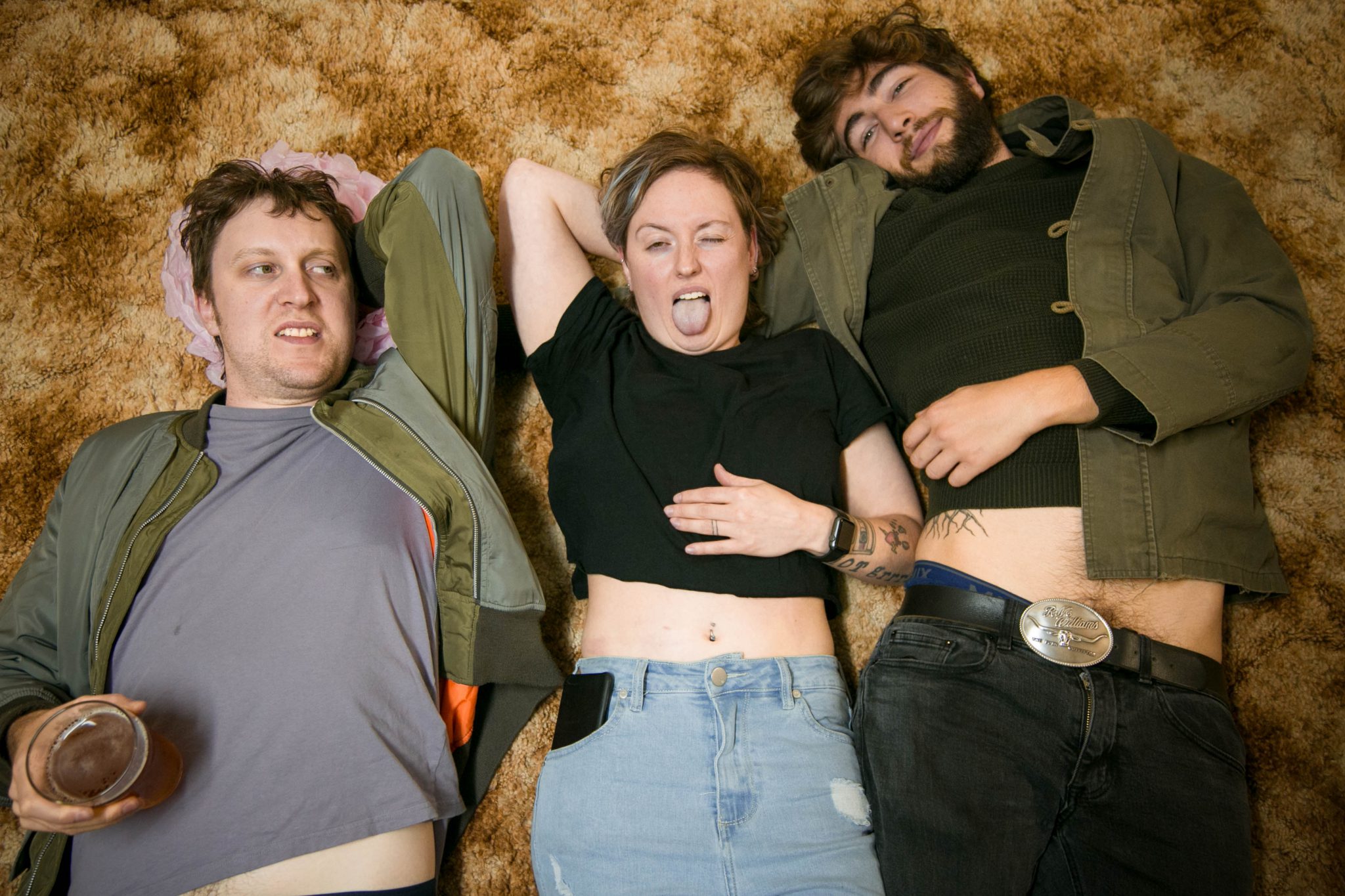 TJ: Hey Tragic Carpet, want to tell us a bit about yourself?

TC: Well I guess we're a garagey punk/pop band from Coburg, obsessed with bands like Helium and The Mint Chicks, and we've been making the rounds in the Melbourne garage scene. We like to keep it original by writing songs about things. We also all really enjoy drinking beers. 

'Tried and True' is a bit of a belter, and it seems to touch on a pretty universal feeling. What's the story behind the track?

Like you said, it's a pretty universal message that I think most people can relate with. There are some personal specifics, but generally for me it's about trying to control your own life while people close to you are also trying to control theirs and maybe failing.
I always think "I can write a song this time that isn't just about how I'm feeling at the time" but I guess I can't control myself... great...

The b-side to the single, 'Everybody Loves You', is a bit of quirkier one compared to 'Tried and True'. Where'd that one come from?

Me and Andy used to be in a band called Merrygorounds and we liked to play around with time signatures a bit - this song is a bit of a throw back to that. It's about remembering that your friends are your friends for a reason, and that you see yourself in a much worse light than they do. Stop avoiding them! Most of the time they love you even if you think you've been a bit of a dickhead.

You've all been involved in the local scene for a little while, and you're all currently playing in other Melbourne bands. How has your other projects led to Tragic Carpet's sound?

Laura's shredding ability is pretty sick (if you never saw Miss Miss, go see The Tropes) and brings a heap of energy to the band on the drums. Andy's agile fingers run some pretty smooth bass lines in Kaku and he brings a good amount of complexity. Oscar learnt how to do downstrokes faster than the speed of sound in Eat-Man and Tragic Carpet is pretty much a song writing follow up from Nun of the Tongue.

We're definitely directly influenced by our other projects because they are us. We also love having other outlets for our music, and when one band is shitting us we can go shit on another one of our bands.

You're launching the single on May 19th at The Grace Darling. Any idea what we can expect from the show?

Well let us tell you, it's going to be a ripper of a night! Burger Chef is a one (or maybe two piece?) act that is like just hectic synthpunk that doesn't stop until it finishes. Shit Sex play perfect, high octane garage punk bangers that you'd be proud to show ya mum over a tinny. Shrimpwitch are our two piece dream babies and their performance is always unique and always the funnest time. Then there's us.


Check out 'Tried and True' and 'Everybody Loves You' above, and catch Tragic Carpet launching the new release at The Grace Darling on Saturday May 19, with Shrimpwitch, Shit Sex and Burger Chef.