Music / Irregulars
Swampland - Issue 4
If you've spent anytime in Melbourne over the last few years, you'd be hard pressed not to catch the Swampland name around somewhere - whether it was posted on walls around Fitzroy, sitting on the coffee table in your cool friend's living room, or that one time it was weirdly all over the news. Well, Swampland are back again with their 4th issue, and it's safe to say they've truly asserted themselves as leaders in Australia's music journalism scene.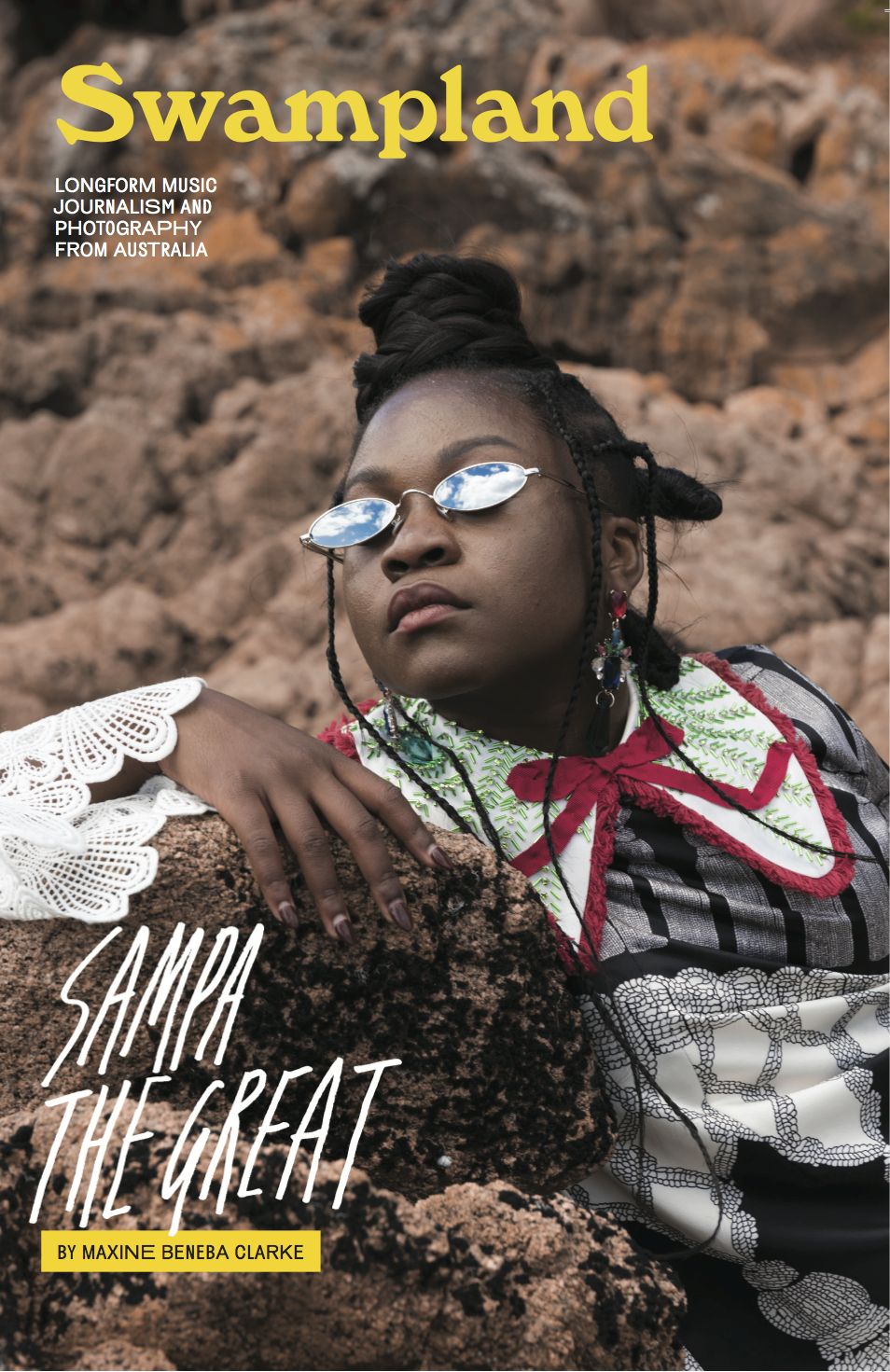 Sticking by their mantra of "eclectic and thoughtful long-form Australian music journalism and stunning photography", Issue 4 sees local R&B heavyweight Sampa The Great grace the cover, and is full with in-depth critiques and discussions around a handful of really impressive artists - such as weirdo hip-hopper HTMLflowers, Sydney punks Mere Women and grizzled songwriter Tom Lyngcoln, just to name a few.

Ahead of their launch tonight at the Gasometer Hotel, we had a chat with founder and editor Kim Thomson to find out what's been happening in the world of Swampland.
Want to tell us about how Swampland came to be?

We conceptualised the idea in early 2016. At the time, I had recently started playing music in Melbourne and had also started to become interested in writing about music. I was getting frustrated with the lack of outlets that have a considered editorial process — something that is especially vital for young writers. Then, I walked into a magazine shop and a Rolling Stone '40 Greatest Punk Albums of All Time' cover story and was amazed at how unimaginative and irrelevant it was to contemporary music culture. Something had to be done. I asked Kelsey Oldham to come on board as deputy editor, Alan Weedon joined soon after as creative director, and we started to lay the ground for what has become Swampland.


You're about to release the 4th issue of Swampland. How has Swampland evolved over the last few years?

I think the magazine has taken on a distinct shape over time and with this issue in particular it has really come into its own. There's some cracking writing in there. To have work by author and poet Maxine Beneba Clarke is a real honour and the fact that her piece is on Sampa the Great is too perfect — they are each formidable practitioners of their respective crafts. Since the beginning, we've aimed to do justice to the musicians featured by pairing them with great writers and photographers. Each issue, we try to refine our editorial skills to make this happen.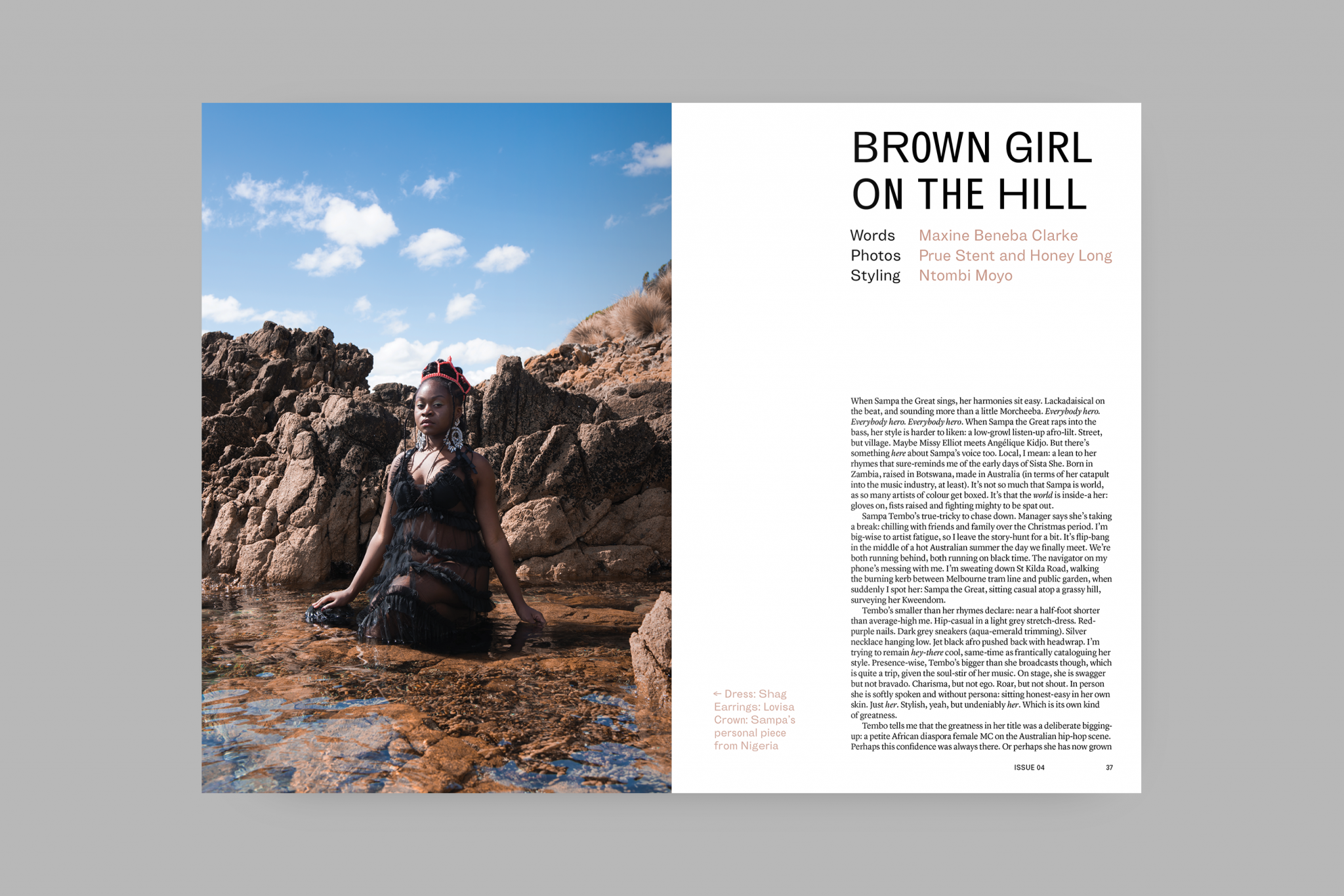 With your clear emphasis on considered, long form journalism, what's the planning process like when approaching a new issue? Are there specific themes you decide to address or is it a bit more organic?

We never have a specific theme. At the beginning of an issue cycle, the editorial team throws around a lot of ideas about artists and contributors to possibly feature — only some of which come to fruition in the end. We leave the door open for writers to come with us with interesting ideas.


This issue features an array of really unique and interesting artists, who are all kicking big goals locally and internationally at the moment. How does Swampland go about selecting the artists you feature, and ensuring that a range of different voices are heard in each edition?

We are just interested in artists that are making distinct, innovative music — or those that have done so in the past (we run historical stories, too). Often, a writer will sell us on the idea based on their enthusiasm for the musician or band. We don't set out to only feature "underground" artists — they just often just happens to be the ones making great work. We do like to challenge ideas of how Australian music is perceived — breaking free of the tough, masculine, rock-centric mythology — which is something a lot of artists are doing here at the moment, whether overtly or subconsciously. I suppose we are simply reflecting this.



| HTMLflowers by Shannon May Powell | Tom Lyngcoln by Alan Weedon |
| --- | --- |
Swampland holds an important place within the Melbourne music scene, as a publication that stands for good quality, insightful journalism - especially in comparison to a lot of other music writing that often feels buzzier or a bit more throwaway. Where do you feel like you fit into the local music scene and the surrounding culture?


Well, shucks — thank you for saying so. There is so much good music here (and we're national, not just Melbourne-specific). Hopefully we act as a worthy reflection and document of the music that is being made and the conversations that are being had in this particular cultural moment.


With the same idea in mind, Swampland also stands out as a rare and important platform for creative contributors. What's the team dynamic like for Swampland?

We've reached out for new writers from the beginning. Each issue, we put an open call out for pitches (mostly over social media) and we're always interested in hearing from new voices. Having a strong and diverse range of contributors is as important to us as the artists featured. For a long time, music writing was dominated by white, male perspectives, so it's important to hear from people with different tastes and vantage points.


You're launching Issue 4 this Friday at the Gasometer and it's looking like it'll be a pretty huge night. Any idea what we can expect?


We enjoy putting on strange and eclectic line ups and this one will be no different. Most of the acts appearing are featured in this issue. If there's one thing that links them together, it's their level of intensity. We've got the sharp post-punk band No Sister, a solo set from Tom Lyngcoln (The Nation Blue and Harmony), new and "terrifying" material from Various Asses, and HTMLflowers will be closing out the evening with his dark, beautiful hip hop.
Swampland Issue 4 launches tonight at the Gasometer.