Music / Features
From Elsewhere -
A Chat with Pseudo Mind Hive
Ahead of their album launch tomorrow night at The Tote, we sat down for a chat with the boys from (arguably) Melbourne's loudest psych band, Pseudo Mind Hive, to get the lowdown on their debut album From Elsewhere.
Since the birth of the band barely 12 months ago, Pseudo Mind Hive have been launching sonic assault after sonic assault on local crowds with their monolithic doom-psych. However, considering the enormity of the sound and their incredibly dexterous performances, it comes as a bit of a surprise that the band essentially started by accident. "We started off as a bit of a joke," explains lead guitarist Mark Vincini. "There were a couple of bands asking [Mark and bassist Jack Ainsworth's other band] Cosmos to play gigs while their drummer was overseas, so Jack just said 'let's book gigs anyway and do some dumb shit'." That said, the band were equally as surprised when their joke project started gathering steam. "Weirdly enough, people kept asking us to play."
"We're weren't even a band!" adds vocalist/guitarist Chris Hockey.

Despite the understated beginnings, there was clearly a spark there because the following months turned into a bit of a wild ride. "A couple of months later we got a gig offer randomly asking if we were still a band, and we were like 'not really but we're thinking of starting another thing'," says Mark. "Since the headliner had no idea what we'd sound like, we had to send them a demo in order to get the spot." As the story goes, Chris and Mark got together on a Sunday and wrote two songs, taught them to everyone the next day, recorded the track on a phone in their attic and got the gig. "At that point, it was like, fuck, we've got a month and a half to write a set."

I'm not sure if it's surprising or not, considering the skillset of the band, but out of the four tracks that appeared in Pseudo's debut set, three are included on From Elsewhere. That initial songwriting session spawned the warped fuzz storm that is 'Desert God', as well as the sludgy stoner-rock of 'Protect the Swarm'. The band's debut single 'Highway to the Purple Sky' was next to come, which quickly captured people's attention with its blissed out intro, before the blasting the song into outer space, one wah-ed riff at a time.

When asked about the recording process, the boys seem slightly deflated, indicative of a band who have so much they want to do without enough time. "The songs were written fucking ages ago - the most recent one is probably 9 months old." Chris explains. "When we wrote them we were just gigging flat out - we played about 60 gigs in the year - so we just didn't have time to focus on recording. It was a long process." That said, the mood shifts though when they mention how much work went into creating the album. "We did it all ourselves, it was a completely DIY job." Jack adds "we did the two singles over three months, and when it was time to do the album we put our heads down. Partially recorded at our place, partially recorded at Three Phase [Studios], it was kind of all over the shop."

Despite the scattered and longwinded process, From Elsewhere is an incredibly tight and cohesive record. From the ominous keys of opening track 'Cygnus' through to the abrupt conclusion of 'Highway', every moment on the album is packed with immersive layers of sound that are only intensified by the band's immaculate performances. Whether it's the initial blast of noise on 'Weeping Woman', the wah pedal freak-out of 'Red Earth', or Samuel Drew-Rumoro's incredible drum work on 'Don't Look The Wizard In The Eye', From Elsewhere is dense with highlights that consume your senses and suck you into their sonic universe.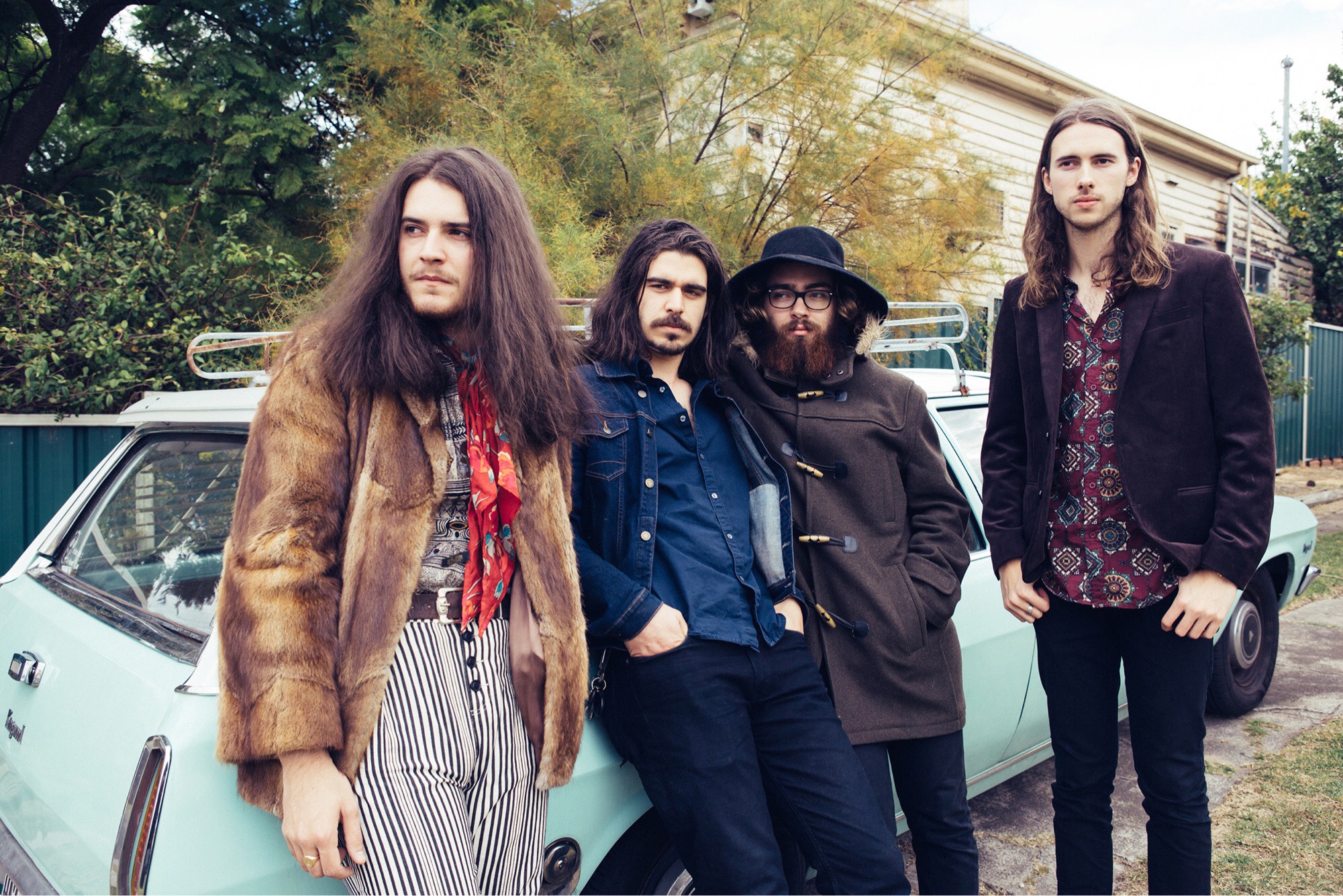 To celebrate the release of the album, Pseudo Mind Hive are throwing a huge launch show this Saturday, July 14th, at the Tote. "We're having a bit of a Pseudo Fest", says Mark "not that we're labelling it as that, but it'd be good to a thing going for the future." Featuring an incredibly well-rounded and unique line-up of some of the best local psych and garage rock bands around - Buried Feather ("who are obviously fucking sick"), Velvet Elevator, Psychobabel, Hannah Kate and the Hum Drums plus Electric Light Brigade doing visuals - it's set to be an enormous night. "You've gotta get down early because all the supports are great," says Sam.

Speaking with the Pseudo crew, it's clear that the album release and launch is a bit of a milestone for the band, and they're excited to pause for a moment to soak it all in. However, in true Pseudo Mind Hive form they're still looking ahead. "The rest of the year is gonna be a bit quieter, partially because we're supporting Samsara Blues Experiment in September and want to take a break to focus on that show. But we also want to sink our teeth into recording the next album," says Mark. "It's like three quarters written, so we definitely want to take a chunk of time out to finish writing it, get all the nooks and crannies sweet - it'd be ideal to get it out before the end of the year." Regardless of where the next step takes them, with a first 12 months as massive as the last have been for Pseudo Mind Hive, I'd be expecting big things.


Check out From Elsewhere above, and catch Pseudo Mind Hive at their album launch show tomorrow night, Saturday July 14th, at the Tote from 6pm.