Speed Dating
Speed dating this week with fuzzy Brisbane rockers Sweater Curse, currently on tour in support of their latest single 'Can't See You Anymore', legend behind the lens Naomi Lee Beveridge and garage-rock psychos Dragoons.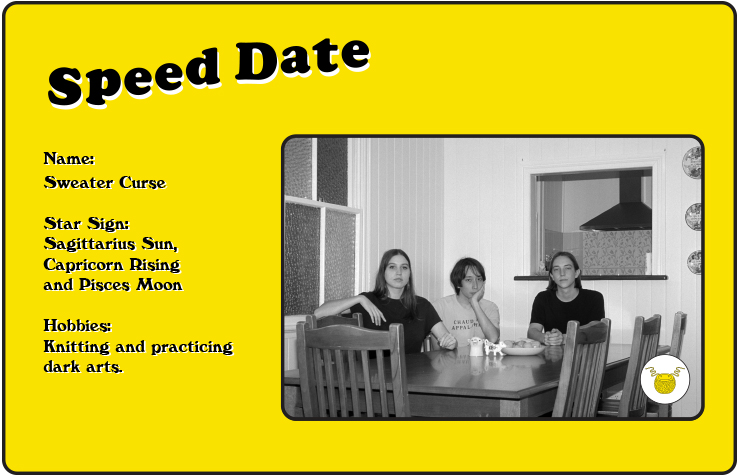 Sweater Curse


Where do we know you from?
Didn't I meet you last week at The Foundry Brisbane?


What do you do with yourself?
Work all week, sleep all night, party all weekend am I right ladies? (Not really but let's go with that).


Have you impressed yourself lately?
Every day is a blessing and every time I get out of bed I am impressed.


Would you rather trip onto an empty road or a busy footpath?
Um to be honest I'd rather not trip at all – Chris from Jess Locke band showed us a really cool and effective way to tie your shoelaces so they're easy to undo but don't get loose. I won't be tripping any time soon.


Got any life hacks?
That trick with the spoon and the eggshell to get the egg shelloff a boiled egg really quickly is a good one – we can show you it next time at The Foundry Brisbane.


Weigh in on horoscopes.
Horoscopes are the religion of our generation. I bought every single one of my friends a horoscope lighter (all in their own sign of course). Everyone should get behind them or else (they are a lot of fun and know you better than yourself). I (Monica) am a Sagittarius Sun, Capricorn Rising and Pisces Moon. I really feel like you gotta include it all when talking horoscopes and go the whole hog with your birth chart; especially because when I read my horoscope just as a Saggy (sajjy) Sun all it ever says is that I love to travel and I would really like to think that I'm more 3-dimensional than that.


What's your perfect Sunday?
Visiting Streets Beach Brisbane for a beautiful family fun day. We live in the Sunshine State after all.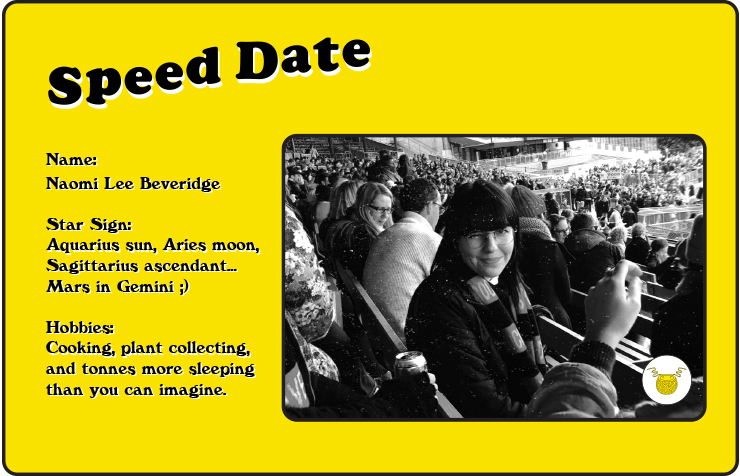 Naomi Lee Beveridge
Where do we know you from?
I'm usually at the front row of a show, camera in hand, snapping away at a band full of babes.
What do you do with yourself?
I'm a photographer, specialising in live music, press photos, weddings (small ones) and people. I also spend about half my days doing creative/PR stuff at
Deathproof
🙂
What's a song/line you can't get out of your head?
I have been listening to The Carter's debut album, and I think NICE is an amazingly catchy track.
If you had to Freaky Friday (swap bodies) with anyone at all, who would it be and why?
Robyn Rihanna Fenty. She's stunning, talented and living her best life.
It's ballot time - what's your favourite Meredith outfit?
All white (extremely difficult to stay clean), a big hat, reliable boots and a bumbag - a big jacket and a Rockdogs scarf for when the sun goes down.
What's your perfect Sunday?
Sitting in bed, sun streaming in the window, cup of coffee, two cats sitting on my feet, probably cackling at absurd memes in niche Facebook groups.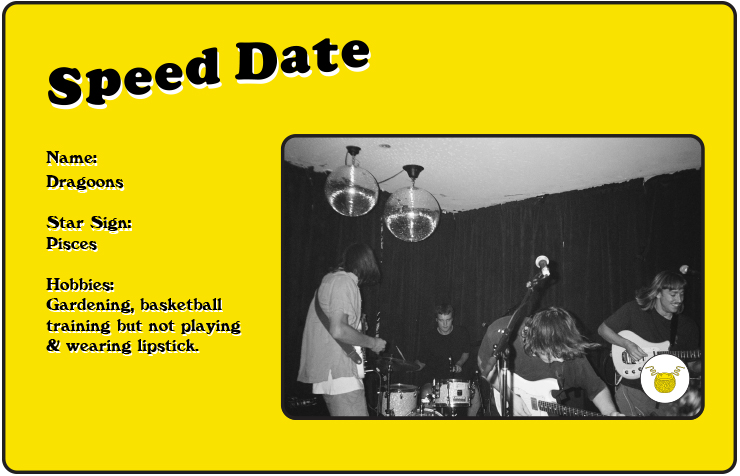 Dragoons


Where do we know you from?
That huge gig we headlined that time I'm guessing.


What do you do with yourself?
All we do is sit around and reminisce on the glory days of playing stadium rock shows and drinking beers back stage with Dave Grohl.


Tell us something you're proud of that you probably shouldn't be proud of.
Having our mothers being our biggest fans.


Witchcraft - yay or nay?
Massive yay. Jack had a fear of witches (wiccaphobia) as a child but he has come out on top. Archie also lives with a witch. AND, Witch Diesel are the best band in Melbourne right now.


Day drinking or night drinking?
Any kind of drinking is good, as long as it's responsible.


A beautiful person, a nice person and an evil person - fuck, marry, kill?
Here at Dragoons HQ, we are against the murdering of any human or animal unless in an act of self-defence. Stay safe.


What's your perfect Sunday?
Sam: writing poetry by the bank of a lake.
Archie: at the beach somewhere amazing.
Jack: reading a book in the sun, gosh I love the sun.
Miles: researching the latest home security advancements.