Music / Premieres
Premiere:
wasterr - Tape A
On their "first proper release", Melbourne garage trio wasterr burst out of the gates with a whole lot of manic energy - out through local legends Roolette Records, Tape A is a collection of frenzied noise-pop that's as playfully charming as it is completely fried.
Clocking in at less than 10 minutes, there's not a whole lot to be said about the new wasterr tape, except that it's a pretty wild ride. Things kick off with the feverish 'Creature People', which hits hard with a thick wall of fuzzed-out guitars and freaky doubled vocals. Despite the manic sound, a heap of hooks manage to slip through the cracks, and with some tasteful da-das and a bridge that cools things off, it becomes clear that wasterr might just be a pop band in disguise.

That said, 'If I Had A Brother, We Could Beat Up Dad!' takes things up a notch, almost just to prove us wrong. Packed with screeching leads, pounding drums and fried vocals, the song doesn't take a moment to breathe before it's done and dusted. Next up is 'Boyfriend', a cheeky Ty Segall cover that sees wasterr flip the original into an anthem for same-sex couples, almost rivalling Ty with their own chaotic sounds and frenzied performance.

Tape A wraps up with 'Sunburn' and we're offered one more healthy dose of noise, full with a steady groove and hook-heavy chorus. It's a playful way to round out the tape, and we're left with the giddy feeling you get when you know you should be hungover but you're still slightly drunk instead.

Ahead of wasterr's tape launch tonight at the Tote, we got in touch with vocalist/guitarist Travis Constable to get all the goss on new tape and what's coming next.
TJ: Hey wasterr, wanna tell us about yourself?

W: Hi yes ok. We're a 3 piece cute garage-trash band from Melbourne. It used to be a 2-piece with my ex girlfriend, but when we split, Mitch our drummer pretty much learned the songs the night before a gig. Then I blacked out at a houseparty, played a really sloppy set without being invited to, and asked Acacia (who was in the audience) if she wanted to play bass for us. In hindsight I can't tell if I'm doing things extremely wrong or right.

The new tape sounds pretty wild - much of a story behind it?

There's a big gap in rockdogs not playing songs about relatable stuff like being in a same-sex relationship and wanting a sibling to help you fight your own dad. We aimed to fill that void. Also I didn't mix or master any of the songs for the first time, so we finally have a release that sounds like music.

The tape's out through local label Roolette Records. How'd you hook up with them?

Umm I think they first saw us play at Bush Festival. Rain was pouring down, I was coming down and hungover, and someone put me in a chokehold minutes before our set so I was in a really great place at the time and we probably played a stellar show. I guess we made friends afterwards and they saw us play a few more times and offered us a contract.

All three of you play in a handful of other great local bands - any other bands in your crew that we've gotta check out?

Yeah! I have a more ~serious time~ dreampop band on the side called Culte. Acacia has both Slush, which is super poppy garage in the same vain as Plumtree, and Pinch Points which is post-punk riff heavy goodness that's blowing up at the moment. Mitch is an incredible guitarist outside of wasterr too and becomes the shredlord in a band called Meat. Seriously check out both of Acacia and Mitch's bands, they're all relatively new but those guys are wicked talented and keep this ship afloat.

You've got your tape launch this Thursday, what else is planned for the rest of 2018?

Oooo we've got a really big badly kept secret for August 22nd as well, but we can't spoil it here so you'll just have to wait and find out. 😉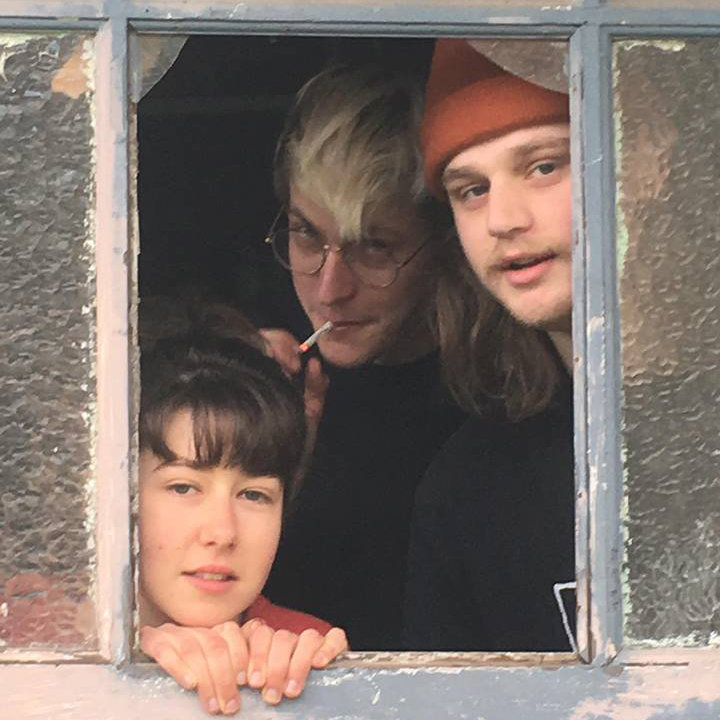 Have an listen to Tape A above, out through Roolette Records, and catch wasterr launching the tape tonight at the Tote with The Nugs and Hearts and Rockets.