Speed Dating
Speed dating this week with Sydney cinematic-pop producer Violet who just dropped her latest single 'BOXES/HOUSES', psych rock legends Buried Feather ahead of their huge European tour next month, and bedroom pop extraordinaire Darvid Thor.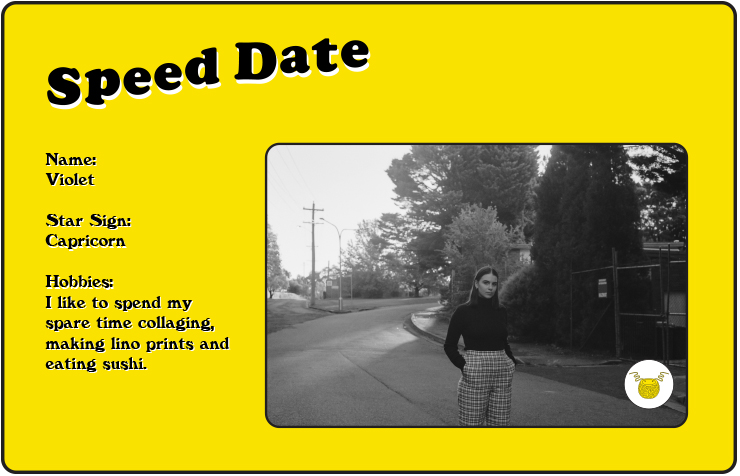 Violet


Where do we know you from?
You might have heard my music on community radio stations or triple j unearthed.


What do you do with yourself?
I'm a musician and sound designer from Sydney, I make music under my solo-project Violet and often spend my time taking weird field recordings on my little TASCAM recorder.


Got any life hacks?
Put talcum powder in your hair if you can't be bothered to wash it. No one will ever know.


Weigh in on Red Hot Chilli Peppers.
'Under The Bridge' reminds me of being a teenager and drinking double blacks.


Tell us something that makes your parents proud.
On the 31st of August, I'm launching my latest single 'BOXES/HOUSES' at The Lord Gladstone in Sydney, with an exhibition and special performance. It's the first show I've ever put on myself and I know they'll be super proud of that. What's your perfect Sunday?
Eating fruity porridge in bed, watching Twin Peaks, with my boyfriend Alex and dog Prince.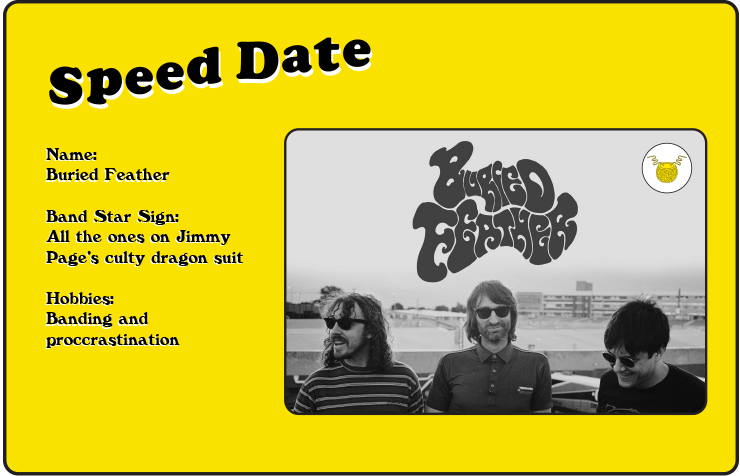 Buried Feather


Where do we know you from?
Melbourne.


What do you do with yourself?
I (Jim - bass) am a graphic designer, Cal (drums) is a cabinet maker/social media influencer and Steve (guitar/vocals) is a high-flyin' hot-shot business man/pedal wizard.


Tell us five people you'd have over for dinner.
David Attenborough, Holly Valance, Ringo, Tom Piotrowski, Andrew Zimmerman.


Sleeping in or getting up?
Sleeping in for sure.


Uber - overrated or underrated?
It's probably rated just about right I reckon (4.7).


Favourite album to make love to?
Cave's Neverendless.


What's your perfect Sunday?
One spent on a warm beach with no work the next day.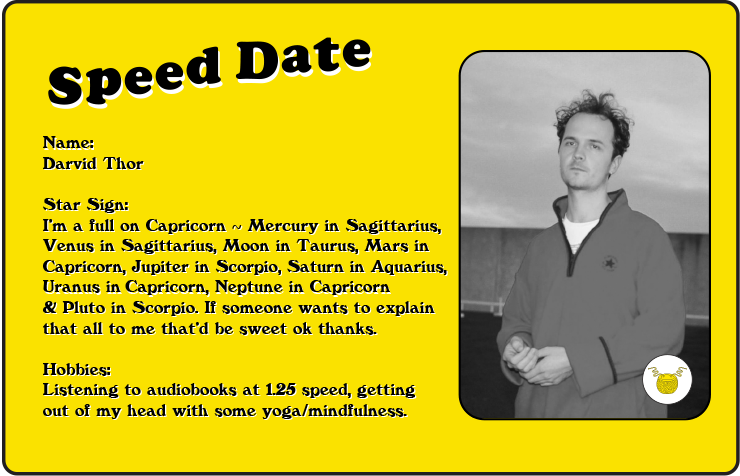 Darvid Thor


Where do we know you from?
Hello you might know me from playing guitar in The Cactus Channel, Frida, Karate Boogaloo and Leisure Centre or bass in Brenda. But if you read further down the page I've listed my detailed star sign ~ if you can decipher that, you'll apparently know me better.


What do you do with yourself?
I've been playing in a bunch of bands over the past 10 years and for the past 3-4 I've been working at HopeStreet Recordings. Still doing all that except that I'm now working on my own music, which is extremely rewarding. Lately I've also been having more spa baths in my life, which is great for mental health and your skin. Remember to exfoliate everyone. 


If animals could talk, which would be the rudest?
Maybe an ant? Or maybe they'd just be more arrogant than rude. Actually no, Flik from A Bug's Life is not rude. He's pretty lovely if I remember correctly. Let's go with a harpy eagle.


Do you believe in other dimensions and parallel universes?
I believe in the upside down.


What's the closest thing to real magic?
Probably Greek Yoghurt. Happy to go on record saying it's the most versatile food and can go with sweet, savoury and beyond.


In one sentence, how would you sum up the internet?
Help.


What's your perfect Sunday?
Mmm wake up to warm sunlight flooding through my venetians and north facing windows and walk into my kitchen and see my house buddies Yelderbert and Lewis Coleman cooking up some eggies and hash browns. Have a little hang, eat a food, drink a drink, then go our separate ways to continue working on music, or if I'm not feeling it, go for a walk and then binge watch something cause that's also okay sometimes.