Music / Features
From Farm Parties to National Tours - A Chat with Sofala
It's hard to believe that since forming 18 months ago, Melbourne psychedelic organism Sofala were yet to release any music across the entire period, despite steadily asserting themselves as a dominant force in the local psych scene. However, the drought is finally over and the band has dropped their debut single 'Confetti Dreams', a sprawling psych-rock freak-out paired with a clip that grainily captures the band doing what they do best. To celebrate the new release in style, Sofala have decided to throw their own mini-festival at the Tote, with a huge lineup of some of Melbourne's finest, so ahead of Sofalarama tomorrow, we caught up with Charlie Perry to find out exactly what's been going on.
TJ: G'day Sofala, pleasure to meet you. Want to tell us a bit about the band?

S: Heya, nice to meet you too! We are a seven-piece psych rock band that wants to make you groove.

You've had a pretty impressive 18 months despite having no music released - what's the story?

Yeah, it's been a pretty wild ride. A couple of us moved down to Melbourne a couple of years ago, and serendipitously Eugene, our guitarist, ran into his old school friends from Orange on his first day down here. They hadn't seen or spoken to each other for like 5 years since they were in high school bands together, but by the end of that week we had a couple of jams and that's when things kind of got started. The intention of the move to Melbourne was very much to pursue music. However, we didn't have a band, nor had we ever really done anything like it before – besides jamming (badly) in a garage. All we knew is that it was all we wanted to do. We were able to get a band together, and so when a friend ask us if wanted to play a backyard fundraiser gig, we really used it as an excuse to get out shit together.

The gig went really well, we played two and a half songs, people danced, it was a good time. From then, we were just really excited to be involved in the music community. We would reach out to all the local artists that we really loved, (which was and still is a lot!) as much as we could and then just played as much as we could. We did not really have much focus on recording at the time, we were still fresh, and was just having a lot of fun playing shows. There was a point when we had to consider stopping the amount of shows we were doing, as everyone else at this point were in other projects and were sometimes playing like three or four shows a week.

Did you actually?

No, not really.

What shows were you playing?

Whatever we were asked to. From farm parties, living rooms and house parties to supporting local or national touring bands - whoever was keen to have us! We feel very lucky to have met so many welcoming and supporting artists who have helped us along the way.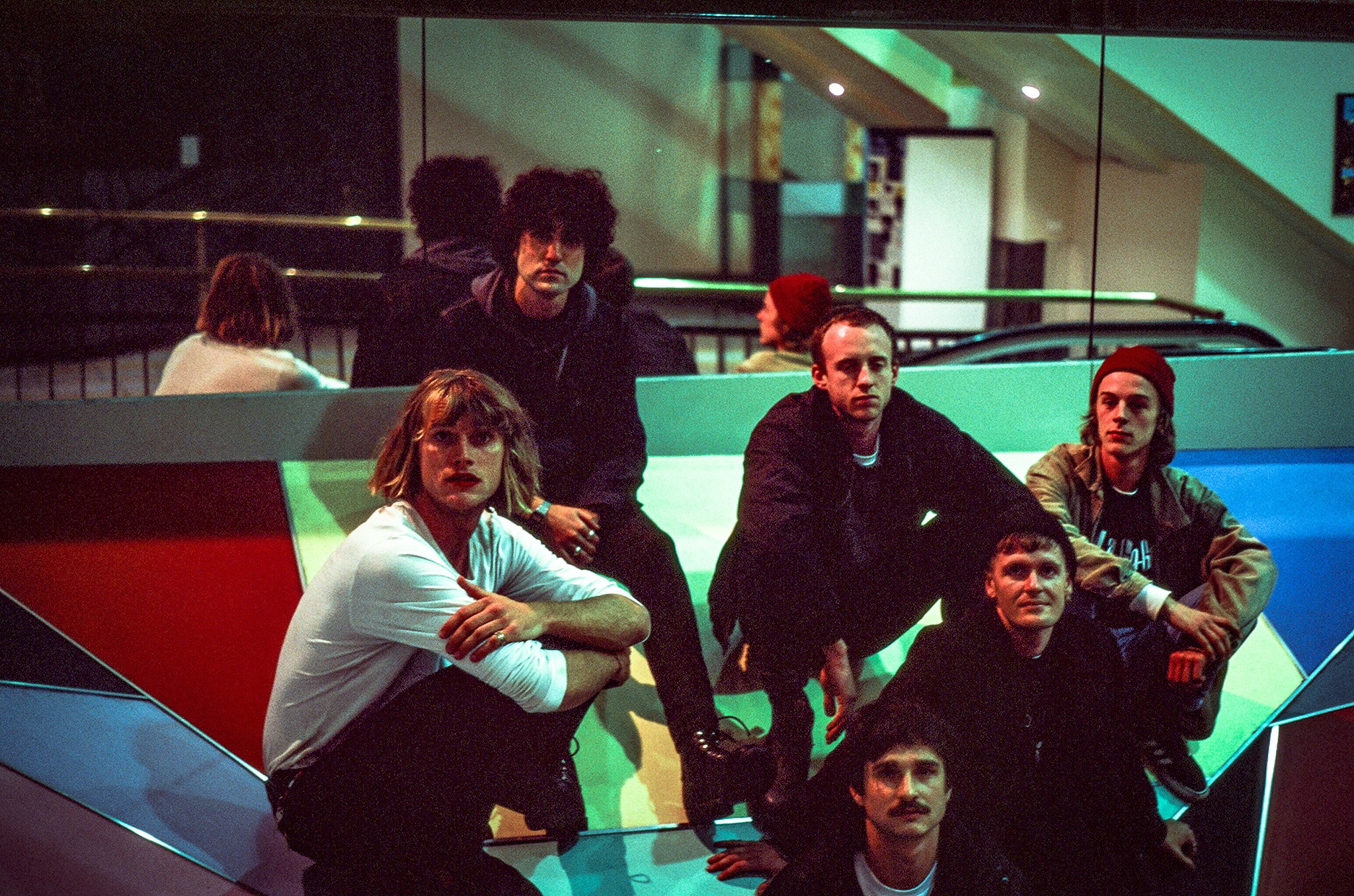 You seem to have been able to tour a lot. Tell us a bit about that?

We've always had the drive to tour, and to reach out to as many communities as possible also. So touring with TomGirl and playing shows up the east coast is definitely one the best things we've ever done, in and out of the band. We have since been Tassie around three or four times and have met an incredible community of artists and musicians on the little island, and have played some pretty wild shows there, most notably the Party in the Paddock after party with all the crew.

What was Party in the Paddock like?

Yeah it was incredibly surreal for us. To be asked back there and play on a main stage at a 10,000 person festival is something we never expected to happen so soon and we were just so grateful to be in that position. When people would ask about the band and be like "oh, where can I get the album?" it was always pretty funny to have to say "oh, we don't really have any music".

It must feel pretty nice to finally have your first single coming out then, and 'Confetti Dreams' is a pretty huge introduction. Tell us about the track.

'Confetti Dreams' was definitely the first song that really took us in the direction we wanted to be going. Sofala has and is obviously influenced by many contemporary psych rock bands such as Dungen and Goat, however we love funk and want to make people groove. So when Eugene first showed me the demo he recorded in his bedroom I was so excited, I couldn't stop dancing. The same night we pretty much had all the melody and lyrics down.

We recorded the track live at the end of last year, and it has been finished for a while now. However, we wanted to release a music video first, as we are so used to people only hearing our songs when they see us. It would be weird to not have that as the first thing we put out. It was also a good excuse to make a video and collaborate with some extraordinary filmmakers; Joey Knox and James Russo helped put this together and they've done an amazing job. We wanted to be consistent across all mediums and so it was important that we shot the clip on 16mm film. We had very limited film stock, about 11 minutes, so could only have one take of most of the shots. It was how we recorded as well, just another way to help capture that live energy. You need restrictions - otherwise it's hard to force when you do take after take.

Rumour is you've got a debut EP in the works - anything you can give away about it?

Yeah, we are really excited to have that done! We recorded all the tracks with the intention of making the EP. All the tracks were recorded live to tape, with the vocals being overdubbed afterwards, and as the first thing to capture what this project is at this point in time, we wanted to highlight the live aspect of our sound and Andy Richards who recorded and mixed us has helped us do that. We are going to be releasing it on cassette on September 28th.


| | |
| --- | --- |
Outside of Sofala, almost every member are part of other acts and projects. Tell us about the community around the band, and you're place within the local music scene.

Community is incredible important to us – same goes for pretty much any artist. Being an artist or playing in a band can be pretty daunting and to know you have support from people doing the same thing as you, who want to do it with you, gives you that sense of empowerment that is vital at times when you are battling that constant state of doubt.

Within our band specifically, the other project people are heavily involved with are Slim Jeffries, weatherboards, Patrick Ryan and Baymaree – actually, it's sometimes hard to keep count of the amount bands Josh is in, he even played in TomGirl when we toured with them! They are all completely different styles of music, however all fall underneath the rock genre (i.e have guitars).

To be involved in the cobweb of Melbourne's music community is amazing. Meeting all the incredible people through playing shows and going to gigs is what we love about playing music and being part of the scene here. To meet people and become friends with them, and then to watch them kill it on stage or listen to their song that absolutely blows you away is so inspiring.

However, if I am being completely honest, there is a sense of jealousy that comes with wanting to pursue music and being a part of a scene. That's probably just me, but when you see bands supporting an act that you really love or a really good song, as much as you are happy for them and support them, I think I always find there is sense of "oh, why aren't we doing that" irking underneath. It's definitely not a good thing, and I don't like it, but it's there. I'm probably just an egotistical bastard, but just saying.

To celebrate the new release you're throwing your own mini-festival Sofalarama that's looking like it'll be one hell of a night. Any idea what to expect?

It's going to be amazing, and we are so very lucky to have such an incredible line up. All the bands have influenced or inspired us in some way throughout our short musical journey so far. However, we do wish we booked the entire Tote as we wanted to play with so many more - I guess we will do that next year! It starts at 4PM on Saturday and will go until very late. We have an eclectic line up from soul, jazz, disco to punk and psych rock. We have some special performances and spoken word from the amazingly talent Tariro Mavando, and live liquid projections all day from Joshua Knight. Masters of ceremonies will be lead by the mysterious Codeine Cowboys, so who knows where that will take us!?

It's a pretty huge way to officially start the band, so I'm a little scared to ask, but any idea what's next?

Well, we've started recording the next EP. The new songs are already taking us in a direction that is really exciting, and so the recording process is going to be a lot different from last time. We have tour plans in mind, and we will just keep doing what we're doing. We are very aware that we are a long way from where we want to be as a project, and so we are going to work hard to grow and develop our craft, and we will see where this journey will take us.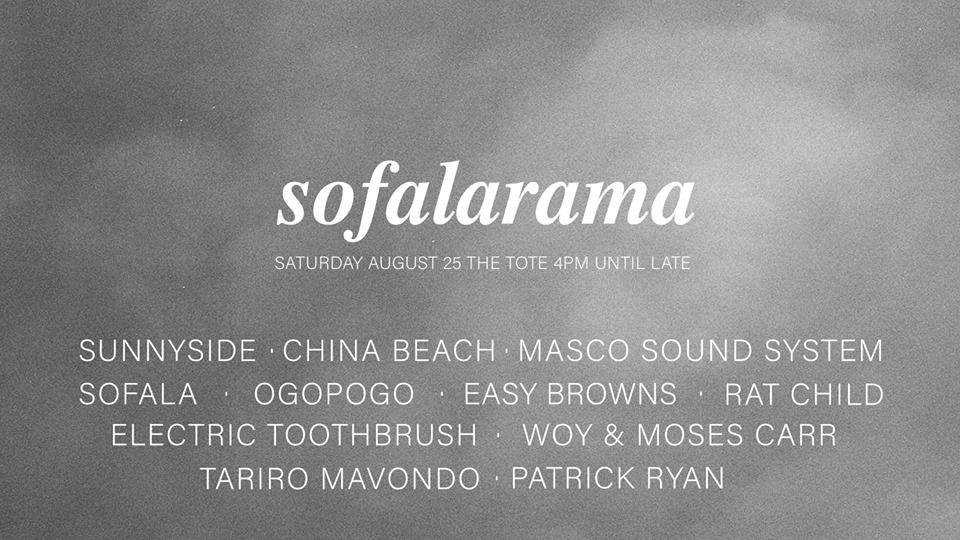 Check out the clip for 'Confetti Dreams' above, and catch Sofala amongst many others tomorrow at the Tote from 4pm for Sofalarama.