Music / Premieres
Premiere:
Arthur Penn & The Funky Ten -
Sky Party / Steppin' Up
Whilst it's a bitter sweet goodbye for Melbourne favourites Arthur Penn & The Funky Ten, they're going out big, with the two huge releases, 'Sky Party' and 'Steppin' Up', that we have the pleasure of premiering right here on Trouble Juice.
After gracing the Melbourne music scene for the last 5 years, the larger than life Arthur Penn & The Funky Ten are taking their final bow - but not before unleashing a little more goodness on us with 'Sky Party' and 'Steppin' Up'. With rich horn arrangements complemented by the high-intensity performance of the group, these releases are a wholesome send off.

Both tracks embody what we know and love about the adored 10-piece band, and gearing up for their final show, we had a chat to Tim Eilenberg about the tracks, what's next for the band and what's going down at the Gasometer this Saturday.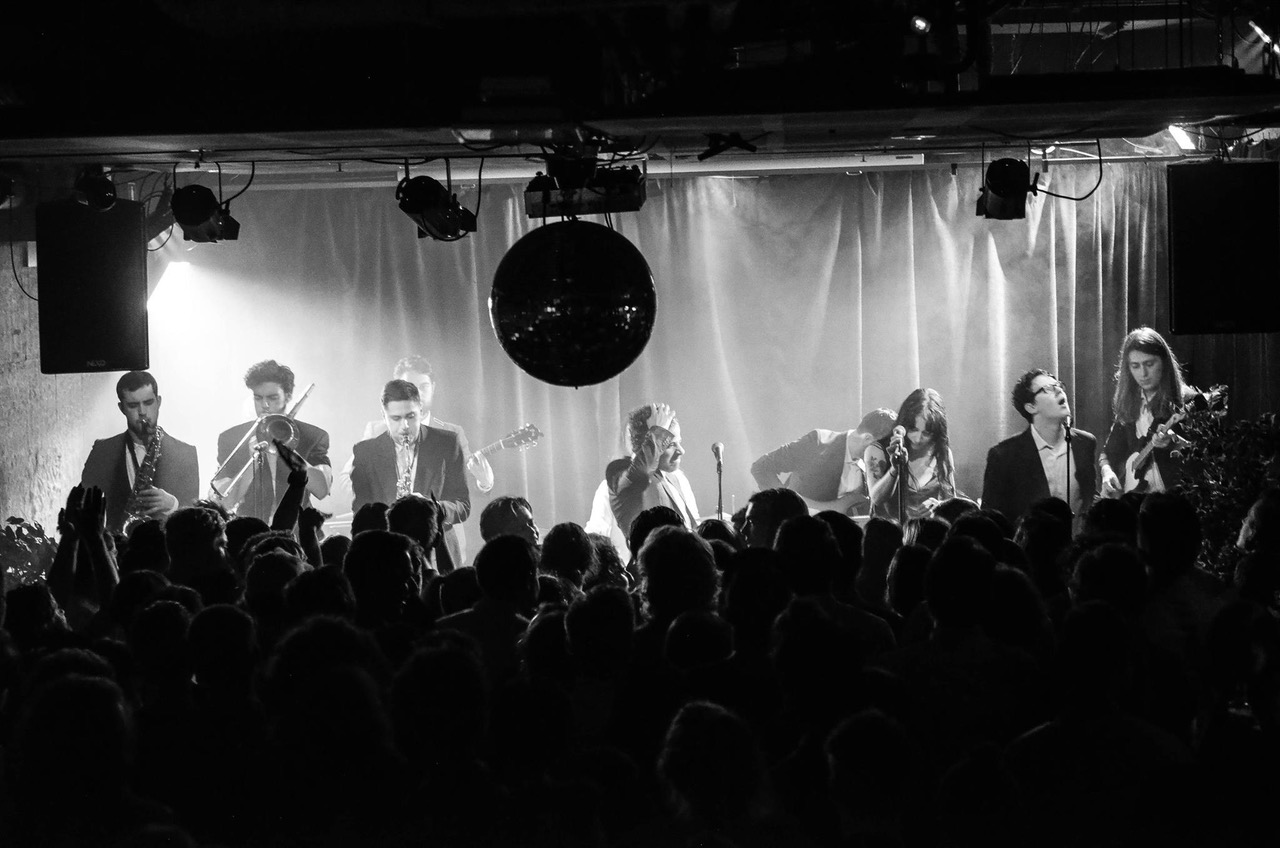 TJ: Howdy! Tell us why we're here?

AP&TFT: Hey! We're here cause our band Arthur Penn & The Funky Ten is coming to an end. In the lead up to our last ever show at the Gasometer we're releasing some tunes!

Arthur Penn & The Funky Ten will be no more. What made you decide it was time to wrap it up?

It's been a huge five years and this band has been a massive part of our lives. It was a surprisingly easy time though, especially considering all 12 of us are an immediate group of friends, from before the band was even a thing. We were kids when we started, and now everyone's committing to their solo projects and careers in the arts. Some have moved interstate and others have been touring overseas, so it was becoming clear we had two options. To either fizzle out over the next few years, or finish up with our biggest show to date and cram in every ambition we've ever had - the decision was pretty obvious.

You're going out in style with these final two tracks - tell us a bit about influences behind the tracks?

We never put out a full length album but always had a tonne of tracks which we were keen to release. We were holding back because we had fully intended to create a concept space rock opera which was going to be our debut full length release, that was going to accompany an actual performed funk opera, each of us playing characters in the narrative. The working title was "The Love Machine" (I think the script is floating around somewhere). Sky Party is the opening track of that theatrical funk odyssey, its to good to imagine set design, costumes and a chorus of children - all of which we were unable to organise.

Stepping up isn't part of that concept album - it's about eating that massive parma at the Napier. It's influenced by that struggle.

You all certainly know how to throw a party - what can we expect from the final show?

When we started in 2013 we all agreed we wanted to make a band that didn't play "gigs" but played "shows", by that I guess we mean we didn't want to just play through a set list but have a fully constructed performance from start to end. That lead to some pretty questionable ideas in the early years - like knights emerging during our song "Trial by Combat" and challenging an audience member to a sword fight, or creating a fictional nemesis called Aramis The Crow who had cursed us (we defeated him on stage though). In hindsight, slightly cringe worthy moments but the intention has always remained. This is our last chance to ever play together so we plan to bring all the energy that reflects the last five years, without the extra costumed characters, and appropriately farewell this massive project. We just want to perform the biggest and best dance party we can.

What's in store in the coming months for the Arthur Penn crew following the final show?

It's an exciting time. Some of us are jumping into the third year of an arts festival we are running. Grace has just returned from the Edinburgh Fringe, and launched her new solo project with a band, Tim Sneddon is going to keep touring a children's puppet show overseas and Stikki has a new sound design company. Ben Winstanley is the in house drummer at Dracula's on the Gold Coast whilst Ben Harvey has moved to Perth to become a doctor. Jesse is doing music therapy and working as a touring session musician, Tim Eilenberg has started a new band and also a music publishing company and Ed has his own band thats been going for six years and is working as sound technician. Tyler and Maddi have gone into music management, but still playing gigs in other projects. Pep is managing and playing with Stranger Suite and is doing an apprenticeship in set design. Dan is playing trumpet with No Zu and works as a graphic designer. Theo, Cam and Josh are teachers - teaching music, primary school and high school drama respectively. You're probably sorry you asked this question - it's true chaos. But hey, in 20 years maybe we'll 'get the band back together'.


Check out 'Sky Party' and 'Steppin' Up' above, and catch Arthur Penn & The Funky Ten one last time at The Gasometer Hotel this Saturday.