Music / Premieres
Premiere:
The Holy Rollercoasters -
Out Jumped The Devil / Set Me Free
We're quite excited to give the world its first initiation into the church of The Holy Rollercoasters today, with a premiere of their debut double single. On 'Out Jumped The Devil' and 'Set Me Free', they serve up a blistering combo of fiery soul and gospel-blues with enough frenetic energy to wake up any demon.
Led by Brisbane blues guy Jimi Beavis, and rounded out by seven more of Brisbane's finest, The Holy Rollercoasters hit Brisbane at the end of last year and immediately blew audiences away with their spirited mixture of blues-rock and gospel soul. Today they've dropped their debut release, and it's clear they are here in a big way.

On Side A is 'Out Jumped The Devil', which opens with a smooth keys riff before expanding into a laid-back soul jam, commandeered by Jimi's visceral voice. The track swaggers along steadily, before it blasts open into a bone-shaking chorus, bold with glorious horns and a driving rhythm section. Packed with contagious energy and an almost psychedelic solo section thrown in for good measure, it's an invigorating introduction into the world of The Holy Rollercoasters.

However, they're not done yet, as we flip the record and 'Set Me Free' slides in. Led by bouncing horns and a frantic groove, we're treated to a new side of the band, however, it's Jimi's wild howl that steals the limelight again. That said, it's clear how skilful the band behind him is, as they fly along at a blistering pace, never missing a beat. All of sudden, the track shifts and slips into an intoxicating slow-jam, with Jimi offering up his own warped version of a sermon. As quickly as the section arrived, it's gone, and the band ride 'Set Me Free' out with an unshackled harmonica solo and a heap of attitude.

With an exclusive run of coloured 7" vinyl available next week, courtesy of Valley Heat Records, and a huge launch party coming up on the 20th of October, we caught up with The Holy Rollercoasters to hear some of the good news from the source.
TJ: For those yet to be indoctrinated, what's the story behind the Holy Rollercoasters?


THR: Back in 2016, I felt I needed a break from blues and had already started writing soul songs and getting into the ebullience of gospel, as well as the darkness of old testament influenced blues. I had just released my second solo album, but found it was much more enjoyable if you are a team and have a band, rather than musicians working for you. At the time Andrew (Garton, bari sax, co-songwriter/music director) was writing his jazz masters and playing with Mojo Juju in Melbourne and I told him I had lyrics but no melodies. We emailed back and forth with songs and when he came back to Brisbane we teamed up, put a lineup together and here we are. While lyrics are very important to us, our philosophy is based around the question: will this make people dance? We also don't feel necessary to copy exactly what other soul bands do in terms of our songs, especially when my voice is relatively idiosyncratic.


You're about to drop your first two singles - what can you tell us about 'Out Jumped the Devil' and 'Set Me Free'?

'Devil' is a song I laboured over years ago, which is full of the sort of gothic/tragedy storytelling that I enjoy in Nick Cave and Tom Waits, as well as those old folk ballads from centuries ago. Musically, it centres around a Rhodes riff and goes from a pregnant mildness to a rousing chorus and then a bit weird and wild in the solo. I get to be a bit of a crazy preacher. 'Set Me Free' is really just a bunch of metaphors loosely based around the idea of love setting someone free, and doesn't really have a chorus but goes from funk to gospel and back to funk and I get to pull my harmonica out again, which I don't usually now that we have three horns. We have numerous musical influences but when it comes to a production sound, we distilled it down to two modern soul legends - Eli "Paperboy" Reed and Sharon Jones & The Dap-Kings.



The two tracks are being released as a double 7" single - what draws you towards releasing on this format?

It is a classic soul release style! And money... Albums are definitely not over and I love the concept the idea of the album as a piece of art but unless you can be guaranteed a big audience very soon, it is a big and expensive process. But also a single can be a thing of beauty, and part of the modern culture of vinyl as well, which I love. I don't play 45s much but every now and then I get them out and go one after the other. Also John from Valley Heat is a massive soulhead and he was very keen to follow that soul tradition of a 7 inch release.



You've also just signed on with Valley Heat Records who are kicking goals at the moment - how'd that come together?

Andrew and Lachy (former HRC trumpet player) play in The Francis Wolves, who I have known about for a while. I love their sound and were doing great things in the local scene so I was keen on doing a gig with them at some point so I struck up a friendship with John (VHR); chatting vinyl, going to shows etc.etc.. Once he heard what we were doing he was very keen to help out and we love what he does, so it's a perfect fit.



How's the rest of 2018 looking for the Holy Rollercoasters?

After the launch party for the single, we have an in-store appearance at Sonic Sherpa on November 4. It is one of our favourite record stores around so very keen for that. Then we're throwing a Christmas soul party in December, in cahoots with VHR - other than that, we'll be spending more time in the studio so we have to introduce some new songs to the band! Very keen to get cracking!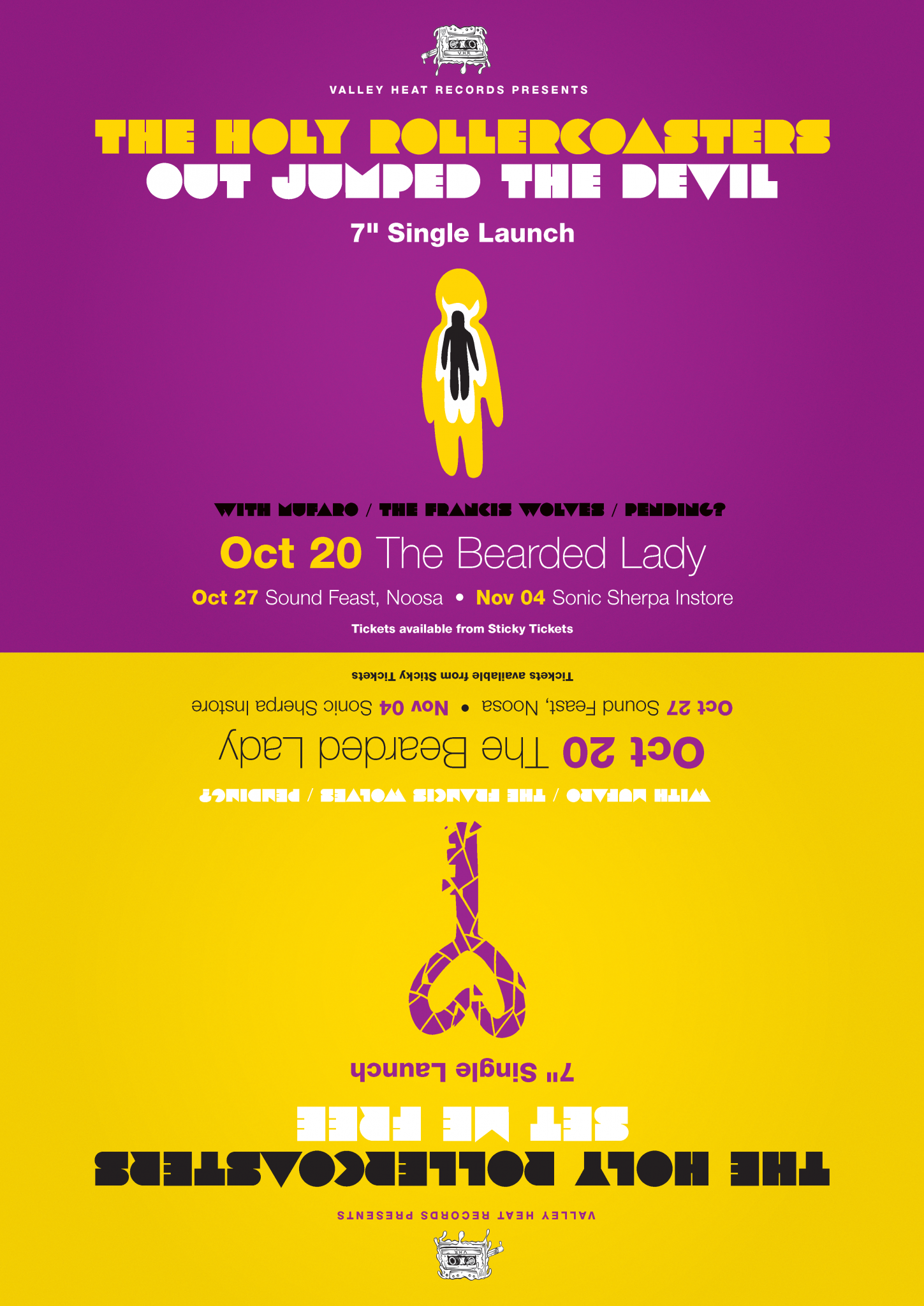 Check out 'Out Jumped The Devil' and 'Set Me Free' above, and Brisbane crew can catch The Holy Rollercoasters on October 20th at The Bearded Lady.