Music / Premieres
Premiere:
House Deposit - Calder
Today we're thrilled to be premiering the debut single from local jangle folk House Deposit - 'Calder' is three minutes of immersive guitar pop, that brims with an earnest charm and sense of poignancy that somehow manages to linger on, long after the final chords.
Despite only playing their first show in August of this year, House Deposit have quickly asserted themselves as a name to keep an eye on, already sharing stages with the likes of IV League, Baby Blue and Vintage Crop. And now, considering the strength of their debut single, I'm feeling inclined to agree with the obnoxious guy who yelled at the band, asking for "6 or 7 more" at the conclusion of their first set.

'Calder' begins with some mild guitar chimes that meander around each other, before expanding open with a steady backbeat and jittery bassline. Despite the laidback nature of the track, there's an underlying restless energy that drives it along, which is heightened by Sam Lyon's unassuming vocals. As he tackles the changing relationship he has with his hometown in his languid delivery, each line drips with an unique kind of emotion that somehow manages to sound nostalgic and wistful but also bitterly frustrated. As the chorus hits, Sam is joined by co-vocalist Meaghan Weiley and together they warble an elegant melody that perfectly reinforces the song's poignancy without overselling it, before the song briskly moves on, much like the freeway they sing of.

'Calder' is a really exciting way to introduce House Deposit to the world, so we caught up with Sam and Meaghan to find out a bit more about the band and the new release.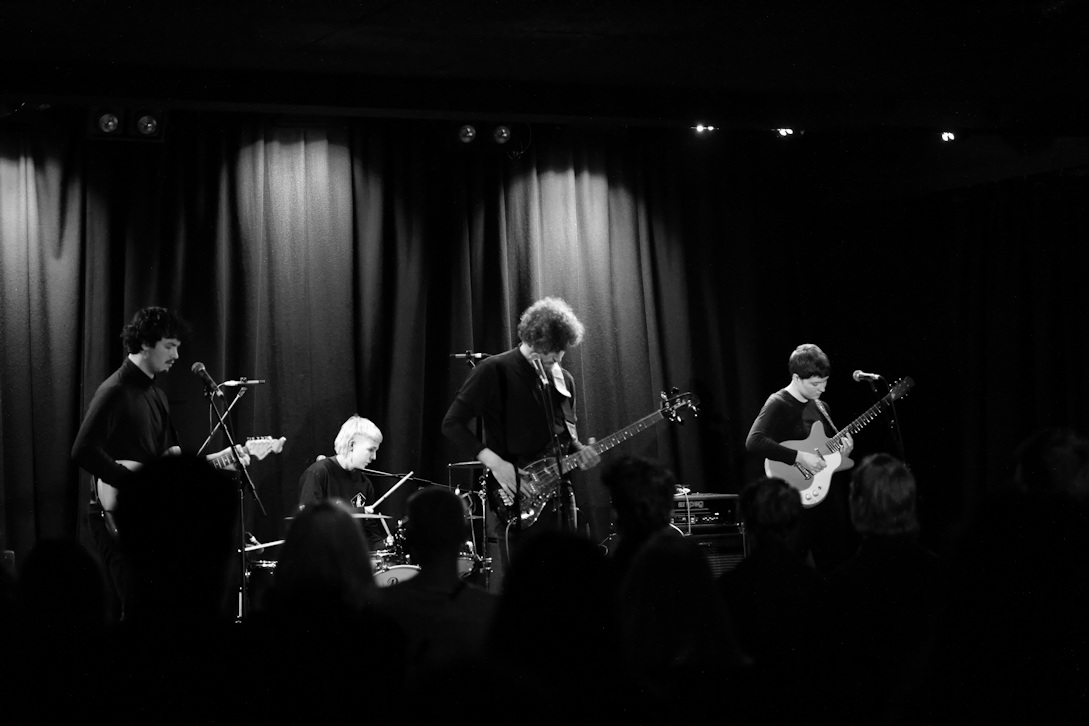 TJ: G'day House Deposit, how's it going?

Meaghan: Hi! Things are ok - hope you're well!

Sam: I'm feeling pretty good! Thanks for asking.

You only just recently rolled onto the local scene, but have quickly jumped on a few great lineups and garnered a bunch of attention. What's the story?

Meaghan: I've been pretty involved in the music industry (worked for independent labels, venues etc.) since the day I've been here, but I've just been too scared to ever actually play any of my music. Sam & I became friends by going to shows together, and last summer we just sat down and wrote a bunch of stuff. Things came together really organically.

Sam: It was such a nice experience, there was just never any pressure or expectation on it becoming anything real or serious. It was more of a bonding experience rather than anything else. It was also nice being able to flesh out songs that we had both had for a long while and finally have them feel a bit more real.

We're pretty stoked to be premiering your debut single - tell us a bit about Calder.

Sam: 'Calder' is a song that I wrote about a year and a half ago. I grew up in a town called Sunbury, and to drive to the Melbourne CBD and back I'd drive along the Calder Freeway. It's just mainly about growing distant to a place or people and realising that maybe that feeling is okay and a natural part of life and growth. It's gone through a few lyric changes but always had that constant theme. When Meaghan and I started writing together I brought the song in and we fleshed it out with each other. Our bassist Dylan Bartlett and drummer Scout Tester added their own flare and the song wouldn't exist to the extent it does without them – now here it is.

There's a pretty apparent Melbourne-ness to the sound of the new track, how does our city influence what you do?

Sam: I think just being surrounded by all these incredible bands with a similar style and a similar approach to music is a big influence. It's easy to have similarities with other bands that live and play in the same spaces you do because you are so exposed to it constantly. Most of the songs and their content (at least in the lyrics I write) are so engrained in this area.

Meaghan: Yeah - totally. But if I'm being honest, cities are pretty messed up in general - I think the anxieties of my experiences here (coming from a coastal tourist town) are interlaced with the way I write. I procrastinate and slack off a lot and beat myself up for it then become proactive - four seasons in one day (just like Melbourne, right?).

How's the rest of the year looking for House Deposit?

Sam: It is looking pretty good! We have the single launch for 'Calder' at the Gasometer Hotel on the 31st of October. After that we have a few great shows towards the end of November and in December that haven't been announced yet but we are excited for them. Besides that, I think we are hoping to record the rest of an EP – hopefully.


 Meaghan: Hopefully. Also, we have to do more gaming.


Have a listen to 'Calder' above, and catch House Deposit on Wednesday, October 31st as they launch the single upstairs at the Gasometer.