Music / Premieres
Premiere:
Little Desert - Happy
We're really stoked to premiere the brand new single from menacing psych crew Little Desert - bursting with explosive energy and a whole lot of power, 'Happy' is a spectacular return that finds the band building up towards big things as they prepare for their second release.
It's been a few years since we've heard new music from local five-piece Little Desert, which is relatively fair since the members of the band make up a good chunk of the rest of Melbourne's music scene. However, they've finally returned today with 'Happy', and it's safe to say they're back in a big way.

Following a preemptive drum roll, 'Happy' explodes open into an menacing wall of sound and a propulsive groove - almost instantly, we're hit with fiery guitars and ominous organs, backed by pounding drums and a driving bass. With no moment of rest, vocalist Esther Rivers moves in with her intoxicating voice and we're unable to look anywhere else as she weaves a sprawling melody around the instrumentation with her spirited howl. The track burns on, feeling more and more dangerous as it goes, before shifting into an instrumental section that levels up with layers of wild feedback and volatile organs as the rhythm section continues to pummel away steadily. It's almost hypnotic, but we're knocked out of the trance as Esther returns with a vengeance for one more emotive chorus before the track is suddenly done.

Ahead of their single launch tomorrow night, we caught up with the band to find out what's been going on.
TJ: For the unacquainted, who are Little Desert?

LD: Little Desert are a Melbourne five-piece dark-psych band that play songs from the guts.

You've just dropped your new single 'Happy', want to tell us a bit about it?

'Happy' was written by singer Esther on a train back from Edinburgh to London. It was a short burst of reflective joy, writing about her sister who she hadn't seen for a long time, and that bittersweet feeling of knowing someone is good even when you are leaving them. Esther and Roman met up in Italy and fleshed out the rest on organ and then the band just picked it up and ran with it and gave it the meatiness it needed in order to tell the story our way.

It's been a little bit of a break since your last release - what have you been up to?

We're all seriously busy with lots of stuff. Most of us are in half a dozen bands or so, Esther travels a lot overseas, but we have been playing these songs for a while now, albeit sporadically. We're all pretty easy going and we get along well, it's just been about fitting it in where we can. We wanted to release these tracks as its our first documented recording as the five of us, even though we've now been playing together for years.

The band has a bit of an all-star lineup - what other projects are you involved in and where does Little Desert fit in?

Yeeeeeeah, that's the magic of Little Desert! It's this weird amalgamation of great parts. We tend to rotate with other and each others projects... it's hard to sometimes keep up though. Bonnie does incredible solo work, and also plays with Dacios and Dumb Numbers and just features on a lot of great projects. Roman is working with Rocket Science, Esther and Roman also do solo work - Ash and Ema both play in Synthetics and Ash does Masses, Ubik, Red Red Krovvy... the list goes on. It's kind of a miracle we've come as far as we have, but it's been a laugh. We've stopped and started quite a bit but we're always grinning at the end of a show. It's powerful. And fun.

What's coming up next for Little Desert?

Well, this single is off an EP were releasing next year - ANIMA - five tracks that best represent us as we are, as the sound we've managed to produce and which reflects the five of us together. That's pretty much it for now.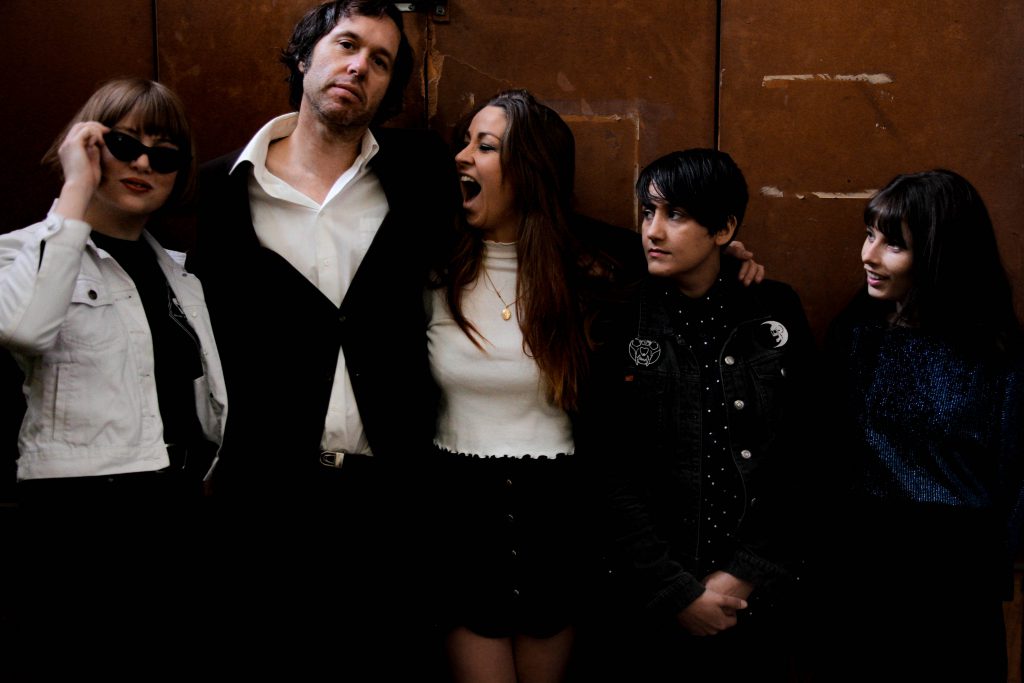 Have a listen to 'Happy' above, and catch Little Desert tomorrow night as they launch the track with Ov Pain and V at a secret location in Collingwood - message the band or It Records on Facebook for details.