Music / Features
Sick of Dreary England -
A Chat with Weird Place


The guys from local noise-punk outfit Noughts have just launched a brand new record label called Weird Place, and today they're kicking things off in a big way with their own festival at the Gasometer, featuring a heap of Melbourne's best bands. Ahead of the show, we caught up with Rich Cahill to find out a bit more about it.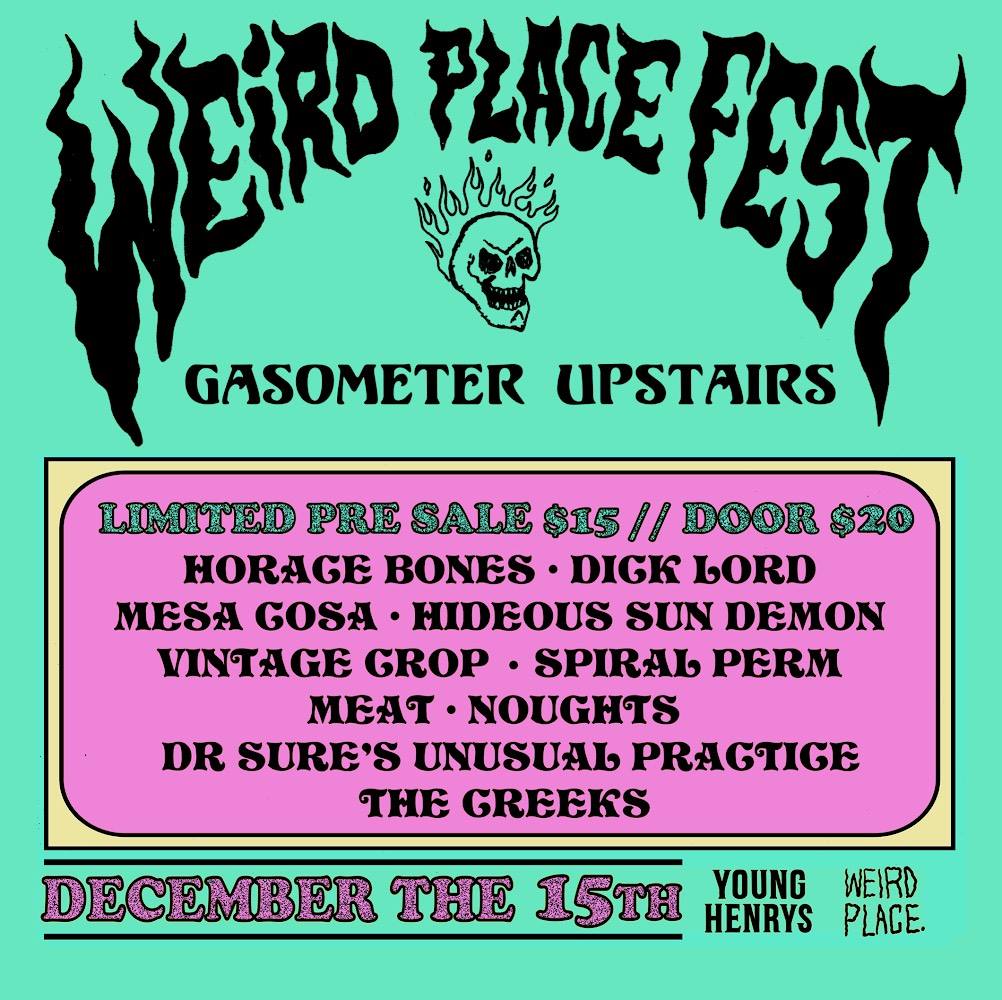 TJ: Hey Rich, what's the story? You and the other guys in Noughts have just started Weird Place - tell us about the project.

RC: Weird Place came about initially to put the Noughts debut EP out on, we had a few offers from some cool labels but wanted to give it a go ourselves. We had a great launch with the EP doing a month long residency at the Tote and played with some great bands, I really enjoyed researching and sorting out all the bands to play and decided to start organising Weird Place Fest pretty much straight after.

To kick things off you're hosting Weird Place Fest this weekend at the Gaso - any idea what to expect?

The idea was to ask our favourite bands that we have either played with in Noughts or seen live, I couldn't believe it when more or less everyone I asked said yes and the hardest thing has being trying to sort set times as every band are so good. I wanted to have quite a small intense room where the music would be loud and the punters sweaty, hopefully the Gaso band room upstairs will provide that!

Young Henrys have been really cool to us and got involved with the all important beers and my legendary wife is putting on a dessert table to satisfy the punters munchies.

You've stacked the lineup with some really great bands, got any top picks?

Every band brings something to the table.

I was really impressed with Dr Sure Unusual Practice when I saw them at the Tote a few weeks ago, really interesting style and doesn't really sound like any other band in Melbourne at the moment.

Everyone knows Horace Bones, Mesa Cosa, Spiral Perm, Dicklord and Hideous Sun Demon are gonna bring the high energy assault on the ears,that line up in itself would be a great gig!

I think MEAT are going to be huge in 2019, they have some recordings coming out in 2019 on Pissfart Records and bring the proto-metal big riffs which again not many bands in Melbourne sound like right now.

Vintage Crop made one of Noughts favourite albums with New Age, the songs 'Gerald Pt 2' and 'New Age' are bangers that still get played numerous times a week. They have a new EP coming out on Anti Fade very soon.

We played one of our very early gig in Noughts with The Creeks and their music and live performance has stuck with me ever since, real intense songs delivered very passionately. Check out the song 'Boogeyman' for a great example.


If I'm correct, everyone from Noughts/Weird Place is originally from the UK but it seems like you've settled into Melbourne very nicely. What inspired the move and how've you found the local music scene?

I knew Tom in England and ended up meeting Sean at work in Melbourne, we all moved here as we were sick of dreary England.

The Melbourne music scene has been great, as someone who normally scowls and thinks the worst of everything I have been really surprised by how nice and welcoming everyone has been. Huge shout outs to Pablo from Bone Soup, Zach/Annie from Oh Jean Records, Yunis (Photoyunist), Joel (Old Bar), Danny (Horace Bones), Max (Lost Talk) for helping Weird Place or Noughts along the way!

What's 2019 looking like for Weird Place?

Weird Place Fest 2. Noughts Album.

I also want to put a few tapes out by bands and am speaking to a few at the moment and we have a special Weird Place Basement residency coming up which will hopefully be announced soon, cheap late night gigs in a dark basement, what more could you want?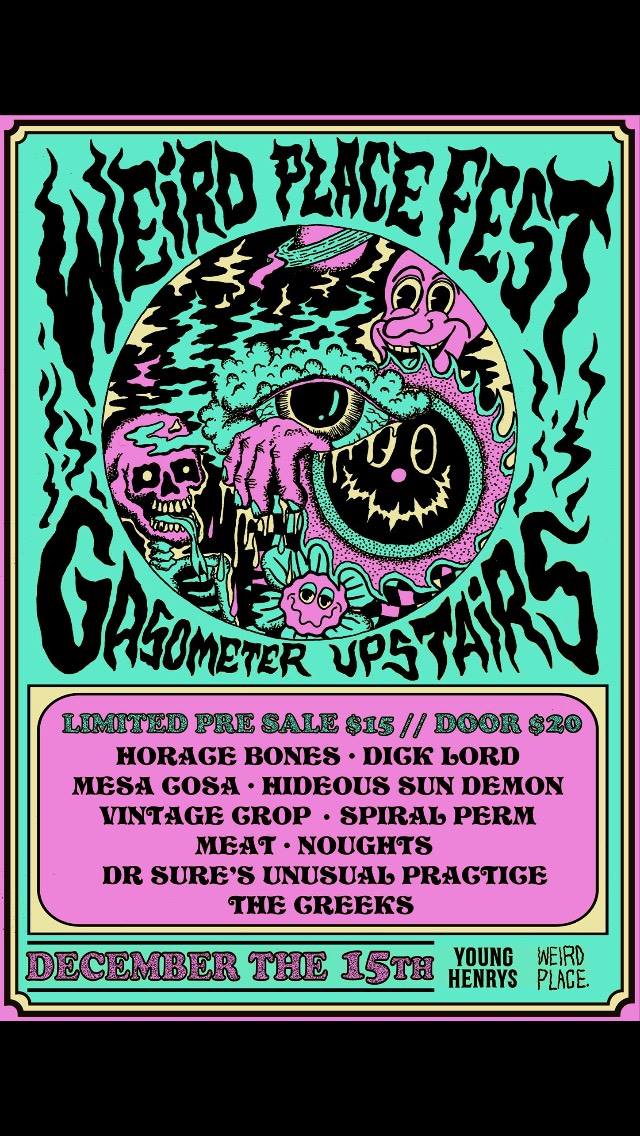 Get down to Weird Place Fest today at the Gaso Upstairs and follow Weird Place on Facebook to keep up to date with all the good stuff that is still to come.