Music / Features
They Made Me Do It -
Talking Influences with IV League
In the midst of a big summer for snowballing garage-pop duo IV League and following the release of their head-turning new single 'Lose Me', we got in touch with Bella Venutti and Lachie Gilmore to find out what they've been listening to in the lead up to their forthcoming debut EP.
Last year saw IV League leap from strength to strength, with the release of their explosive single 'Superstar', plenty of triple j attention and sets all across Australia's east coast, including a buzzing set at Bigsound cementing their status as a live act worth keeping a close eye on.

For the duo's most recent release, 'Lose Me' highlights IV League's depth and versatility, this time delving into delicate instrumentation and introspective lyrics, and pulling it off with an effortless charm. Easing into things with fingerpicked guitar, rolling drums and murmured vocals, before launching into full grunge mode, lead by Bella's captivating vocal presence. Through 'Lose Me', IV league make a fine art out of balancing fragility and explosiveness, building the hype surrounding their debut EP in a big way.

Before heading off on their forthcoming tour, Bella and Lachie took us inside their collective mind and outlined a few of the key factors that have lead to the IV League sound.
Suspiria (soundtrack) – Thom Yorke
Recently we saw the new Suspiria remake directed by Luca Guadagnino, being die hard fans of the original Dario Argento version. While we could harp on for hours about how wonderfully sick and twisted and aesthetically incredible the new version is, the soundtrack by Radiohead's Thom Yorke has left the most lasting impact. When I first heard the film's single 'Suspirium', it touched me in a way a piece of music hasn't in a long time. The cyclical piano line combined with Thom's extremely emotive voice and wistful lyrics exposes the fragility of a seemingly dark and violent film.


Valerie and Her Week of Wonders
I think I've done a really good job in narrowing this list down to two witch references only, as a bulk of my life and interests revolve around witch related content. This film has been one of the main sources of inspiration for IV League's aesthetic within the second half of 2018. Conceived in the Czechoslovak New Wave, Valerie and Her Week of Wonders is part magical realism, part fairy tale and part horror film. It is an allegory for budding female sexuality and a society's desire to both harness and repress it. My favourite scene features the film's then thirteen year old protagonist tied to a stake about to be burned and poking her tongue out at the screaming mob. Huge mood.


'Zebra' – Beach House
This is one of the first songs I learned to play properly on guitar, and while our overall styles differ quite a lot, I would say Beach House are one of the main influences on our songwriting. I can't help but think that the sheer amount of times I have played this in my bedroom, which inspired the similar plucked riff that begins 'Lose Me'.


Pamela Colman Smith and her tarot deck artwork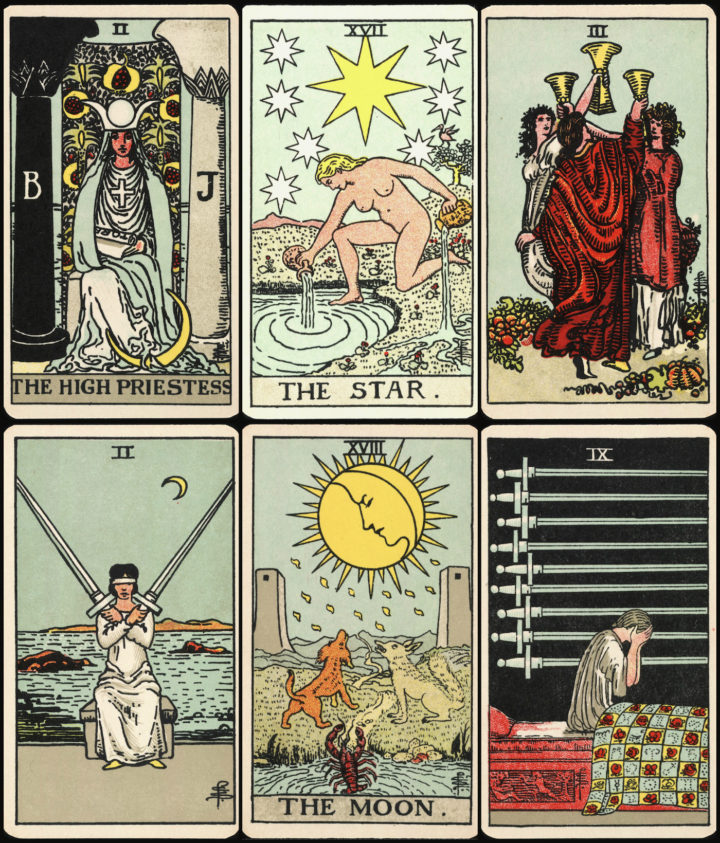 One of our most recent t-shirt designs is an homage to The Star card in the Major Arcana of the tarot deck, and I have always thought that original artist Pamela Colman Smith's illustrations are historically incredibly underrated, especially considering she was very poor and unsuccessful when she died. My favourite card is the high priestess.


'Shine' - Slowdive
I could watch this clip on repeat for hours. Rachel Goswell is so angelic! There is something about Slowdive's minimal and mysterious aesthetic that has cemented the band's complete timelessness.
Have a listen to 'Lose Me' above, and follow IV League on Facebook to keep up to speed as they prepare to release their debut EP later this year.