Music / Premieres
Premiere:
Girl Germs - Boy's Club
Only forming in the middle of last year, Melbourne's premier pussy-punk trio Girl Germs have quickly taken Melbourne by storm and today they've finally released their highly-anticipated debut EP Boy's Club - it's a blast of enraged garage punk, that sees the girls taking down the patriarchy with a heap of passion and playful charm, from behind a wall of blown-out guitar and pounding drums.
Following a frantic count-in, Boy's Club bursts open with 'Share House', a chaotic blast that sounds equally indebted to riot grrrl as it does 60's garage rock, with its yelped vocals and primitive grooves. Chronicling the woes of living in a share house when it gets to the end of the night, the track perfectly showcases Girl Germs ability to sound aggravated, endearing and hilarious all at the same time. Next up is 'Sex Doll', a femme punk anthem that hits hard with gritty guitars, surging drums and some stellar lyrics - if anyone wants to bother contending that males can write better songs than females, they've clearly never heard anyone rhyme 'catcall' with 'gutful' before.

Things start to get a little wilder as we move on, with 'Beer for Dinner' (it's basically bread in a glass) and 'Bunny Boiler', two moments of fried garage-punk that both come full with frenzied playing and manic vocals. But Girl Germs keep us on our toes, and next up is 'Rut' - with its soulful vocals, sweet harmonies and cooled-off instrumentation, it's the mildest moment on Boy's Club and an EP highlight.

Finally, Boy's Club rounds out with the title track and we see Girl Germs at their most ferocious yet - based around a combo of muted guitars and ominous drums that build slowly and eerily, Girl Germs offer a gruelling critique of toxic male behaviour, before the track erupts into a careening riff and empowered group vocals. It's a fitting way to wrap up the EP, encompassing everything Girl Germs do best. Sometimes messy and outrageous, sometimes dark and dangerous, Boy's Club is a striking debut from a band who are steadily asserting themselves as one of Melbourne's most interesting punk outfits.

Ahead of their EP launch tonight at the Tote, we had a chat with the girls to find all about the new release.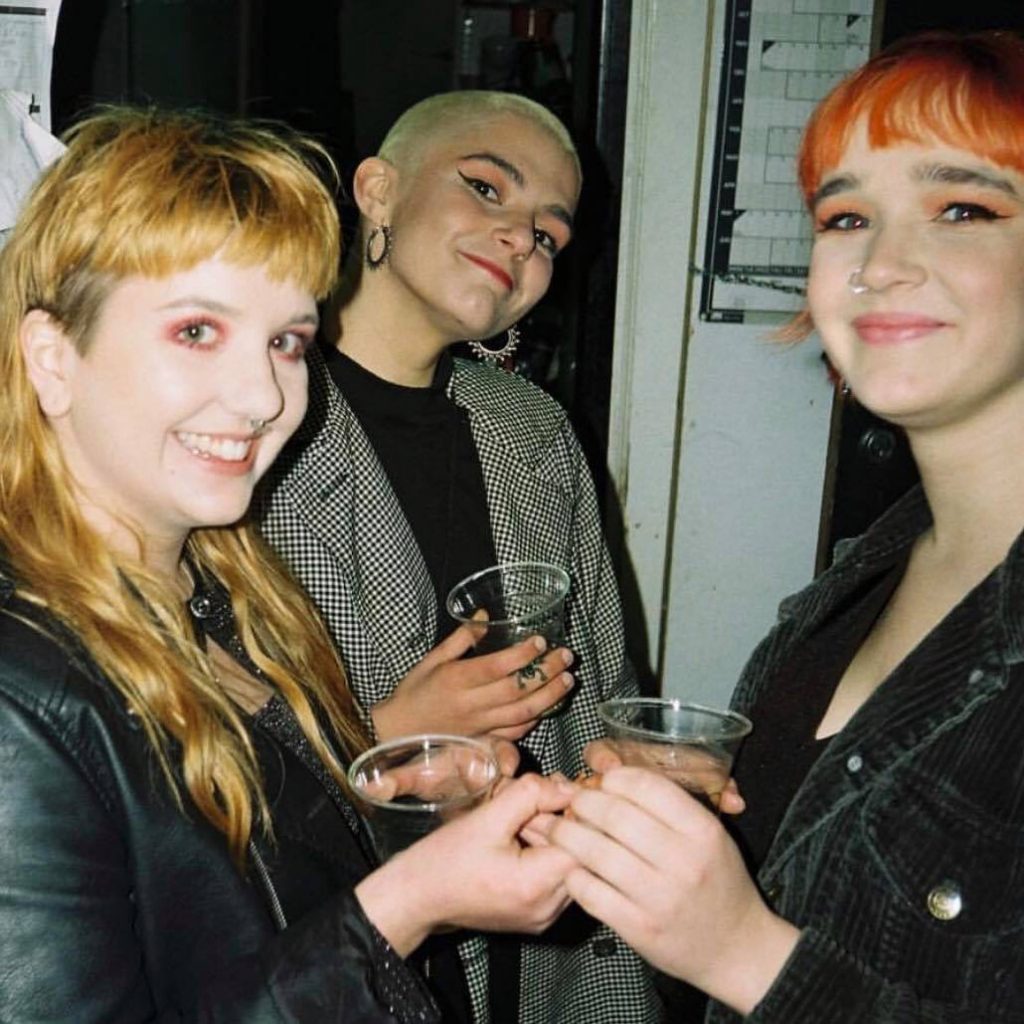 TJ: Hey Girl Germs, for the unenlightened, tell us a bit about yourselves.

How's it goin!

Well, we usually just say we're "three hot hot hot chicko rolls from the cultural deep-fryer that is the city of Melbourne". But basically, it's just the three of us, Kahlia (Guitar), Peta (Bass) and Layla (Drums) and we all sing. We write songs about sexism, the patriarchy and having beer for dinner. We call it 'Pussy Punk' because nothing else really seemed to fit.

Boy's Club is a pretty powerful way to introduce yourself to the world - what's the story behind the EP and how it came together?

We started Girl Germs having never really played instruments before, but loved all the bands we saw around Melbourne. We didn't really know what we were doing but wanting to play shows forced us to write a bunch of songs. We recorded a couple of stand alone singles prior to Boy's Club with Cal Newton from Candy, but almost immediately had more to record. Cal mastered this EP, however this time we recorded in Pinch Points' loungeroom with Adam Smith producing.

Despite only playing your first shows in the middle of last year, you've been very quick to make a name for yourself around town. How's the rise of Girl Germs been on your end?

Surprising. I guess it's been pretty surprising because we thought we sucked when we first started so every other show we've been offered since then we've been extremely grateful for. At the same time, it's not that surprising based on the content of our songs and the fact that we're an all female band. I think Melbourne is really thirsty at the moment for non-male bands who speak out about various social issues.

The new EP is out on Roolette Records who have been kicking a heap of goals lately. How'd that come about?

Roolette has been really great and they basically wanted to sign us right after seeing a show of ours for the first time back in August. Since then we've pretty much been planning this Boy's Club tape together so it's a long time in the making. We love Roolette and can't wait to continue releasing on them.

How's 2019 shaping up for Girl Germs?

Well obviously we're about to launch our debut EP at The Tote tonight, from there we'll be heading up north for a few shows in Canberra & Wollongong. We'll be taking a bit of time off after the tour to write new songs and then we'd love to end the year with a residency, another tour, and a second release.


Have a listen to
Boy's Club
above, and head to
rooletterecords.com
to purchase the new EP on a limited blood red cassette. Girl Germs launch
Boy's Club
tonight at the Tote with Loveboner, Cakefight and Marlon Bando.