Music / Features
Music To Stargaze To -
A Chat with ZUMA
Ahead of the release of their debut EP tomorrow, we caught up with James Barjasic from local neo-psych group ZUMA, to get the inside scoop on the new release and their upcoming tour.
Having been playing together for the better part of the last three years, ZUMA's debut release has been a long time coming, but with their self-titled EP out tomorrow, it's clear that the time spent crafting their sound has paid off. Across the EP's seven tracks, we're treated to a burst of expansive disco-tinged psychedelia that is as mesmerising as it is danceable, showcasing a self-assured act who have their sights set on impressive things.

Hinted at by their debut single 'Flâneur', ZUMA brims with layers of immersive synths and simmering grooves, tied together by Alex Latham's intoxicatingly dreamy vocals, and across the entire EP, they don't lose this ability to captivate. Opening tracks 'Motions' sucks us in immediately and honours its name with a driving drum and bass combo while keys stab in and out, before exploding into a volatile race to the finish line, and 'The Search Was All In Vain' is perfect stargazing psych-pop, with its enthralling chord shifts, glowing keys and fluid beats.

But it's not all made for blissing out - 'Falling Off The Edge' turns the heat up with its dark synths and slow, turbulent groove, 'Deep Ride' is ZUMA at their most erratic and 'Flamingo Boulevard' could soundtrack an alien nightclub. But despite all the different moods across the EP, ZUMA maintain an impressive sense of cohesion. And by the time the EP's glorious closer 'Coming of Age' wraps up, with its sparking synths and triumphant melodies, it's clear we're hearing a band aiming for the stars.

We got in touch with bassist James Barjasic to find a little more about the new EP and what's next.
TJ: ZUMA have been playing together for ages but tomorrow's EP will be the band's first official release. Can you tell us a bit about the band and how this EP came together?

Z: Yeah so the band has been through a few transformations. The current lineup has been set for two years, we had a different singer before then and didn't have a synth player.

The EP is sort of a collection of older tracks from that period, and newer tracks. We planned to record the EP a while back - but we did it ourselves in Jess' bedroom, so we really just wanted to take our time with it. Although we were getting frustrated with how long it was taking, we'd rather put something out that we were really proud of as opposed to just rushing it. We learnt a lot from it, so I think it'll be a quicker process next time, which won't be too far away.

Does it feel like this version of ZUMA is the most reflective of what you want to do?

So Alex [Latham] came on board, but before her we had Imogen who had to leave. Alex is great, she plays a bit of keys and sings, and Pat [van Wegen] also joined on synth, which meant we've probably progressed a lot from more guitar driven music to a lot more synth orientated stuff. Pat's got two synths onstage which just allows us to sound how we want to sound, with that full synth sound that we're pretty interested in.

I managed to score a sneak preview of the EP and it sounds really great - there's a very cool mixture of all the different kinds of modern psychedelia, with those big synth-heavy psych parts, the brighter, poppier moments, or the faster and louder garage-pysch stuff, but you've still managed to it sound pretty cohesive. What was the process of putting the EP together and what kind of influences were seeping in?

The tracks are kind of from time periods which probably explains that. We're into lots of different kinds of music from that psych world, and the earlier stuff like 'Coming of Age' and 'Falling off the Edge' are from earlier on - two of the darker, slow-burner rock tracks, they're a bit smoother. Then we got into some brighter, well a lot more brighter stuff later on which you hear on other tracks, and I think we'll continue in that direction. We're kinda happy it came out that way – we've got some brighter moments and there's also some darker, heavier stuff because we love both.

With the production, we're not trained or anything - Jess has done really well to learn Ableton and he's great with all the technical stuff, and he recorded it all - which allowed us to just have our say. We knew what we wanted and I feel like our ears have developed enough for it to come out sounding good, in our opinion at least.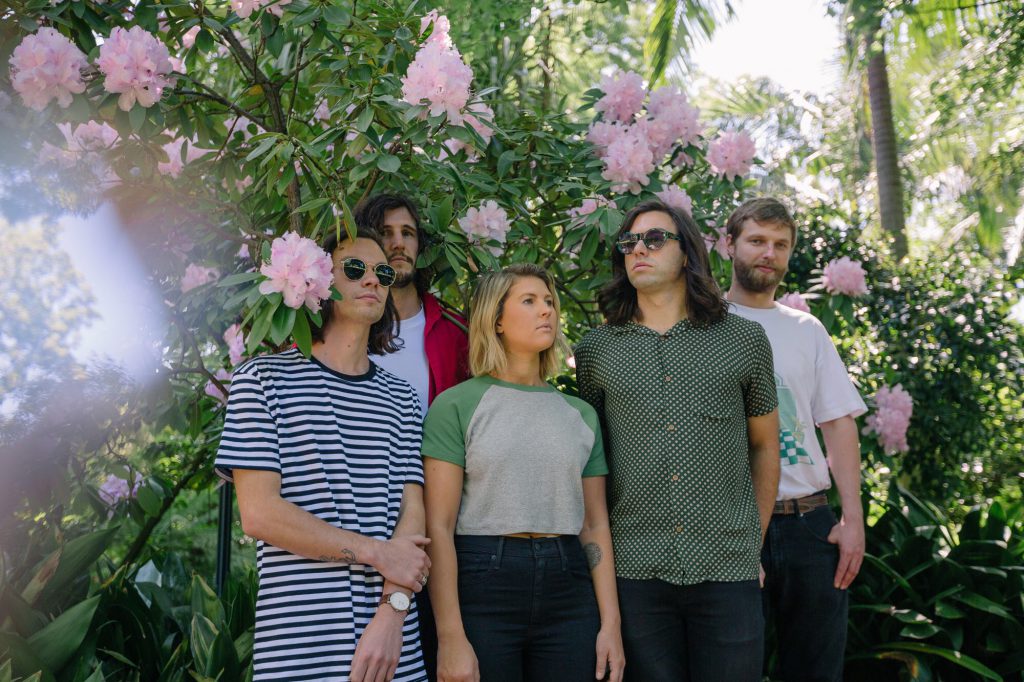 It's not the most straightforward listen - it's pretty wild - and even within the tracks, they feel a bit like journeys rather than just verse/chorus. Were there any moments when you putting it together where you were like "holy shit, this sounds way bigger than what we intended" and caught yourself by surprise?

Not really, I think we were always going for that. It's just the way we write. We've been doing it for so long, so for us it probably feels a bit standard, but it's nice to hear you get that vibe from it. In terms of the synth stuff, especially midi synths, it just gives you so many more options, outside of a verse, chorus type thing. But in saying we intended it, you also can't plan the writing, it's got to come out naturally and that's just what happened. I think it's just a reflection of what we were into and sounds that were captivating us at the time, and then we just splurged that out into our own songs.

Geelong is pretty well-known at the moment for having some really good garage/psych stuff coming out of there. Speaking of influences, with half the band originally from Geelong, do you feel like that played into the sound at all?

So I'm from Geelong but I've been living up in Melbourne for the last few years, Alex is also from Melbourne and Darcy [Purser] has just moved over here. So three in Melbourne now, but four out of five of us are originally from Geelong.

That didn't really come into our minds at all, whether the Geelong scene influenced us, in terms of inspiring us or wanting to go a different way. It didn't really come into our heads at all, it was more so just purely listening to music we loved, whether it was international or local bands. The Australian psych scene is really blooming right now and there's a lot of interesting music, but we also love music from other bands who aren't in that scene, so it's more so a reflection of our interests and what we think sounds good.

The EP is out tomorrow, and then you're heading out on a big tour around the place. Is this the first tour you've been on?

Yeah for sure.

What are you expecting? Or what should people expect?

We're just going to be playing the EP basically, we've been playing all the tracks from it now. It's just good to play in places other than Melbourne or Geelong, and if there's one person who enjoys the stuff then it's worth it. With some of the sounds, I think the live show is a bit different to just listening to the EP, it's a bit more raw and there's some different sections in there that we don't have on the EP. Hopefully it's different enough so it's not just like listening back to the EP.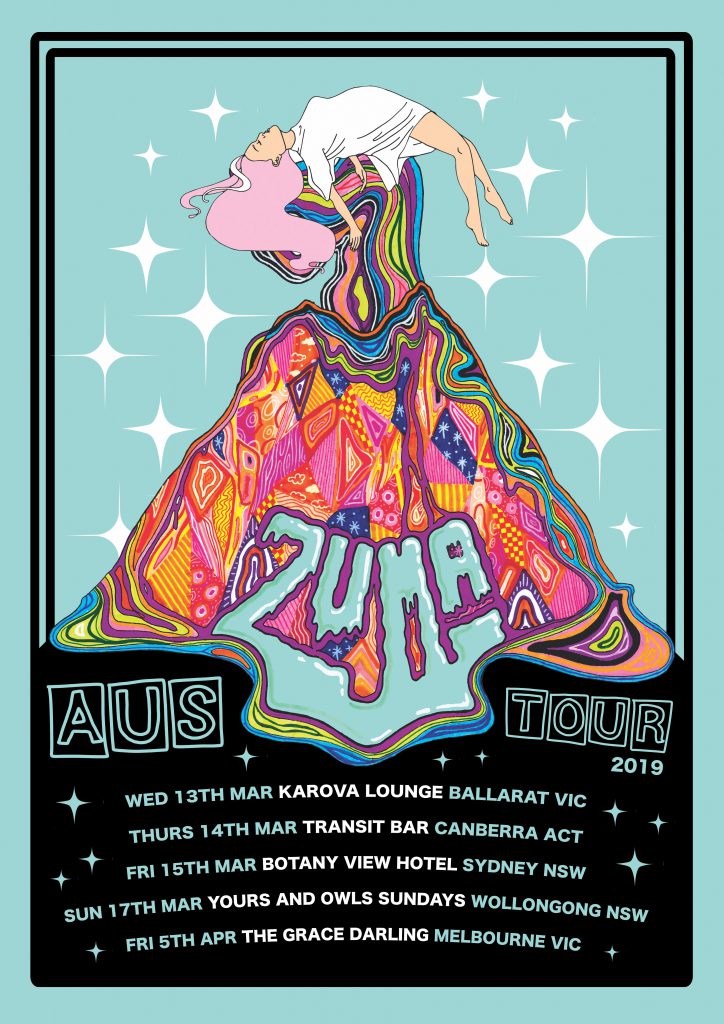 ZUMA's self-titled EP comes out tomorrow and is being launched at the Geelong Bandroom tomorrow night. If you're not in Geelong for the show, catch them throughout March as the tour the new EP.