Music / Features
They Made Me Do It -
Talking Influences with
Hobsons Bay Coast Guard
Ahead of the release of their debut album this Friday, we got in touch with our favourite variety-surf group Hobsons Bay Coast Guard to find out what inspired the sounds we'll be hearing when the album drops… and considering this list, it's looking like it will be wild.
Not many local acts have had a starting year as impressive as Hobsons Bay Coast Guard had last year. Kicking off at the beginning of 2018 with their first shows, they almost instantly amassed a cult following and soon enough, were playing sold-out shows around Melbourne and scoring spots on some of the country's best festivals. Over the 12 months, they served up three bursts of their signature amalgamation of warped psych-pop and groovy surf-rock, all gearing towards the release of their debut self-titled album.

With the album release closer than ever, last month HBCG treated us to one extra taste in the form of new single 'Junkie' and its equally playful clip (which you can check out above). A little bit of a change of pace, 'Junkie' trades in their usual chaotic energy and pummelling beats for something a little more carefree - woozy acoustic guitars, a buoyant groove and pop hooks aplenty. Sounding just as immersive as any of the other singles, 'Junkie' manages to show off another side of their kaleidoscopic sound, and the band pull the change off with ease.

Hobsons Bay Coast Guard comes out this Friday, and with four distinct singles out, what we're set to hear across the album is anyone's guess. But we couldn't resist finding out a little more, so we had the band delve into the madness that inspired the album to tide us over until release-day arrives.


Pete Drake - 'Forever'
This is just pure class. This is what surf music was initially supposed to be – perfect song-writing marinated with some innovation and that oh-so-subtle sprinkle of gimmick. I love the constant piano drone tapping away throughout the song. It's funny how over-saturated choirs and stuff remind me of the Avalanches and not the other way around.

It's this kinda shit that makes me want to create a variety of things because we actually grew up in the sample, find-any-song-you-want era. It feels like we can pull things from the 60s or the 90s or anywhere in between, and it can all still be honest and true to what we like and what we know.


Lil B - 'I'm God' live at Pitchfork Music Festival
This is hands down one of the weirdest things I've ever seen. His rap sits so strangely in the mix and its over this stunning Clams Casino track that has to be one of the beautiful beats ever produced. I remember when we first started playing Dolphin Racer live we would try to rip the emotional part where he makes everyone close their eyes and zen out. Predictably we did not have the audacity or charisma of the Based God to pull it off.

But yeah, the words are so positive and incredible, you can't help but feel all gooey and bubbly after this… to be honest I don't know why I like this so much, it kinda sounds terrible. But I think it's real. "I trust y'all".


Chuck Person - 'Ecco Jams A2'
This is one of those weird things that have stuck with me, its OneOhTrix Point Never's Vaporwave side project he made under the pseudonym Chuck Person. This one is a sample from a Fleetwood Mac song and it's just so haunting and beautiful and unlike anything else at that time. If you haven't delved into the Vaporwave movement, check it out. The only genre that will immerse you in the watery void that is the simultaneous connectivity and loneliness of the darkest parts of the internet.
Xak's Wax Surf Composition by Brian Blomerth (@pupsintrouble)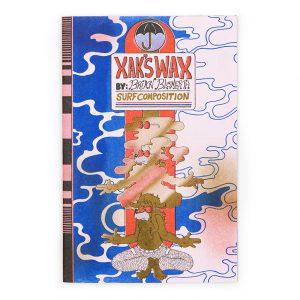 So this is one of those things that I look at and at any time can make me feel inspired. It's the exact aesthetic I see in my head when I want to make a Hobsons song: an impeccable blend of that particular 60's aesthetic with something modern and new.

If you haven't seen Pups in Trouble, check him out on instagram.


Hiroshi Kawaguchi - 'Passing Breeze' from the Out Run Soundtrack
This is one of my favourite video game OSTs. How he made this with the little sounds he had still blows my mind. That chorus drop has so much impact and really demonstrates that composition can be everything. The undeniable warmth of this track would put someone on death-row in a good mood. This is how I hope Hobsons makes people feel.


Piper - 'Samba Night'
More gold from Japan. If the previous Out Run track was a a band this is probably what it would sound like. We're big fans of the funk and 'city-pop' stuff that was coming out of Japan in the 80's. Such a singular vibe of effortless good times, like nostalgia in a tube.


Chris Rea - 'On the Beach'
What would this list be without a little dad-rock. I remember Chris and I heard this in a supermarket in Germany and ended up humming that iconic riff non-stop for the next three years. I didn't see this video clip 'til later but the masterful colouring and shots of this video clip are a work of art.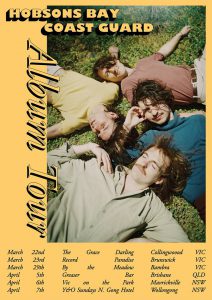 Hobsons Bay Coast Guard's debut album comes out this Friday, before they hit the road to tour the release around the east coast of Australia. Admire the dates above.