Music / Features
They Made Me Do It -
Talking Influences with Sunshine
Ahead of her huge show this Sunday at 170 Russell with the Disco Faith Choir, we caught up DJ legend Sunshine to find out what inspires her to get the party going.
Off the back of years of action on Melbourne's club scene, adored local DJ Sunshine took things to the next level and asserted herself as a must-see when she combined her impressive abilities with a gospel choir, resulting in a show unlike anything seen before. Mixing traditional house and techno with an explosive 15 piece gospel group, a Sunshine and Disco Faith Choir set won't just entertain you - instead, it's almost a religious experience, restoring your faith in the night and leaving you invigorated for hours after. Despite an impressive solo career that has already taken her around the globe, it's clear that Sunshine's legacy is still far from peaking - if anything, her work with the Disco Faith Choir has elevated her to holy levels, as the recent run of sold out shows around Melbourne clearly suggests.

It's all happening once again this Sunday at 170 Russell, for what is said to be an extra special hometown show, so before the party kicks off, we had to get in touch to delve a little further into the chaos.
Revolver Nightclub

I've spent 18 years of my music life there. It's where I first learnt how to build a dance floor and create a vibe. I started playing on Wednesday nights for a few years and worked my way up to become one of the lucky few to hold a recovery residency there (Sat mornings 7am-12pm - which is now in its 16th year). Revolver is where I test all my tunes and break new tracks in. The best thing about Revs is I can play anything from house, disco, techno, soul, hip hop all in the space of one set, anything goes as long as you pick the right time to play it. Nothing beats the feeling of playing at Revs to a crowd full of regulars new and old and seeing them enjoy the music I'm playing as much as I do.


Raves

The moment I decided to be a DJ was at an illegal rave in outskirts of Perth. I was 14 years old. I can still remember so clearly, I was on the dance floor and blown away with the energy that the DJ was creating, mixing two records and I knew then that's what I wanted to do with my life. I also fell in love with how inclusive rave culture is. You could be a boy or a girl, gay or straight it didn't matter as everyone is equal on the dance floor. After that rave, I started regularly going to record stores and slowing building up my collection of music with a dream to one day be a DJ.


Derrick Carter
Derrick Carter is my favourite DJ. He's what I strive to be, a master of mixing records and reading a crowd. Feeling the energy of the crowd and working the room. The amount of effort and energy he puts into his set always blow me away. He mixes techno with an acappella seemlessly and it's what sparked my love of vocals with techno and lead me on the path to start the Disco Faith Choir. We mix house, techno, gospel with 12 amazing voices while I DJ.


Fleetwood Mac - Rumours
Rumours is one of those life changing albums and had a big influence on me. I get really inspired listening to vocalists who sing from the soul and can express honesty in their lyrics. My favourite tracks on the album are 'The Chain', 'Don't Stop' and 'Dreams'. We have been working a new version of 'Dreams' into our set which the crowd has been loving so we decided to go into the studio with Jan Skubiszewski and record a new version with the entire choir. Its sounds amazing.


Gospel vocals

I've got a passion for playing gospel vocals in my DJ sets, and one of my favourite things to do is to pair them with techno, which is what my DJ sound has evolved to. The light positive uplifting vibe of gospel against the dark raw energy of techno music work so well together and even though they're very different, the energy is the same which is why it sounds so good. It's my love of these two styles which inspired me to start Disco Faith Choir and to take my DJing to the next level by adding in a live element of 12 amazing singers.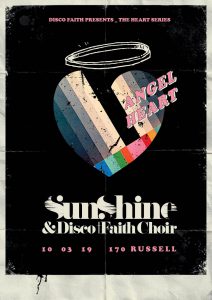 Check out Sunshine and the Disco Faith Choir at Revolver in 2017 above, or better yet, experience it in the flesh this Sunday, March 10th, at 170 Russell.