Music / Features
Love, Music, Friendship, Community -
A Chat with Bush Music Fest
Since introducing themselves to the world with their inaugural festival last February, a three day camp-out in Poowong, Bush have quickly asserted themselves as one of the city's strongest representatives for unique and diverse music, and are continuing to grow a powerful platform to shine a light on groups that are often not properly heard. Bush Music Fest round two is on tomorrow, and this time they're bringing it back home - so ahead of the huge takeover of the Tote, we got in touch with the team to find out a bit more about what they're up to.
TJ: Who is the crew behind Bush and what inspired you to start the project?

B: We are Eve, Rachael and Jordan. We do most of the work involved in getting Bush up and out into the world, although we rely on a really solid group of mates and volunteers who help us with the heavy lifting, screen printing, beautifying and on the day tasks. We're all volunteer run and grassroots, so we couldn't do it without the mates!

This weekend you're hosting a huge takeover of the Tote. Any idea what to expect?

It's going to be MASSIVE! We expect a solid 13 hours of good tunes from 18 amazing bands, starting out with Milk Crate, a Girls Rock! Melbourne band, who'll serve up some youthful anger and hilarity, and finishing off with Cry Club, pop-punk anthems for the ages. We've put out a sick as mix tape with Roolette Records with 17 tracks from bands on the lineup (and other Bush buddies) which will be at the merch desk. We've got some freshly hand screen-printed Bush tees and totes to flog, plus tonnes of band merch. We're going all out with decorations created by the wonder organisation that is Good Material. We've got it all!


| Cry Club | Milk Crate |
| --- | --- |
It's a pretty loaded lineup with 18 acts playing across three stages. Any hot picks for us?

The good thing about running a tiny music festival with a really small crew of people is that you get to put all your favourite bands on a lineup, every single time. Every band is handpicked with care and love, so it's like choosing your favourite child. That being said, we do have some Melbourne classics on the bill... The Pink Tiles, Rocket Science, Hearts and Rockets, Face Face and The Tropes. But ahhhh, who knows! They're all the best and that's why we picked em!

This follows on from last year's inaugural festival, which took place out in Gippsland over three days. Do you see this year's event as a continuation on the previous Bush Festival?

Bush 2018 was a killer! We had a great time in Gippsland but wanted to get bigger and better for 2019. Unfortunately, while applying for permits for 2019 we had some trouble with the council (you'll have to ask us in person for more info) so we're bringing it back home to the Tote this time. This year is definitely a continuation of last year though. We've got the same motives, the same team, and the same obsession with the Melbourne music community.

There's also been a heap of really cool smaller events happening over the last 12 months, which almost makes Bush feel like more of a music community than a festival/booking group. Do you feel like that?

We were busy little organisers last year. A lot of our events were fundraisers to help us put on the next festival, so we did lots of cute little backyard and loungeroom gigs. We do love our community though and a lot of our motivation comes from wanting to build and strengthen a more inclusive music community. Our best friends over at Roolette Records have coined (what we believe is) the motto of our scene: 'Love, music, friendship, community'. That pretty much sums up how we feel and how we conduct ourselves. 


| The Pink Tiles | Slush – Photo by Jasper Fearnley |
| --- | --- |
Something that also immediately stands out about Bush is your consistently strong and diverse lineups. As a group leading this social change, do you have any advice for other festivals, or even just bands booking shows, about ways to ensure their lineups can be as inclusive as possible?

Our scene is fantastic and vibrant and we've seen a lot of positive change over the last couple of years, but it's still really white and male-dominated. Amplifying and creating space for marginalised voices is really important. 

The best way (that we've found) to do this, while avoiding tokenism, is to embed yourself in the music scene enough to be able to recognise those voices. Try to apply a lens to every event that you book or play and train yourself to recognise a lack of diversity so that it's not a chore. It's surprising how quickly you begin to see these things without making an effort. On an everyday level; watch the support acts, pay to see non-white male headliners, and talk to your mates about this stuff. 

If anyone needs more advice, reach out to us. We have a huge document full of hundreds of great bands and musicians from Melbourne and the surrounds and, we love sharing! 

We say all this, but it's also worth recognising that we still have a long way to go in making our lineups as diverse and accessible as possible.

Any idea what's coming next for Bush?

We've got a few things brewing. We'll pop out a few more gigs this year, perhaps with a slightly different focus, and then hopefully it'll be back to the countryside for some more wilderness punk!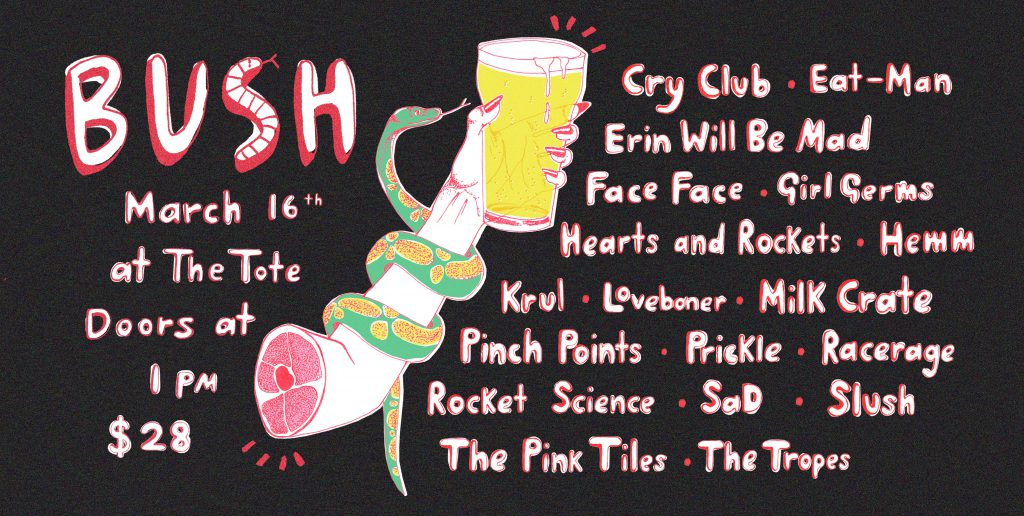 The Bush Tote Takeover is on tomorrow at the Tote (duh) from 1pm until 2:30am. Tickets are available
here
or on the door tomorrow.