Music / Features
Track by Track:
darvid thor - I'm Never Really Here
Only a couple of weeks after the release of his debut mini-album I'm Never Really Here, dream-pop mastermind Darvid Thor has invited us inside his world of introspective neo-psychedelia and walked us through it track by track.
Despite being a constant figure in the local music community as a member of The Cactus Channel, Frida and Karate Boogaloo, it's taken Darvid Thor the better part of a decade to make his first foray into solitary music creation. However, while he describes the move as a "daunting opportunity", his debut mini-album quickly refutes the idea that his hesitance to step out on his own was due to caution. Instead, I'm Never Really Here is an immersive ride into Darvid's sonic universe, and across the journey, he never once sounds overwhelmed or unassured.

That said, the whole mini-album is masterfully deceptive. Opening track 'Anything' introduces I'm Never Really Here with a dark, careening groove, built from layers of sinister keys and shifting beats, while Darvid's unaffected voice provides an erratic melody that sits starkly on top. The track sucks us right in, but as we anticipate more of the same, Darvid makes a quick gear shift into 'Do It Again', a fluid dream-pop track, full with a bouncing bass, gooey synths and an unhurried groove. This languid tone continues through 'Rest of Your Life' with its lush ebb and flow, and into the sleepy sway of 'Last Time'. But again, we're slightly mislead by the relaxed and intoxicating mood, as lyrically Darvid tackles some heavier themes, his voice subtly dripping with wistfulness and anguish.

By the time the title track rolls around we're almost ready for the unexpected, and Darvid delivers with a mesmerising instrumental that combines meandering indie-rock with mesmerising psychedelia. Next up is album highlight and breakout single 'Get Out', which touches on Darvid's soul influences with its downtempo swagger and murky vocals, as an immersive soundscape warbles and swirls underneath. Finally, I'm Never Really Here takes one final left-turn with 'Overgrown', a track that could almost be a lost Radiohead song with its stuttering electronics and fluctuating keys while Darvid's tender falsetto floats on top. Powered by an ominous intensity and jittery push and pull, it's a fittingly unpredictable way to round out the album.

Despite its somewhat sporadic nature, I'm Never Really Here makes for a really compelling listen, still feeling cohesive thanks to Darvid's unique songwriting prowess and considered production. To get the inside scoop on I'm Never Really Here, we had Darvid pull back the curtain on each of the album's tracks for us.
Anything

It's always a challenge to pick an opening track. I guess you want it to be a bit different from the rest of the tracks to try and reel people in, but then you don't want it to be too alienating so that it turns people away… anyway, for me this track kinda does that. Most of the track was written in tandem with the synth and fuzz bass parts, then the rest of it fell around that. I was interested in writing a track that wasn't as held together by chords, but more around texture and the sounds/production - I think it ended up being about perspective, and how that can change through acceptance and letting go. It's also about being honest with yourself, which needs to happen to be honest to other people.


Do It Again

I feel like lyrically this song fits as a bit of a wrap-up to the whole record. Where a lot of the lyrics on the album are caught up internally, I wanted this to be a bit of an antidote to that. It's about forgetting about what you think everyone else thinks. It's about sticking to your guns and not over-analysing, and making sure that you're enjoying what you're doing.

Rest of Your Life

Ooo this is the first track I wrote for this project. It seems so old now - I remember showing it to some friends at an old old house party of mine. It was thrilling and totally anxiety inducing revealing that part of me for the first time. But I remember being shown Whitney for the first time. Good night. This track is about trying to tell someone close to you something that they didn't really know how to hear. It's about mental health and looking forward and I guess being there for people going through a hard time. The drumming is also by Hudson Whitlock, my oldest Melbourne friend and longtime bandmate in lots of bands (Cactus Channel, Frida, Karate Boogaloo).

Last Time

I guess this is about dealing with the consequences of making decisions, and not freaking out when what happens is not at all what you expected. In your head you might have expected to say something, but then in reality you've actually said something quite different. Live and learn baby! 

Can I Be?

This is also quite an old one. I wrote these lyrics quite early on in the process of a break-up/get-back-together/sort-some-shit-out part of my life, so it's a mess of thoughts about that, but I also wrote it for someone else, trying to put myself in their shoes while they were dealing with early depression. It's never really been about one thing in particular. I remember having a lot of fun drumming on this one too - I played all the instruments on the whole album, except as I said drums in 'Rest of Your Life'. It was a huge challenge, but such a great feeling regardless. 

I'm Never Really Here

I kinda like that the title track is instrumental. Also, I guess me not singing in it suits the title hehe. I had an old old demo slowly decaying on my hard drive, and there was something about it that kept me from deleting it, so I decide to re-record everything and develop it into this track. The slide guitar track was the first take I think… pretty sure I didn't really know what I was doing, and just figuring out what to do over the harmony. But it had some sort of vibe, so I kept it. The title I guess explores isolation, being too caught up in your own head, growth, etc. All the themes that I'm talking about lyrically. 

Get Out

I wanted to have a track where I sung in a different tone/voice. There's falsetto in a few, higher chest range in a few, and I wanted this to have my lower chest voice. At first I was really self conscious about how it sounded, and scrapped the idea for a while. But after giving it some time I kept coming back and slowly warming to the idea. It was really hard to execute, and there's obviously much more to develop with it, but I reckon it's something I'll do more and more. I really liked the chords and the way the track slowly gets more trippy and sloppy. It kind of slowly falls apart, which gives some context to the lyrics. They are about getting out of your own head and out of your own way so that you can move forward. 

overgrown

I tried putting acoustic drums over this and it sounded horrible - so I asked my friend Yelderbert (Max Dowling, who also mastered the album) to try and program something. It sounds wild. Very freaky producer. The tempo fluctuates subtly due to the synth that dictates the tempo (which I thought was in time…) anyway, Max had a hard time making it work, but he figured it out. Don't really know what this one is about, hey. Probably just another boring mid-breakup crisis moment. 

Wooo. Thanks for listening to my ramblings xx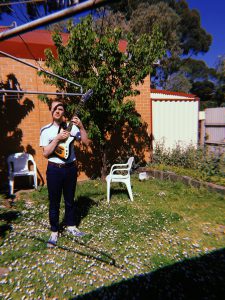 Check out I'm Never Really Here above, and catch Darvid and his band launching the mini-album next Thursday, March 28th, at the Tote.