Music / Premieres
Video Premiere:
Terrible Signal -
Man If You Saw Me On The Street Today
After spending the past year taking Melbourne by storm, garage-pop weirdos Terrible Signal are back with the first taste of their next album and we're thrilled to be premiering it for them today - 'Man If You Saw Me On The Street Today' is a feverish burst of gripping power-pop and an exciting direction shift for the project.
Originally from Perth but now very much from Melbourne, Terrible Signal began as the solo project of Vincent Buchanan-Simpson, who you may recognise as the maniacal frontman of garage-punk psychos Hideous Sun Demon. The project was originally intended as a chance for Vin to toy with something a little more melodic and toned down (you'll notice that Vin wears glasses in the TS press shots), and he released their debut album in late 2017 which we described as "a collection of jangly sunshine-pop gems that plays like a lost classic from 1980's Australia." However, since making the move to Melbourne, Terrible Signal has morphed into a fully fledged band, trading in their earnest lo-fi jangles for the spirited power-pop that we hear on their new single 'Man If You Saw Me On The Street Today'.

Sounding more immediate and energised than ever, it's quickly clear that we're hearing Terrible Signal entering a new chapter, as 'Man If You Saw Me On The Street Today' blasts open into a wall of frantic guitars powered by a propulsive rhythm section. That said, with a lead line that could serve as a superhero theme, there's still enough playfulness to maintain the lopsided charm that made their debut so strong. Following the frenzied intro, things cool off momentarily as Vin weaves an ear-worming melody over the track's extended chord progression, before the band take off again and Vin yelps away. The track races along in a similar fashion, with the inclusion of some subtle synths and dizzying layered vocals, before it rides itself out with a masterful fade that lets the track burn out at its peak. Marking Terrible Signal's first collaboration with Dusky Tracks' head honcho Lucas Harwood on production and engineering duties, the fuller sound catches the band at the top of their game, pointing towards exciting things to come from their forthcoming second album.

Speaking about the track, Vin explains, "lyrically, 'Man, If You Saw Me on the Street Today' is about someone who is coming to terms with the end of a relationship whilst at the same time watching their sanity slip away to the point where they don't recognise themselves anymore. Musically, I wanted to write a classic sounding power pop song in the vein of bands like The Only Ones, The dB's and Shoes. There's something about the inherit melodic sensibilities found throughout that style that has always resonated with me. I really got into Game Theory when I was writing this song. Scott Miller had a real talent at writing parts with extended chord changes and vocal melodies. So with the chorus, I tried to write the longest continuing vocal melody I could whilst still making it sound like a cohesive pop "hook". It was fun to write."

Accompanying the new single is a brand new video clip, created by Vin and his friend Ali. Speaking about the clip, Vin says "I went to Abbotsford Coventry and filmed stupid shit with my friend Ali on her phone", which is probably a more direct explanation than anything I might write. You should watch it though, the boy can dance. To celebrate the new release, Terrible Signal are launching the track at the Old Bar next Friday, March 29th, with Dark Fair, Kaipora and Al Matcott and the Al Things Must Pass.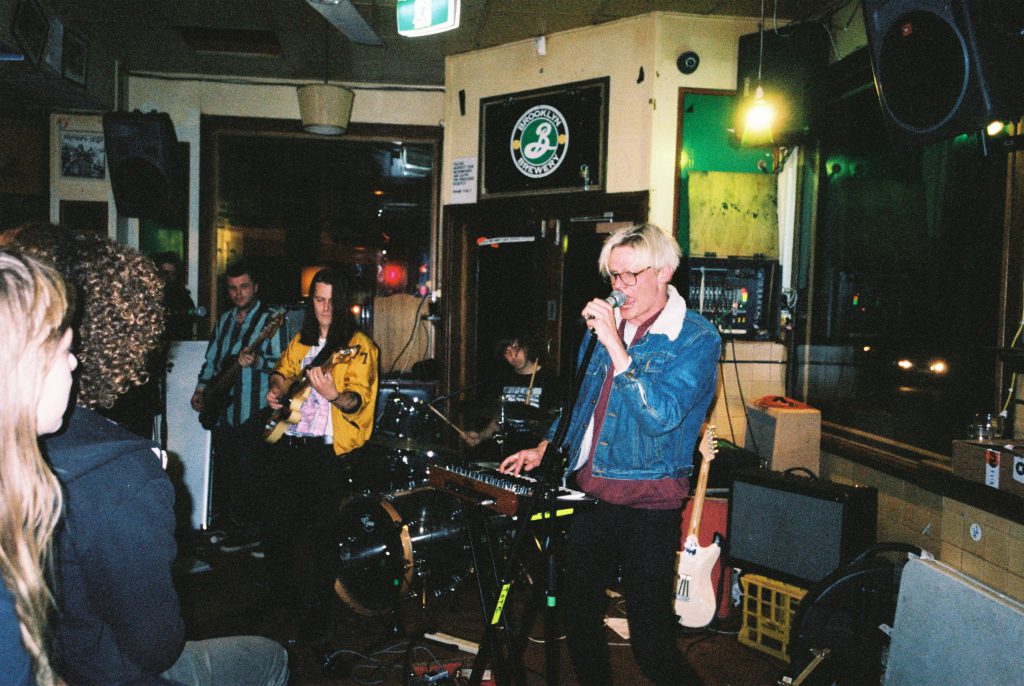 Check out the clip for 'Man If You Saw Me On The Street Today' above, and catch Terrible Signal as they launch the new single on Friday, March 29th, at The Old Bar.