Music / Premieres
Premiere:
Leslie D. King & The Trembling Shakes
- Sunday Kitchen Swinging
We're thrilled to be premiering the debut single from Leslie D. King & The Trembling Shakes - an impressive way to introduce his latest project, 'Sunday Kitchen Swinging' is a dose of charming country-soul that overflows with emotion and personality.
Following a year or two cutting his teeth in bandrooms around Melbourne and rural Victoria, leaving audiences captivated by his honest lyricisms and passionate performance, Leslie D. King has finally shared his first single, 'Sunday Kitchen Swinging'. Beginning with some lazy guitar twangs, the track quickly opens up into a cosy blues jam reminiscent of the song's setting, filled out by a warm rhythm section and steady groove. Describing a moment "between two lovers swinging in the kitchen on a lazy Sunday morning", Leslie weaves a soulful melody over the ebb and flow of the band, as subtle horns duck in and out around his gravelly voice. The track drifts into a lilting chorus and Leslie's voice is joined by a female counterpart, which elevates the track into an almost anthemic territory, before we're treated to a glorious saxophone solo. Naturally, the band swing back for one last chorus and this time they hit new heights, with some immersive gang vocals delivering a now soaring melody, until the track strips down once again and Leslie sends it off with a tender rasp.

It's a really powerful introduction to the new band and we're very excited to see where Leslie takes things next. If you can't quite wait until the next taste of Leslie and the band on record, you can catch them next month on May 3rd, as they launch the track with Katie Bates and Alister Turrill at the Wesley Anne.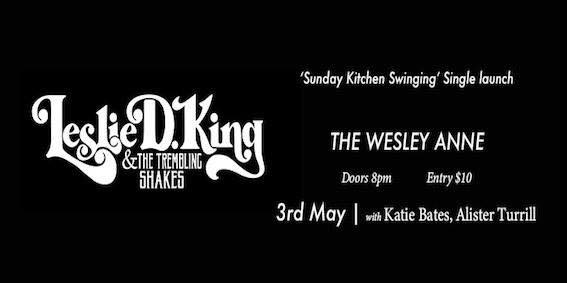 Check out 'Sunday Kitchen Swinging' above, and catch Leslie D. King & The Trembling Shakes on Friday, May 3rd, as they launch the new single at the Wesley Anne.