Music / Features
They Made Me Do It -
Talking Influences with Merpire
Off the back of her mesmerising new single 'Lately', and the announcement of a bunch of forthcoming shows, woozy indie-rock specialist Merpire has dropped by Trouble Juice to talk us through what inspires her to keep churning out hit after hit.
The last twelve months have seen Melbourne based singer-songwriter Merpire leap from strength to strength with a string of consistently excellent singles, two buzzing performances at BigSound 2018 and most recently adding a support slot with Last Dinosaurs to her ballooning CV.

Picking up right where she left off, 'Lately' is a masterclass in serving up compelling, honest lyricism via infectious pop hooks. Accompanied by a lone guitar for a captivatingly long portion of the song before exploding into full blown, guitar-driven rock band mode, 'Lately' is a testament to the versatility of Merpire's pop songwriting that has delivered us one of our favourite moments from her yet.

Ahead of her next big batch of gigs, we got Merpire to talk us through the music, people and local fauna that keeps her going.
Bell birds


I kind of have one of the best jobs (outside of music) in Melbourne - punting on the lake in the royal Botanic Gardens gardens. Every shift I get to take people on a boat tour of the lake and talk about the history, flora and fauna. I wrote a song recently inspired by the symbiotic relationship between bell birds and and insect called a psyllid who reduces a sugary substance that the bell birds lick off the insect, leaving it be to produce more. The bellbirds are aggressively territorial and protect the insects from other birds gobbling them up.

The song is about a realisation that it takes a village to love someone you're in a relationship with. It's about taking pressure off myself, instead of expecting more from what I can give and that what I'm giving is a whole damn lot of greatness. to be everything they need and the same in return.

One of my bosses recorded the bell birds for me to put in the background of the song. So when it comes out, listen carefully.

Sibylle Baier
Sibylle is who I listen to to bring me back to the idea of simple magic in music. She was a German underground folk singer/song-writer in the 1970s. She recorded a collection of songs on a reel-to-reel in her home, then they didn't see the light of day until 2004 when she gave them to her son and she blew up from there. They could've been written today. They're incredible. Her song 'Tonight' in particular - from the opening note and the opening word you know exactly where you are in the mood of the song. An idea of what the space that she was recording in would look like, smell like, sound like is instantly brought to mind for me. It's uncanny.

Mitski
Mitski satisfies the opposite end of this - enough is never enough. I'm a sucker for anything not true to form, anything I couldn't have predicted in a song. Mitski's songs are full of unexpected instruments, tones, note choices. Some of it is so ugly when you think of it on its own but put it together with her voice as the icing on the cake and it is stunning. Sometimes the best moments are fleeting and keep me coming back to listen to over and over for that one second in a three min song.

I can relate so much to this idea when writing and producing my own songs. I get bored quickly with standard forms of writing in one way or another. If serving the song in its simplest form holds strong in a traditional sense, I have to have something wacky or left of centre in the production phase. After all, once the song is final and out there, no one knows any other way that song could be so the wacky parts become normalised.

Mitski is a great reminder to explore and create new ways of finding what the song needs. I'm very lucky that James who produced 'Lately' is right there with me. We trust each other and have so much fun building sounds to not only fill the gaps in my songs but to create more spaces for more sounds. It's forever satisfying.

My music community


This is going to sound like a Grammy speech and I go on about this pretty much every day, but I really think I wouldn't be where I am today without the supportive and loving friends and fellow musicians I have around me. We work hard together. We struggle together. We find that magic in music together. We want to see each other do well and it's just so addictive and motivating. Some of that is luck to find such a community but it's just a chain reaction of nice people surrounding themselves with nice people and Melbourne as a community supporting and spreading that.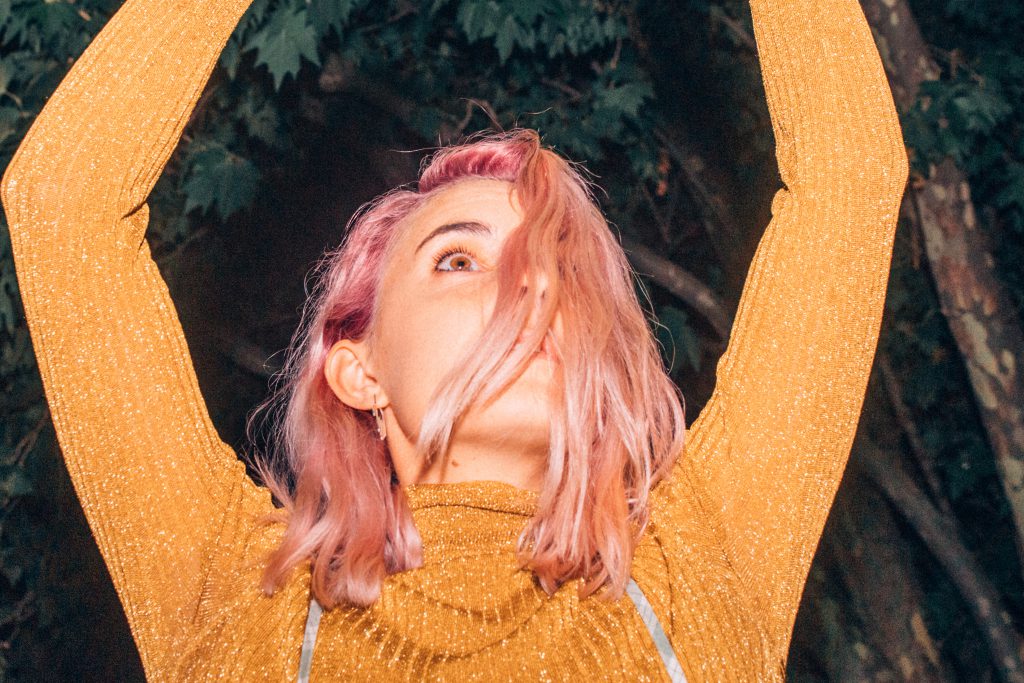 Check out the clip for 'Lately' above, and head to Merpire's Facebook page to find out where you can catch her live over the next few months.