Music / Premieres
Video Premiere:
Teen Angst - Dental Hygiene
Teen Angst's latest single 'Dental Hygiene' is a pea-sized burst of charming lo-fi pop rock and we have the delight of premiering its brand new, orthodontically inspiring film clip.
Off the back of the release of their recently minted debut 7-track EP Not So Vitriolic, Perth quartet Teen Angst have treated us to a fresh new clip for third single 'Dental Hygiene' that shows us there is no time of the day too important for B-ing your T's.

Built upon sparkly, jangly guitars and a pearler of a chorus that you'll be singing all day, 'Dental Hygiene' is an invigorating serving of 90's infused garage-pop that we'd happily start every morning with.

Vocalist Michelle Yeong says the song's roots came from "being in a relationship with someone and the little things you do for them in order to maintain a healthy/happy relationship". As for the track's infectious clip, the idea stemmed from "using dental hygiene maintenance as a metaphor for being in a relationship. And with the absence of our bassist Emilie, who is currently studying overseas, the video can also read like a love letter to her."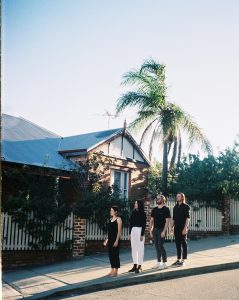 Check out the clip for 'Dental Hygiene' above, and head on over to Teen Angst's
Facebook page
to keep an eye on when they'll next be brushing by your part of town.