Music / Premieres
Video Premiere:
Future Haunts - Weather Vane
Off the back of the release of their latest single 'Weather Vane' last month, Brisbane's Future Haunts are back with a new video for the track, which brings their atmospheric indie-rock back to earth with a DIY home-video styled clip.
Following the release of their debut EP Rubicon and 2017 single 'Make Time', Future Haunts fell uncharacteristically quiet in 2018, with half the band becoming increasingly busy playing in Brisbane garage-punk group Good Boy. However, they're suddenly back in a big way with 'Weather Vane', a captivating first taste of Future Haunts' next phase that proves it was worth the wait.

Built upon a bed of spacey guitar jangles, 'Weather Vane' blasts open with a driving groove and we're quickly immersed in the swirl of atmospheric layers while Ben Speight's voice sits dreamily on top. Describing themselves as "melding the cosmic studio journeying of The War on Drugs with the melodic immediacy of The Stone Roses," 'Weather Vane' masterfully combines these potentially opposing worlds. Drawing heavily from their clear shoegaze influences, Future Haunts manage to inject the track with a heap of spark and energy, creating something that is both mesmerisingly hazy and refreshingly immediate. Following a winding guitar break that builds and warps alongside the track's propulsive backbone, Future Haunts shift back into a final soaring chorus before 'Weather Vane' rides itself out.

Despite the otherworldly sounds heard across 'Weather Vane', the new clip stays firmly rooted in regular life. Created by the band using a camcorder that belonged to bassist Dan Sergiacomi's parents, the video pairs pairs the track's atmospheric grooves with shots of Future Haunts drinking beers at the pub, hanging out at home and performing onstage. As drummer Stu McKenzie explains "The clip for 'Weather Vane' is a bunch of footage from us in the studio, a few shows, at the pub and some terrible basketball playing near Tom's house. We wanted to make something DIY, in line with the way we put the track together and recorded it, which is how we currently operate as a band. We're pretty close mates who enjoy hanging out together and making music - I think the clip reflects that pretty well."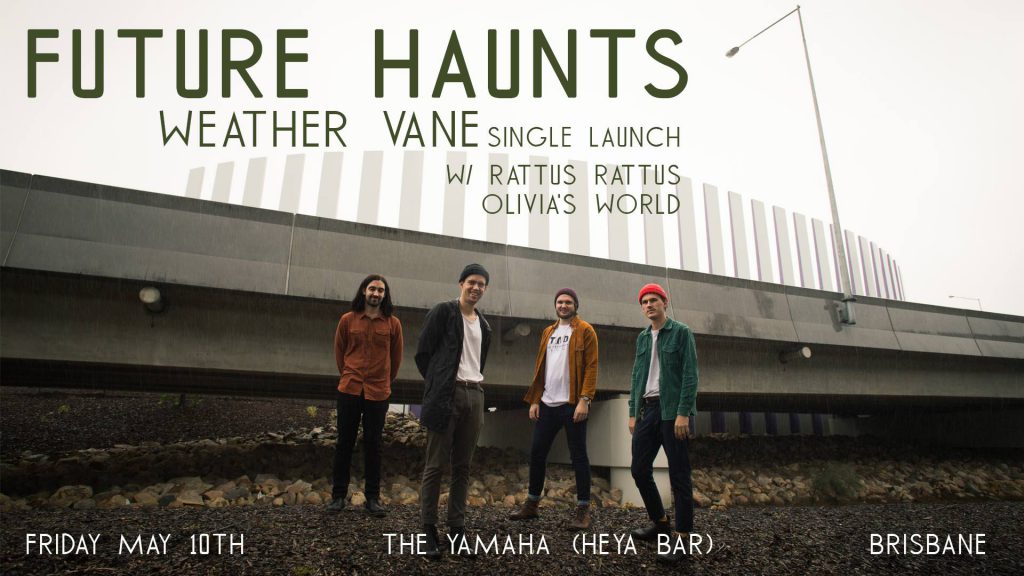 Check out the new clip for 'Weather Vane' above, and catch Future Haunts launching the single on May 10th at the Yamaha in Fortitude Valley.