Music / Features
Track by Track:
Georgia Spain -
Trouble Isn't Something You Can Hold
Out only last week, Trouble Isn't Something You Can Hold, the debut album from Castlemaine-based, Ireland-raised bluesy folk belter Georgia Spain, is a collection of spellbinding slow-burners that you'll find yourself completely absorbed by.
At times hypnotisingly sparse, at other times unnervingly intense, Trouble Isn't Something You Can Hold is a collection of eight stunning, brooding bluesy-folk songs - each of which take you on its own unique emotional journey worth getting completely invested in.

From the first few tense moments of 'Trouble', through the surging fervour of second single 'Parasite' and right up until the stirring final moments of 'My Grandmother's House', Spain's rich, fiery vocals lead us through the album's 45 minutes with absolute effortlessness, whilst supported by a band not afraid to play very little at all. The result is completely engrossing and at times utterly breathtaking.

Before she launches it at The Digger's Store in Castlemaine and the Golden Age Cinema & Bar in Sydney, Georgia walked Trouble Juice through the new album and how they made it all happen.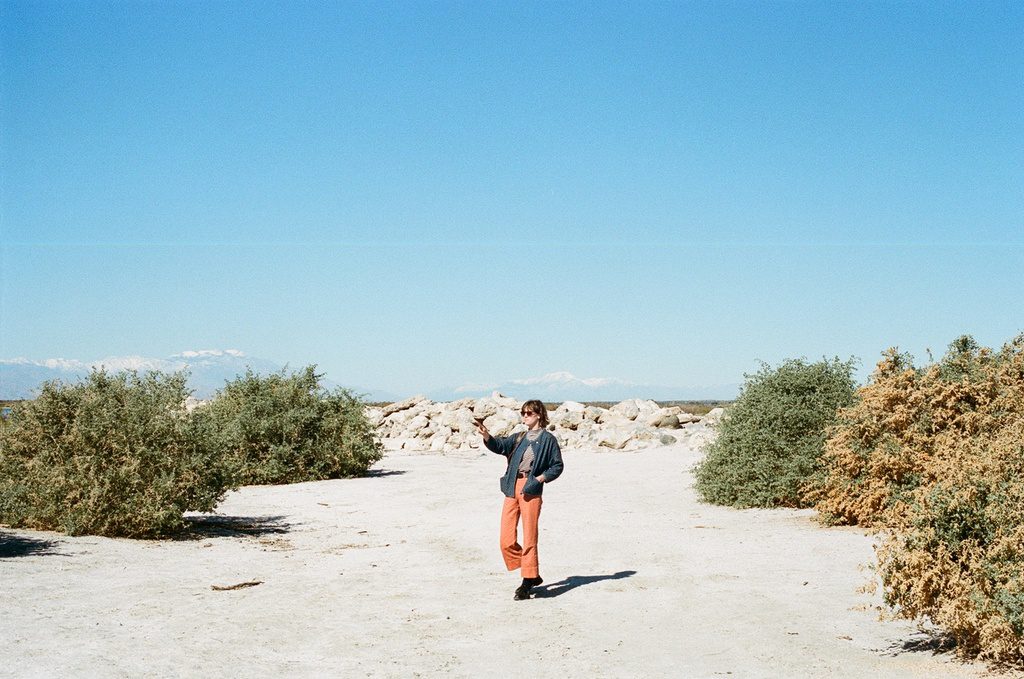 GS: The album was recorded shortly after I coerced my best friends into playing in my band, so to us we sound super loose and now we feel like a much more 'together' band. All the tracks were recorded live to tape in one or two takes so the record really does capture the specific time (with tape fuzz, imperfections and all), which will be nice for us to listen back to in 20 years or so!

Trouble

I wrote this at a time I was feeling super frustrated about the complacency of humankind in a time where the earth is in a pretty big environmental crisis.
The title of the album is a nod to the idea that most of the important things in life aren't tangible, and no amount of money can really fix the things we truly want or long for the most.  

Nothing's Quite The Same

This song is about feeling deeply homesick for a person, even when your rational brain knows there are far worse problems in the world. It's the only track on the record that I whipped out the banjo for, and now I'm glad I did because I don't play the banjo much these days so it's nice it had it's moment!

Parasite

The longest track on the record and the one I find the most difficult to sum up. I wrote this song on invasion day in 2016 and it's meaning seems to shift over time. I wrote it with three specific events that happened on the same date in mind. The first was a shotgun wedding I had in America by a river (long story!), the second the colonization of Australia in 1788, the third the drowning of a man in Melbourne. I guess it's about trying to make sense of histories repeating, grief, being human and looking for lost loved ones in the world around you. So I suppose it's not really about one thing at all!

Blue Skies

I wrote this song at the beginning of a relationship. Things were going really well, but I had this awful looming feeling that it wouldn't last. My friend Craig, who is an incredible pianist, was noodling around on the piano after we did the first take and the tape was rolling, so we captured him playing this beautiful delicate piano part. My partner Oscar, who played drums on the record, also played all the extra guitar parts and he sat in the control room while we listened back to the take and played these two simple beautiful chords throughout the chorus. I like to imagine the track as three people all playing alone in their respective neighboring houses with very thin walls. 

This Feeling I Get Sometimes

This song came about after a dreamy drive through the beautiful Tasmanian landscape while the sun was setting - I think I was feeling pretty good about life and love and the serenity of it all! I guess it's a song that's about being in the moment and acknowledging that as a songwriter it's okay to write about the good feelings as well as the sads. 

Greater Love

I wrote this song for my mum. It's about the strength of a mothers love, and wishing I could take away the pain of my own mothers loss of a child. Love you mum.

This Kind of Living

This one's a bit of sappy number hah! It's about letting your guard down and letting love in. 

My Grandmother's House

A gentle closer, I wrote this song at my Granny's house in the beautiful countryside of Exmoor, in the south west of England. The song meanders through memories and feelings about being in a place filled with nostalgia. Perhaps while you listen you might feel like you're meandering down a narrow hedge-lined lane in the English countryside? 


Have a listen to
Trouble Isn't Something You Can Hold
above, and catch Georgia Spain launching it in
Castlemaine
and
Sydney
later this month, before she hits Melbourne for a show at the Merri Creek Tavern on June 6th.