Music / Premieres
Video Premiere:
Fenn is cool - Cathedral
Following on from the release of his debut album The Definition of Cool late last year, wacky pop guy Fenn is cool is back with a brand new clip for 'Cathedral', which takes the track's sombre vibes and turns it into an abstract visual trip.
With credentials drumming in surf-rock trio Okin Osan and a degree in Classical Composition, the latest project of Sydney musician Fenn Idle was an opportunity to refresh himself by subverting his diverse musical background. Instead, The Definition of Cool embraces the immediacy and playfulness of pop, with each track brimming with childlike melodies and tongue-in-cheek humour. That said, 'Cathedral' cuts through as a striking moment on the album, as it highlights Fenn leaning into a darker sound amongst the carefree bedroom pop. Incredibly simple and direct, 'Cathedral' finds Fenn retelling a short story by Raymond Carver, his unassuming vocals moving gently over a backdrop of blossoming keys.

As Fenn explains, "Carver's story is of a husband who is jealous of his wife's platonic relationship with her blind pen pal Robert. While initially passive-aggressive, the husband eventually bonds with Robert while watching TV with him. The simple act of taking Robert's hand and drawing the cathedral he sees onscreen is one that establishes an empathetic relationship between the two." While the story itself is already quite curious, Fenn manages to enhance the strangeness of it all, and as the story climaxes so does the music. By the track's end, Fenn's voice is surrounded by warping keyboards, brooding synth undertones and a turbulent beat, creating an atmosphere that feels equally absurd yet poignant.

To accompany the track is an mesmerising new clip directed and animated by Craig Stubbs-Race, that combines the simplicity of Fenn's music with something far more illusive. Fenn explains "the video takes inspiration from the 1980s setting of the original story. Over grainy footage reminiscent of analogue TV, animated cubes slowly morph into the form of a cathedral. In the same way that Robert feels graphite lines on paper to get a sense of the shape of a cathedral, the audience interprets CSR's abstract animation piece by piece with the full image only becoming clear in the final moments of the video."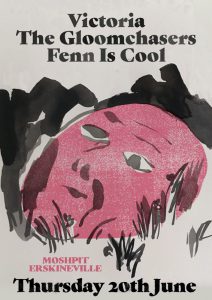 Check out the clip for 'Cathedral' above, and Sydney-siders can catch Fenn is cool on June 20th at the Moshpit.