Music / Premieres
Premiere:
Eggy - Billy
Today we're thrilled to be premiering the debut EP from local wonky-pop group Eggy - bursting with awkward hooks, playful lo-fi production and irreverent charm, Billy is an invigorating dose of manic garage-pop that clearly reveals why they're one of Melbourne's most instantly likeable bands.
Considering they essentially formed to play a handful of covers and one instrumental original at a house party, the rise of Eggy has been as enjoyable to watch as it has been unlikely. However, the last 12 months has seen them grow from strength to strength, scoring support slots with local favourites and international hotshots alike, selling out their own shows and amassing a loyal fanbase - and while I don't think they'll really be able to become more well known than actual eggs, their debut EP Billy definitely puts them in good stead.

Opening with a bouncing bassline and some wobbly keys, the title track kicks off into an off-kilter groove while a jagged guitar skitters along and Zoe Monk's voice flits and juts on top. It's a fitting introduction into the world of Eggy, and we're immediately sucked in by their signature haphazard vocals and diverting lyrics, before the track suddenly explodes open and zooms off. Next up is 'Bar Fred', a blast of frantic garage-pop that careens with erratic guitars and propulsive drumming, Dom Moore's voice bursting with energy despite his self-defeating lyrics.

'Machine Communication' keeps the pace up with its fiery guitars, zigzagging melodies and yelped vocals, almost shifting into punk territory yet remained firmly in the Eggy zone with its omnipresent synths and Lucy Packham's warbling back-up vocals. Finally, Billy rounds out with 'Eggystential', a frontrunner for both the best and worst named track of 2019 and an EP standout. Opening gently with a minimal drum machine, woozy keys and jangling chords, the track is quickly picked up by a spirited beat and shoots off into a tangle of frenzied guitar, spluttering synth and some of the band's strongest hooks yet.

To celebrate the release, we got in touch with Zoe to find out a little more about Billy.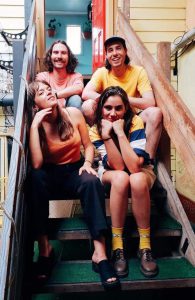 TJ: Hey Eggy - what's the story and how does each member like their eggs?

E: What's the story Eggy glory? I don't know how everyone likes their eggs actually, but poached is overrated IMO. So hopefully any way but poached.

We've just had the pleasure of premiering your new EP. Tell us how Billy came together.

Billy came together through a shared love for each other, and a strong hate for Billy Brownless and Billy Brownless-esque things.

It's been a pretty huge first 12 months for the band - what have been the biggest highlights?

Highlight would be the time Lucy came to our Tote front bar set dressed as Louise from Thelma & Louise. Other highlight would be getting Punjabi Curry Cafe after that front bar set.

You don't mind a little bit of colour coordination with your outfits at shows - which member of the band has the worst fashion sense?

Oooo is the library open? Nah no reads, just 10's 10's 10's across the board!

Word is you're putting a k on the bar at your launch this weekend - what else is going down?

Yeah Dom's finally getting the 21st he never had, k going down on the bar. Gonna be huge. As part of his belated bday bash, we'll be having a special guest queen play some synth & theremin with us. Vintage Crop & The Bush also agreed to sing happy birthday to Dom too. Dom's mum's doing the merch. So lots going on, but good family friendly fun to be had by all!

What's next on the agenda for Eggy?

We're recording again in July, so will just work on that for a bit whilst Luce is overseas for a couple months. Then we play Rod Laver with Oasis when she gets back. Should be cool.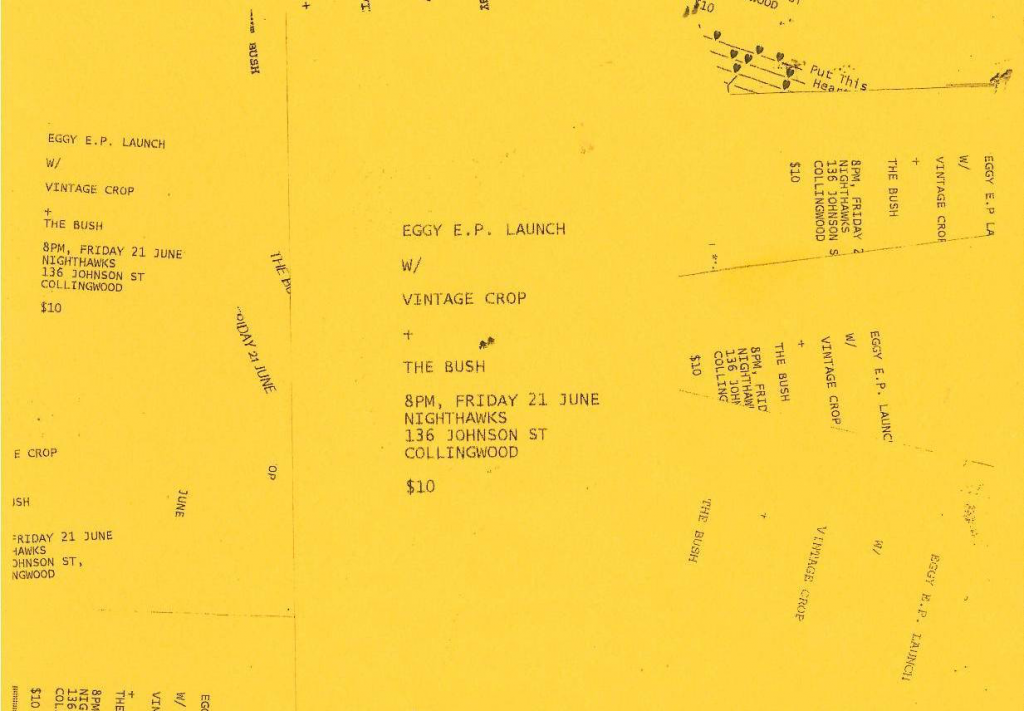 Have a listen to Billy above, and head to Nighthawks this Friday, June 21st, to catch Eggy launching the new EP and pick up a limited 7" record.