Music / Features
They Made Me Do It -
Talking Influences with Feelds
Ahead of their single launch this weekend, we caught up with the mastermind behind Feelds, James Seymour, to find out what inspired 'Glass Arms', his latest burst of wistfully woozy indie-folk.
Following on from an incredibly productive 2018 and the release of the enigmatic 'Bloody Mary' earlier this year, Feelds' latest single 'Glass Arms' finds James Seymour leaning into his tendency for considered yet exploratory folk-rock, adding another enthrallingly moment to his growing songbook and pointing towards exciting things from his forthcoming debut album, due out before the end of 2019.

After opening gently with some rustic guitar fingerpicking, 'Glass Arms' quickly expands into an immersive soundscape, filled out with some ethereal guitar warbles while a lo-fi drum groove and bouncing bassline rollick underneath. Weaving through the tangle of sounds, James' sandy voice immediately becomes a centrepiece of the track, sitting calmly amongst the instrumentation before it opens up to soar over an expansive chorus. As the layers amount, 'Glass Arms' flitters between feeling explosively lush and restlessly restrained, resulting in a poignancy that shines through the haze, and as this effect flirts with James' surreal lyrics, the track becomes all the more intoxicating.

With the debut album on its way, we caught up with James to find out what influences have been seeping into Feelds' music lately.


Justin Vernon
Probably the most influential person to me and my entire creative career. I won't blabber on about him for too long because it could get messy, but know that I basically simmer over anything I can search and find him doing, and am stirred by the way everything around him tends to bubble and explode with purpose and creativity. Take his latest album 22, A Million for example. I read that Brooklyn-based artist Eric Timothy Carlson sat in the studio with Vernon from day dot of recording this album, just scribbling down idea after idea on how he perceived the music being made, and ideally what Justin was expressing as well. These symbols evolved into the shapes and forms that splattered across the album and track artwork. In Matt Serif's blog article, he sums it up perfectly; "I can't think of a better case study on the importance of synergy between design & music."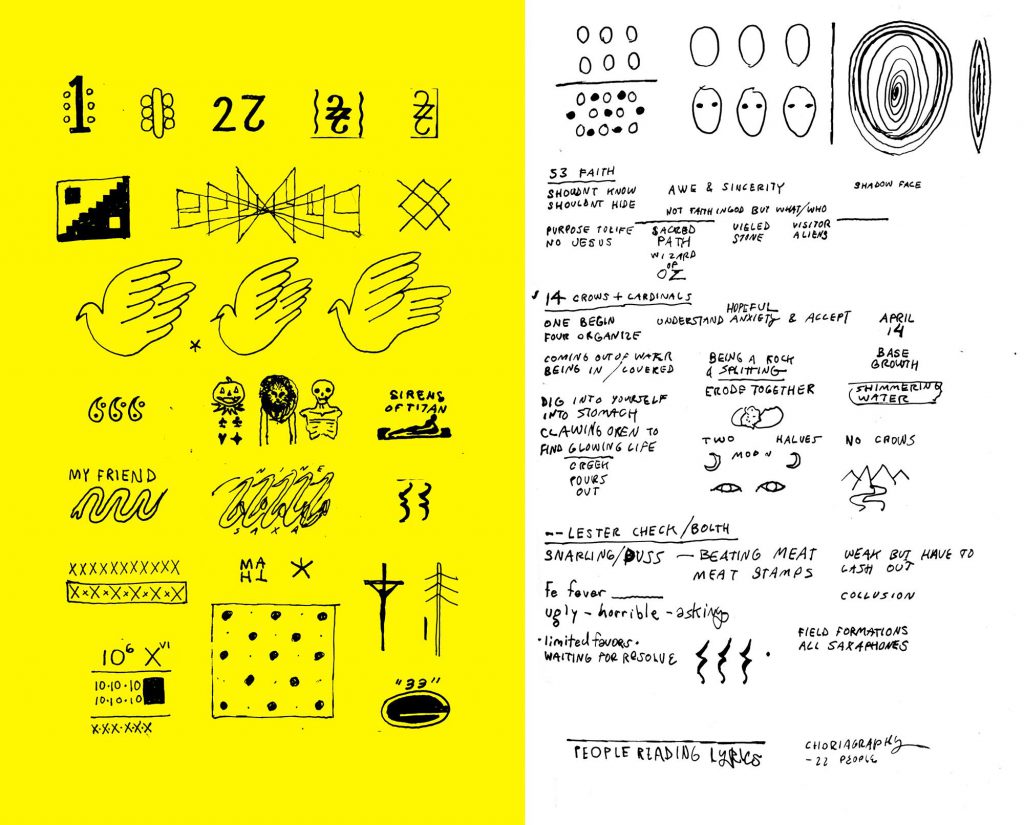 My Folks


No doubt the reason I have such determination for most things that I do. I'm very appreciative that I have such go-getters as parents, and I take a lot of inspiration from how they go about life and use that in my creative world. I mean, all you have to do is look at my last couple of releases to see the story that's been unfolding in the lead up to my album… and just make sure you don't mess with Mum:
Jonathan Wilson


A much more recent inspiration on the production side of things, but I just love the sounds that explode out of everything Jonathan Wilson touches. Distinct, purposeful, sometimes brash or even harsh sounds are sewn together to create smooth, mellow, 60s-style soundscapes, and it is obvious that he spends time in experimenting with things to get the right flavour for every moment. I really aspire to the intention of his sound, and it excites me to think about his mantra of exploring little weird things to find your own sound and tastes, and limiting yourself to that.


Ramen


I went to Japan on a school trip about 12 years ago, and remember my tiny taste-bud minds being blown after eating Ramen for the first time. Now, being back in Australia, it has become apparent that no matter the amount of broth-based brilliance I shovel into my body, it just isn't quite the same. Whether it be a utopian stigma that I'll never shake, or a calling that goes much deeper than an egg-topped wonderland, it is now part of my mission to broaden my horizons as an artist in an attempt to source this elusive & delicious Ramen dish. For this reason, there now seems to be some sort of impetus that draws me back to Japan. I hear they have a great touring circuit, right?


Kung Fu Panda
Look, I know that Kung Fu Panda is based in China and not Japan (the American accents really aid to this discernment), but I couldn't shake the magical combination of noodles, light humour, martial arts & Dreamworks. Something about these types of movies really get me excited, and I'm ok with it.
Have a listen to 'Glass Arms' above, and catch Feelds and his band this Saturday, June 22nd, as they launch the new single at the Old Bar.