Music / Premieres
Video Premiere:
Picket Palace -
Anthony McDonald-Tipungwuti
Today we've got the pleasure of premiering the brand new single and video from local madmen Picket Palace - an ode to Essendon footballer Anthony McDonald-Tipungwuti, the track is an blast of raucous garage-punk that gloriously matches the star forward's explosive style of footy.
Following a packed 2018, which saw them release their debut album Hooley Dooley, host the second edition of their own festival, and tear up as many local stages as possible in the meantime, 2019 saw Picket Palace fall uncharacteristically quiet. However, they're back today with 'Anthony McDonald-Tipungwuti', an exhilarating return to form as they gear up to release their second album The Footy Record.

Opening with a wall of fiery guitars and rolling drums, 'Anthony McDonald-Tipungwuti' quickly rockets into adrenaline-fuelled chaos, as frontman Seamus O'Connell spits out lyrics in his frenzied yelp and the band surge and careen behind him. Despite the manic instrumentation, the band never lose sight of the track's focus, which is Essendon star forward Anthony "Walla" McDonald-Tipungwuti. Attempting to recreate Walla's thrilling gameplay, the track bursts with raucous energy and charisma as it twists and turn, with Seamus dropping lyrical gems like "arms like Arnie and hair like the Predator, just when you thought he couldn't get any betterer" all the while. Speaking about the track, guitarist Jack O'Connell explains "that's what we love about Walla; how exhilarating and electrifying his footy is. He seems like an incredibly humble, unassuming person but he plays with such ferocity and tenacity that you can't help but get excited any time he appears on screen!"

The brand new clip, created by the band's Gus George, makes no effort to play down the band's worship of Walla. Between shots of the band performing and vintage Australian television visuals, we're treated to a handful of AMT highlights before the man turns on the band at the track's climax to lay down one extra tackle on Seamus. It's pure chaos, but nothing could be more fitting. Jack adds "Gus made the video himself at his studio, Light Up Gold, and I want to be on the record saying I think it's fucking sensational. It's completely insane but there's so much attention to detail, it's the perfect amount of ridiculous. That balance of thoughtfulness and joyous energy is kind of everything that we want to be as a band."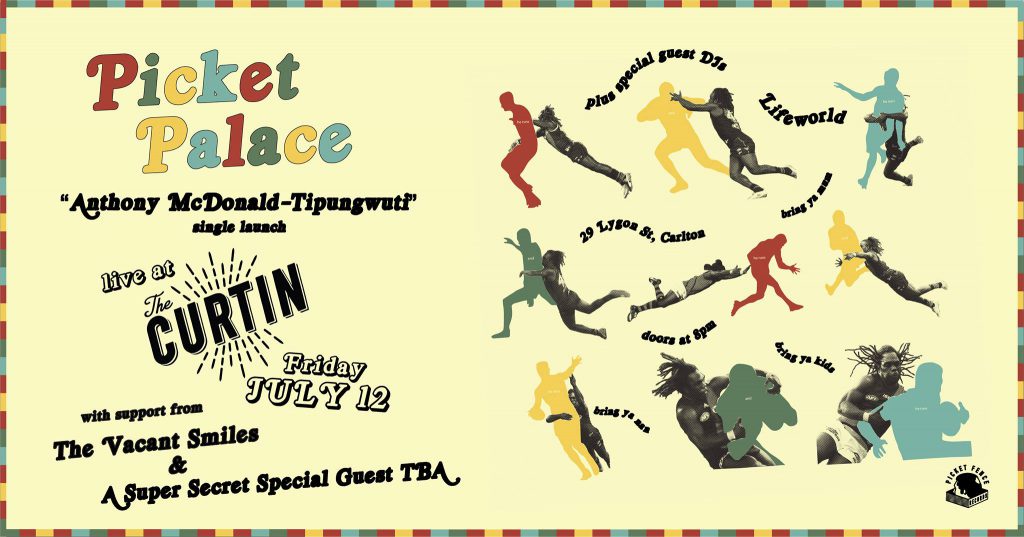 Check out the clip for 'Anthony McDonald-Tipungwuti' above, and catch Picket Palace launching the single on Friday, July 12, at the Curtin.