Music / Premieres
Video Premiere:
Swim Team - New Year
Currently gearing up for the release of their debut album Home Time next month, local garage-pop crew Swim Team have shared an extra teaser with an atmospherical clip for their irreverent slowburner 'New Year'.
Following on from the first two tastes of Home Time, 'Everyday Things' and 'Are You Into Me?', latest single 'New Year' finds Swim Team trading in the previous singles' sunny jangle-pop for something a little more gloomy.

Led by a washed-out guitar, 'New Year' slowly unfolds into a slowburning groove, with vocalist Sammy Wass' crystalline voice chiming between layers of shimmering guitars while a steady rhythm section chugs underneath. Describing the track as a "homage to the good intentions [that come with new year's resolutions] and the bad realities that inevitably take their place", the track masterfully leans into this disparity - Sammy's seemingly optimistic lyrics ringing with the darker undertones of her knowingness of what's to come, while we're lulled into a sense of calm by the tranquil ebb and flow of the instruments.

Today they've released a brand new clip for the song, which sees Swim Team partner up with local videographer Scott Marrinan, to create a striking, almost surreal, take on the track. Between cinematic landscapes and slow, sweeping shots of a party, we see Swim Team giddily staring down the camera, their mood a direct contrast to the track's tone, and at points when the track feels at its most doleful, party poppers are blown and fireworks explode. The result is an unnatural atmosphere that leaves us feeling a little on edge, but we're captivated all the same.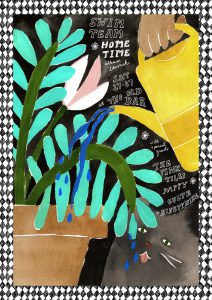 Check out the clip for 'New Year' above, and catch Swim Team launching their debut album Home Time on Saturday, July 27th, at the Old Bar.