Music / Premieres
Video Premiere:
Hideous Sun Demon - Can't Live Like That
We're stoked to premiere the brand new film clip from Melbourne garage-psych crew Hideous Sun Demon - despite revolving around the pitfalls of living too indulgently, 'Can't Live Like That' is an explosion of frenzied garage-punk that finds the band at their most uncontainable and manic.
It's been a bit a little less than a year since we last heard from Hideous Sun Demon, but they're already back and gearing up for their next release - their forthcoming EP Good Time, due out in early July. Unlike last year's Fame Erotic Dream, which saw the band taking aim at everyone from the obnoxious, to the selfish, to the sleazy, 'Can't Live Like That' finds HSD turning the focus on themselves to call out their own self-destructive behaviour.

Instantly propulsive, the track blasts open into a wall of crunchy guitars, machine-gun drums and tunnel vision production, as frontman Vincent Buchanan Simpson works himself into a fervour with his frantic yelp and striking lyrics. One moment he's direct and unfiltered ("mum says I'm looking tired, and she's right") and the next he's irreverent and sprawling ("don't want to end up like Mark E. Smith, dead at 60, dead at 50, dead at 40, dead at 30, whatever!"), the band matching his mood swings underneath as they hiccup and convulse, before the track finally erupts open and engulfs itself.

The new film clip, created by Darcy Kinna, resists the urge to play into the chaos of the subject matter, and instead finds the band performing outside in some relatively serene settings. However, as the visuals pair with the track, the peaceful atmosphere takes on a more detached, clinical feel, and as the colours warp and the band's performances become more volatile, we're reminded that something far more sinister still lies underneath. Speaking about something else entirely, bassist Jake Suriano says "Can we tax return yet? I'm frothing for it", revealing that the road to self-renewal is a long and winding one.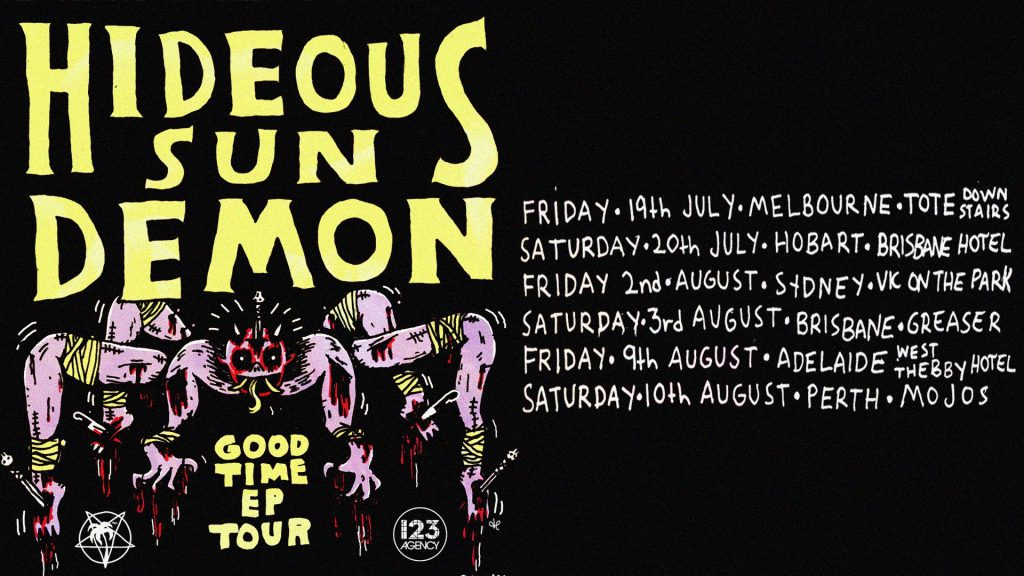 Check out the clip for 'Can't Live Like That' above, and head to
hideous-sun-demon.bandcamp.com
to pre-order the
Good Time
on limited 7" vinyl. You'll also be able to catch Hideous Sun Demon on tour around the country in July and August as they launch the new EP.