Music / Features
They Made Me Do It -
Talking Influences with Sunscreen
Ahead of their upcoming east-coast tour, we got in touch with Sydney dream-garage crew Sunscreen, to find out what inspired 'High Over Love', their latest burst of powerfully wistful garage-pop.
It's been a big few years since Sunscreen first emerged from a Sydney garage in 2016. They dropped their debut EP Just A Drop a little later, and pushed by the force of their enthralling breakout single 'Voices', soon found themselves scoring impressive festival slots and sharing stages with some of Australia's best bands. Now gearing up to release their second EP, 'High Over Love' proves their early success was no accident, as they hone even further in on their emotionally-charged guitar-pop.

Opening with a swirl of jangling guitars, 'High Over Love' quickly unfolds into a lush wall of sound, while a sturdy rhythm section bounces and Sarah Sykes' captivating voice cuts through, managing to sound dreamily illusive and commanding at once. The track seamlessly transitions into an enigmatic chorus and Sarah continues to demand our attention, weaving the song's strongest hooks while the instrumentation ebbs and flows beneath her. The mood shifts slightly at the bridge, stripping back to a tangle of translucent guitars while Sarah's voice gleams, just for the band to turn the heat up once more and ride the song out with an explosion of fiery guitars and propulsive drums.

With the 'High Over Love' tour just about to begin and the second EP on the way, we caught up with Sarah to find out which influences have been seeping into Sunscreen's music of late.


PJ Harvey
PJ Harvey really taught me of the power of a woman holding a guitar. A friend of mine got me into her when I was about 17, and I totally fell in love with her music and her attitude. Her albums Dry and Rid Of Me are classics, as well as my favourite PJ album Is This Desire. I think the simplicity of her musical ideas, paired with the urgency and power in her delivery of them, really affected me and influenced my own songwriting when I picked up a guitar for the first time when I was about 19.


Radiohead - In Rainbows
I first listened to this album as a teenager as well and got totally immersed in the sounds of this album. It's completely captivating. In terms of the composition and sonic landscape, this is probably my favourite album. When life got too much for me, I used to listen to it on my iPod and just pretend I was in another place. It helped me through a lot of hard times.


Jazz music/studying jazz
The first instrument I ever played in was the saxophone, believe it or not. I played in lots of jazz bands and studied jazz, which lead me to love jazz music of many different kinds. I particularly loved Nina Simone, Ella Fitzgerald, John Coltrane, Miles Davis… I loved the freedom of jazz, my sax teacher Craig used to say "there are no mistakes in jazz."


The Ocean Party
My favourite Australian band. The same goes with the other guys in Sunscreen, like Alex. We all love them. They write perfectly simple and beautiful pop songs. And they were a legendary force of the indie music scene - touring around Australia in their yellow ex-maxi-taxi van, which they fitted out with tiny bunk beds in the back. A huge inspiration for all of us who are doing this music thing.


My parents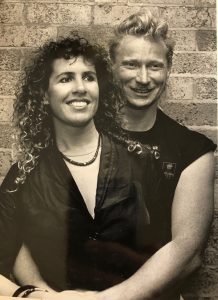 My parents hugely influenced my decision to start a band and play music. They took me to music lessons as a kid, but more importantly, they work in the arts themselves and always fully understood the desire to make art and be creative. My mum is an actor and a drama teacher, and always had a love of jazz and '80s music. Sade would be playing in my house as a child. I still think my mum dancing around to 'Smooth Operator' by Sade had a profound impact on me and the way I respond to music, and the freedom it brings me.

My dad is a live sound engineer who toured with Australian rock bands in the '80s and has worked in live music his whole life. So I was always slightly exposed to that world growing up. I thought it was exciting.


My bandmates - Alex, Ollie and Hugo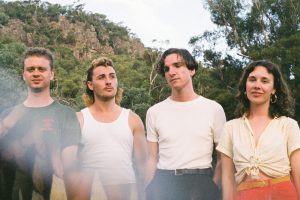 The guys in the band are my biggest inspiration, because we write so collaboratively. They show me some of my favourite music. Since writing songs with Alex, his all-time favourite bands have now become my favourite bands. I am a hardcore Paul Kelly fan now because of him.




Watch the clip for 'High Over Love' above, and catch Sunscreen at Yah Yah's in Melbourne on Saturday, July 27th, as part of their single tour, or head to their Facebook page to check out the other shows.