Music / Features
Introducing Bonsai Records
This weekend, emerging record slingers Bonsai Records are launching their new label into the world with a bit of a party at the Gasometer. Featuring some of Geelong's finest rock and rollers, Bones and Jones and Pollyman, the launch is set to kick things off with a bang, while showcasing some of the new talent that is to be popping up on the label over the following months. Ahead of this Friday's launch, we caught up with head honcho Ella Jefferies to find out everything we need to know about Bonsai Records.
TJ: Hey Ella, tell us a bit about yourself and Bonsai Records?

BR: Well, I have always been into music, but in that past couple of years I have realised how important it is in my life. The name Bonsai Records comes from the idea of the constant upkeep required to ensure a bonsai plant flourishes. Although it would be lovely to just start a record label that is instantly successful, this idea of constant persistence and care is something I keep I mind when working on the label.

Essentially, the label is a rock and roll label, inspired by the classics; the Stones, the Kinks, The Beatles, Velvet Underground, Bowie, Big Star etc. and I'm lucky enough to be putting out two wonderful bands that I think capture the essence of the label. Both artists create music that can make you dance; make you cry and everything in-between. I love that, and I think they deserve to be heard.

Starting your own record label is a pretty huge endeavour - what sparked Bonsai Records?

So, I decided (after realising uni wasn't really my thing) that I would try and look at the more business-based side of music. I researched and talked to all my talented musical friends and people within the industry, then decided that a record label was the way to go. I have been so lucky to have a lot of support and advice from people around me, but I think the best thing for me was to just do it. Not overthink whether or not I was capable, if I was out of my depth etc, but just focus on the facts - I love music and I want to get involved.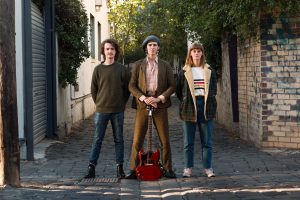 Anything you can tell us about the first releases to come?

Both Pollyman and Bones and Jones are the most wonderful, lovely, passionate, enthusiastic, hardworking artists. I might be a little biased…

Pollyman's due to release his debut album early next year with some singles later this year so that's very exciting. Bones and Jones have been playing some incredible shows with international bands Twin Peaks and Nude Party. They're also releasing an album early next year. I can't wait for people to hear them!


The Victorian coast has been a bit of a hotspot for really good music over the last few years, and you've very smartly snapped up Bones and Jones and Pollyman for your launch, two coastal acts kicking goals at the moment. Has the community around that area influenced the formation of Bonsai Records?

Absolutely!! We are very lucky to be surrounded by an array of musical acts in such a thriving music scene. Going to gigs and seeing bands was what really sparked my drive to start the label, because there's always something screaming in me "why aren't they signed!! Where can I buy their record??" so that's really good motivation as well, because it reminds me just how great the music is.


As you'd know, the music industry has been constantly changing over the last five to ten years, which makes it a really exciting time for new labels entering the fold. Bit of a job interview question, but where would you love to see Bonsai Records in five years time?

Well, in five years I'd like to have made a name for not on the label, but more importantly the artists on the label!! I would love to be supporting the artists as much as possible, hopefully whisking them away overseas to play their dream shows and selling out their records. I would also love to have grown the business to encompass an array of diverse bands and an equally diverse audience. Just to keep growing and learning really. And hopefully get some kids excited about getting involved in music!

You're officially launching Bonsai Records this Friday with a bit of a party upstairs at the Gaso - any idea what we can expect?

Hopefully a lot of dancing and screaming. Also, we will be selling some brand spanking new merch. I'm so excited to launch the label and for people to get a taste of Pollyman and Bones and Jones as a little teaser of what's to come!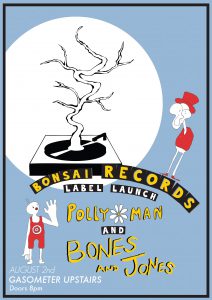 The Bonsai Records Label Launch is all happening this Friday, August 2nd, upstairs at the Gasometer - tickets are available
here
- and follow Bonsai Records on Facebook to keep up to date with all the exciting things they've got coming up.