Music / Premieres
Premiere:
SLOMO - Circles
We're thrilled to be premiering the new single from local grunge-pop trio SLOMO - 'Circles' is a blast of propulsive alternative rock that is as hypnotic and immersive as it is hard-hitting.
Following on from the release of 'Then I Said' in March, SLOMO are back with 'Circles', the next taste of what they're working on as they head towards the release of their debut album.

Just as its name suggests, 'Circles' builds around a spiralling guitar line that creates an alluring ebb and flow throughout the track, simultaneously conjuring up a disorientating haze while sucking us in further. The track begins with the guitar on its own to mark the beginning of the cycle, before SLOMO move into a propulsive groove and an entrancing wall of sound emerges. The guitars shift slightly at a dreamy verse, and we're hit with waves of effected vocals as the soundscape becomes even more immersive, before the band lock down the groove once more.

As the instrumentation continues to warp and stutter, there's a dizzying effect on the listener, which vocalist/guitarist Jem King explains is purposeful. "We originally wrote 'Circles' after I had vertigo," Jem shares. "It is meant to encapsulate that feeling of your equilibrium being out. "Come by, downplay ally" is about whatever your equilibrium is and keeping it safe." Following one more verse, SLOMO blast into a climactic outro, the guitars more fiery than ever as a driving beat chugs underneath, before 'Circles' loses its balance entirely and comes to an end.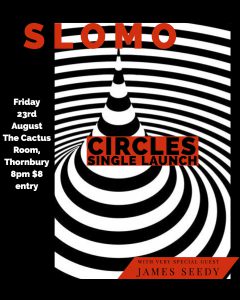 SLOMO will be launching 'Circles' on Friday, August 23rd, at the Cactus Room, and to celebrate, everyone who attends will receive a free copy of the single on cassette and a badge.