Music / Premieres
Video Premiere:
The Hunter Express -
Weekdays and Weekends
Ahead of the release of their new album Should Have Come On Sunday next month, alt-country crew The Hunter Express have dropped another teaser from it - 'Weekdays & Weekends' is a hazy indie folk slowburner about the weekly grind that you'll find yourself getting completely lost in.
After opening with the clang of some rustic percussion, 'Weekdays and Weekends' slips into a rollicking groove, the sparse mix immediately filled by Brad Ellis' earthy vocals while a subtle guitar twinkles in the peripheries. As the track slowly unfolds, it widens - with an extra layer of blown-out vocals to distinguish the striking hooks of the chorus, while a woozy organ simmers and an assertive lead guitar cuts through. Finally, at the halfway point, 'Weekdays and Weekends' fully expands, bursting into a sprawl of sound as the guitars turned fiery and a real drum kit picks up a careening drive. However, the release is only momentary - as instantly as the chaos arrives it falls away, and 'Weekdays and Weekends' slinks back into a blissful shuffle to ride itself out.

The new clip, created by Jess Walters and starring the band's own Pia Nesvara, pairs perfectly with the track's themes to depict a miserable day in the life of a suburban factory worker. Speaking about the clip, Brad shares "With creative control & uncontrol, this Super8 video encapsulates relatable narratives. The story explores our human routines in repetition with uninspired blank expression. When we repeat, repeat, repeat the tension in our bones needs an escape & only after release can we see a crack of light through a closed door."

With some suitably hazy visuals, shot to Super 8, we watch Pia unemotionally move through her day, finally cracking as the song explodes. Yet, just as 'Weekdays and Weekends' returns to its simmering groove, Pia picks up the pieces and gets on with the job, presumably to do it all again the following day.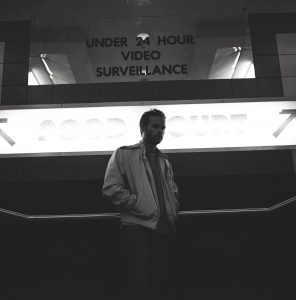 Check out the clip for 'Weekdays and Weekends' above, and follow The Hunter Express on Facebook to keep up with them as they gear up to release their second album, Should Have Come on Sunday, on September 6th.