Music / Features
Making It Big in Lithuania -
A Chat between Poppongene and
Sunbeam Sound Machine
Both as bandmates and solo performers, Sophie Treloar and Nick Sowersby have been responsible for some of the best psychedelia coming out of Melbourne over the past few years. While Nick recruits Sophie to help recreate the open-ended soundscapes and woozy loops he builds as Sunbeam Sound Machine in the live setting, Sophie creates her own immersive psych-pop as Poppongene, fuelled by sun-drenched instrumentation and her hypnotic voice. Ahead of Poppongene's 'Not Wrong' single launch tomorrow and the last few dates of Sunbeam Sound Machine's Goodness Gracious tour, we eavesdropped on the pair to get to know them a little better.
Sophie: Hello Sowzer, here's a question for you: do you have a daily routine or regular habits? How do you get stuff done?

Nick: If I've got the day off to do music stuff, I usually start off having brekky and a coffee while I read some stuff and do crosswords. Then I try and get any admin out of the way and spend the rest of the day recording. I try and keep it all to the day time these days, cos if I record at night I find it hard to get to sleep. But if it's going well then you've gotta chase the train, maaaaan. 

Do you have a routine? Do you have a songwriting routine too?

Sophie: If I'm having a good crack at a "music day" I'll wake up early, go to the gym or for a big walk, shower-coffee-food - I find this is the best way for me to be in a good brain-space. Then I'll turn on my oil diffuser and write a list of everything I have to do - this includes all the admin, emails or chores I have to get out of the way before I do anything fun. And once all that's out of the way I can focus on the fun things! Nighttime is also not my friend when it comes to getting stuff done, I usually go a bit loopy or just switch off by 5pm. 

In terms of songwriting, I'd say 70% of my initial ideas come to me when I'm driving - which isn't entirely convenient (I'd say my voice memos take up most of the space on my phone). And then the other 30% come when I give myself a moment to relax. It doesn't happen for me if I try to force it, and I'm waaay happier having worked that out for myself. 

Where is your favourite place to go walking?

Nick: My favourite nearby if I just need to get out of the house is Victoria Park. It's a big, quiet-ish, wide open space and I like the history of it (go pies). Apart from that I like the beach in Seaford near where I grew up, I used to walk there all the time and listen to music as a young'un and I always feel refreshed in some way when I go back there. 

What album/s have you listened to the most this year? Whether or not they came out this year.

Sophie: This took whittling down, but here's some albums:

Gwenno - Le Kov, Jessica Pratt - Quiet Signs, Weyes Blood - Titanic Rising, Emma Russack and Lachlan Denton - The First Two Albums, Goon Sax - We're Not Talking, Pinch Points - Moving Parts, Toro y Moi - Outer Peace, Aldous Harding - Designer, Julia Jacklin - Crushing, No Local - The End Again, Martin Frawley - Undone at 31. A few Hiroshi Yoshimura album have been on repeat too, it's v peaceful and it un-clutters my head.

I've also listened to your album a lot but that was mainly because I had to learn my parts for the gigs. Lol jks, your album is primo, Sowz. 


Are there any future releases this year you are highly anticipating?

Nick: Oh man Hiroshi Yoshimura is the best. V peaceful. I'm actually very much looking forward to your EP! I've heard a little and I like it a lot. Apart from that I'm no good at knowing what's coming up release-wise. Tram Cops have some stuff coming out that I'm looking forward to hearing. 

Let's talk about that EP. Tim Harvey produced it alongside you, and you guys have taken Poppongene to some new territory. Tell this ol' control freak what it was like to work collaboratively with a producer on pushing your music into sonic places you haven't been before.

Sophie: Honestly, Tram Cops should never stop doing what they're doing. The full band? Outrageous. 

Bless you, Sowersby. Oh man, working with Tim has been a total dream. Having someone else there to shift your perspective on things and keep progressing is wonderful. He has this great calm energy and a way of patiently teasing out the right ideas, as well as a great ethic of gently powering through. It's been the perfect environment for both of us to float new ideas and try them out. Tim has shown me the gift of leaving space, the gift of the Juno and the gift of cake as the horses' carrot when it's getting gruelling.

Sunbeam has a bunch of shows coming up in AUS and NZ which is very exciting stuff. Where in the world would you most like to tour to?

Nick: What lovely gifts! Sounds like a beautiful collab.

Yes I'm very excited for that! I think my ideal would be going to the US, which isn't a super unique choice but damn it'd be fun. Our brief stint there was a wild time. That and Japan, which I love. I also love the thought of being one of those bands that's huge in one country and nowhere else, like we're massive in Lithuania and we just tour there 3 times a year. Who knows what the future holds.

Is there anywhere else in the world you'd wanna live? (Pls don't though, I'd miss ya!)

Sophie: Ahhh yes let's get back to the US asap! And I'm pretty sure I'm the only person in Melbourne who hasn't been to Japan, keen on that too! Fuck it, let's throw Lithuania in there too. (FYI for readers, I play in Sunbeam's live format).

Oh, I wanna live so many different places, maybe too many to list. LA seems like a wild place that I'd want to be a part of at some stage, as does New York. In saying that, I do like living in somewhat remote places (went to high school in a coastal town, had a mid-twenties tree change to the hills). Ideally, I just want to live on the coast, that's the long term game plan. Or in the trees. Or both?  But I've still got a good amount of city-years left in me. Ya can't shake me that easy, pal. 

What book are you reading at the moment?


Nick: At the moment I'm reading a book called 'The Power Broker' by Robert Caro. It's about Robert Moses, who became the most politically powerful man in New York without ever being elected by the public. So it's about how brilliant and talented, but also greedy and ruthless and frankly pretty horrible the guy was. It's also a behind the scenes look at how and why cities get built the way they do, and also kind of a history of New York in the 20th century. But it's effin' huge and can get pretty dense so I come and go with it and I'm chipping away slowly. 

What are you watching lately?

Sophie: I hear you! I feel like I either read a book in two sittings or chip away at it for three months. There is no in-between. 

I kinda swing between watching informative stuff (food stuff, like Salt Fat Acid Heat), comforting lighthearted series (Parks and Rec.) and then just realllll trash to purely switch off (have you seen Selling Sunset? It's tacky but I love it.) I don't really watch many movies because I can't really relax for that long lol, but somehow I can watch 8 hours of a bullshit series and be ok with it (?).

I've not had heaps of time up my sleeve recently, but whenever I get a second before bed I've been watching Queer Eye, The Good Fight, Broad City. Pretty easy entertaining stuff. I've been told to watch Flea Bag, so that's up next. 

What podcasts are you listening to/what are your faves?

Nick: Oh man I blew through the new season of Queer Eye so fast. Many tears were shed. Have you seen Killing Eve? I think I've hassled you about watching it at prac before. It's made by the same woman who made Fleabag and it's SO GOOD. 

Podcast-wise I just finished one called The Last Days of August, made by Jon Ronson who has made a couple of very interesting/heartbreaking/gripping podcasts about the porn industry. I very highly recommend it. Apart from that I've been listening to heaps of basketball podcasts and as you know I'm a giant cricket nerd so I've been listening to a lot of The Grade Cricketer, which is both very cricket nerdy and very funny. That and Reply All. Always Reply All. I love that show. 

Back to music, who is your dream collaborator apart from me?

Sophie: Oh yeah, I think Killing Eve is written in my notes that I never go back and look at! Wow, I truly can't think of anything more boring than a cricket podcast. But Reply All, that's some good stuff. 

Ha! Tbh I would like to collaborate with you, Sowz. But also that seems very attainable - and I feel like this question needs to have some response like "SHANIA TWAIN"! So many actual dream collabs, but here are a few names: Broken Social Scene, Broadcast, Drugdealer, Angel Olsen, Unknown Mortal Orchestra, Cat Power, Gwenno. Omg Steve Lacy too, imagine that, how fun. There's also so so many local bands that I'd love to collaborate with but maybe I'll save that for my inbox to avoid public rejection. 

Ok it's been a time, but let's wrap this bad boy up. Top 5 gigs you have seen/played?

Nick: Oooh that's a tough one. The best show I've played is our album launch at the Gaso last week. That was the best.

Don't know if I can think of a top 5 but here's some honourable mentions of some all-timers:  The Saints, The Specials, any time I saw Boomgates, Caribou, and Jon Hopkins is reliably mind-blowing. What a random selection, can't wait to think of heaps more when it's too late. 

Hit me with your own personal top 5 to finish.

Sophie: That was a fun show! One of my faves too. I's say the 2018 Changes showcase was my favourite Poppongene show. And that summer show we played in Rye is my favourite Field Maps. 

Hmm that's tough, and I'm also not going to answer properly lol. Off the top of my head: honourable ~moving~ mentions go to Mulatu Astatke at The Recital Centre, Daptone Records showcase in Sydney in 2014, Aldous Harding at Meredith, Black Keys at Bluefest in 2005 (I think this is when I realised I wanted to be a rock dog? Especially after jumping the fence to gain entry - lol literally the only time I was a teenage badass), Like Running Water (Ella Thompson, Clio Renner and Sui Zhen) at The Recital Centre, every RVG show, Dirty Three at Sugar Mountain. I'm going to think of a dozen more once this is published but, heyyyyy.

Nice talking to you Sowzer!

Nick: Oh yeah I was at some of those, add them to my list!

Baiiiiiiiiiiiiiii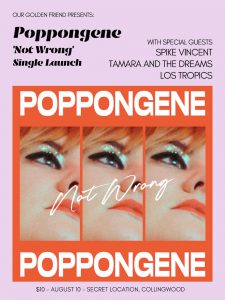 Poppongene are launching their new single 'Not Wrong' tomorrow night, August 10th, at a secret location in Collingwood, and Sunbeam Sound Machine are currently finishing the last dates of a national tour in support of their new album Goodness Gracious. Head to their respective Facebook pages to get all the details.